, is coming back for 2017 Pride week and the LGBT community is abuzz with delight. From June 6 to June 11 the
Abraham Hostel
will be hosting Evita Pride Edition, located on 21 Levontin Street just off Rothschild Boulevard. Events are set to be jam-packed full of guest DJs, glamorous drag queens and more. With alcohol aplenty, Evita is promising "a journey you won't soon forget."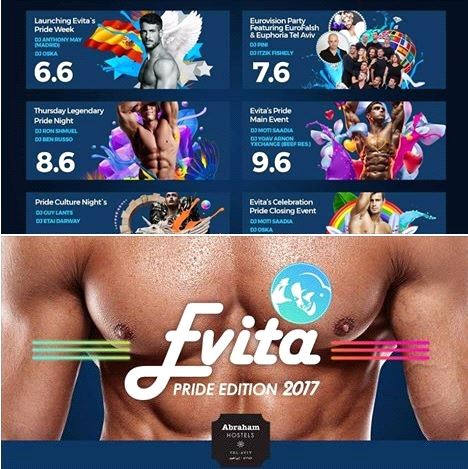 Tel Aviv is not just the Israeli center for the LGBT community, but the world over. In 2015 wowtravel rated Tel Aviv the "Most Gay Friendly City" in the world. In 2012 GayCities.com named the city the title of "Best Gay City" and the Boston Globe ranked it "the gayest city on earth."Rainbow flags line the main boulevards of Tel Aviv and an exuberant energy surges through the air as revelers gear up for the grand finale weekend of the city's renowned Pride Week. Tel Aviv's annual LGBT Pride Parade will celebrate "bisexual visibility."The parade, which is set to take place June 9, starts at Meir Park in central Tel Aviv at 12 p.m. The festival is expected draw tens of thousands of visitors to the city. According to the municipality, last year 200,000 people participated including 30,000 tourists."The Pride Parade has turned into one of the symbols of the City of Tel Aviv with hundreds of thousands of participants and tourists from all over the country and the world," said Tel Aviv Mayor Ron Huldai. "I believe that Tel Aviv-Jaffa, a city of tolerance, is a beacon to other cities in this issue."
Support of the Israeli LGBT community is not just a phenomenon in Tel Aviv as a 2016 nation-wide poll indicated.A poll conducted ahead of last year's Tel Aviv Gay Pride Parade showed a high level of public support for establishing legal marriage or registration for same sex couples in Israel.According to the poll conducted by the Smith Polling Institute for the Hiddush pluralism group, 76 percent of the Jewish Israeli public support the establishment of some form of marriage for gay couples.This represents a significant jump in support since Hiddush's last poll in 2015, which found that 64% of the Jewish public was in favor of same sex marriage.
A full list of this year's Pride events can be found
here
.