Hillary Clinton is proving herself to be the more culinarily Jewish candidate in the Democratic race, voicing her love for Sabra hummus as revealed in one of her emails recently released by the US State Department.An email from Clinton's childhood friend Betsy Ebeling sent on May 19, 2011 with the subject, "You are what you eat, I guess," included an update on a campaign by the Students for Justice in Palestine at DePaul University working to remove Sabra brand hummus from the campus. The student activist group claimed that, "Sabra's parent company, the Strauss group, sends financial support to two Israeli military units accused of human rights abuses." Clinton, who was then secretary of state responded to the email, "I love Sabra hummus- whatever that means!"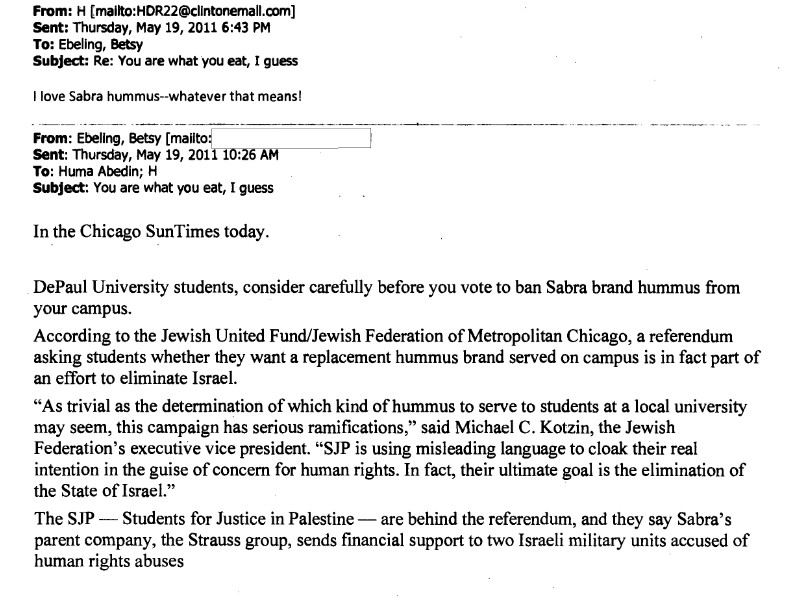 In March 2015 it became publicly known that Clinton exclusively used her family's private email server for her official email communications instead of the official State Department email maintained on federal servers during her time as secretary of state.Clinton has said she did nothing wrong and that she believes the US government will vindicate her. She has also apologized for what she said was poor judgment. In 2014, Clinton returned about 30,000 emails to the State Department, but said she "chose not to keep" thousands of others her staff deemed not to be work-related. Her staff have acknowledged that other work emails were not handed over, without explaining why.More than 2,000 of Clinton's work emails contain classified information that could harm national security if exposed, according the State Department, including 22 classified as 'top secret', the highest level. The government forbids sending or storing classified emails through unsecured, non-government channels, and has prosecuted people for breaches. The e-mails were not marked as classified at the time of their transmission and were only given those classifications ahead of their public release.The last batch of emails was released on Monday bringing the total number of pages of Clinton emails released to between 52,000 and 53,000.A previous batch of emails released by the State Department revealed an email sent on March 5, 2010, with the subject line
"Gefilte fish" and in message's body read "Where are we on this?"
The email referred to an incident involving an American shipment of carp, or white fish, that was sent to Israel from Illinois ahead of the Passover holiday. Carp is the central ingredient in gefilte fish, which sees demand jump before Passover and the High Holidays.Carp was one of the items exempted from the 1985 free trade agreement between the US and Israel, along with oranges, apples and avocados. Out of fears that the American imports would be cheaper than the Israeli versions, the products usually faced a 120 percent import tax.In his book, "Ally: My Journey Across the American-Israeli Divide," in discussing his first year as the Israeli ambassador to the US, the now Kulanu MK Michael Oren wrote that "in view of the possible diplomatic damage, I thought Israel should make this one exception" to allow the American carp import. Oren quoted Clinton as telling reporters during the incident, "You think finding Middle East peace is hard, I'm dealing with carp!" In the end, the white fish made it into Israel in time for the holiday, sans import tax.
Reuters and Malka Michelle Grossman contributed to this report.
Ebeling responded to the email suggesting Clinton inform Prime Minister Benjamin Netanyahu about the DePaul campaign saying, "The world is having a nervous breakdown."