A driver employed by the Norwegian Representative Office to the Palestinian Authority was arrested at Allenby Bridge last week when his car was found to be carrying a haul of antiquities.A senior Norwegian diplomat was in the vehicle at the time, the Israel Tax Authority said Monday.The Norwegian Foreign Ministry said in a statement to the
Jerusalem Post
that the vehicle was traveling from Jordan to Jerusalem and that "following Norway's permission to the Israeli MFA for the custom authorities to search the vehicle, customs officials stated to have found artifacts in the car. A locally employed driver was detained by Israeli authorities." They added that they take the incident very seriously and have opened their own internal inquiry.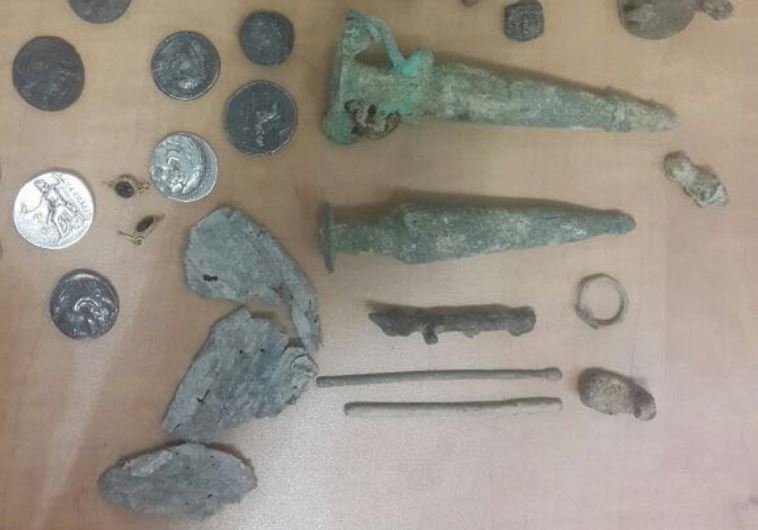 (Recovered antiquities confiscated by customs authorities. Photo provided by: Custom Authority)
According to the Israel Tax Authority, 10 kilograms of ancient coins and figurines were found stashed inside cardboard boxes. The driver was named by the Tax Authority as Issa Nagam, a resident of Beit Hanina in east Jerusalem. He was arrested on suspicion of smuggling antiquities and released on bond later in the day by a judge at the Jerusalem Magistrate's Court.No details about the origin of the antiquities or their value was given by the Tax Authority, but a photo it released showed a mound of small coins and around a dozen small figurines.Antiquities theft is a rather large industry in Israel, where antiquities thieves - mainly from Palestinian villages in the West Bank but not only - hunt for artifacts that can be sold illegally to collectors both inside and outside of Israel. Particularly popular are Bar Kochba-era tunnels and graves, which often turn up highly valuable coins. Antiquities spirited out of the country can also be used as a means of laundering money.