Breaking Israeli records for rainfall accumulation in a 60-minute period, 92 mm. of precipitation drenched the city of Ashkelon on Monday morning, deluging streets and damaging infrastructure.Lachish subdistrict police along with Fire and Rescue Services – some in diving suits – scoured the swamped streets in kayaks, rubber rafts and 4x4 vehicles to extricate motorists and residents stranded by the downpour in the coastal city in the South. In one case, police said they rescued a young child and his parents from their car, after it became stuck in rising water on Ben-Zvi Street. So intense were the rains that they washed out a large portion of Ashkelon's Ben-Yehuda Street, with two lanes collapsing into a sinkhole.
Heavy rain swamps Ashkelon causing road to collapse
(Flooded road in Ashkelon, Photo credit: Police) A total of about 112 mm. accumulated from 7 a.m. to 12 p.m., of that quantity, 92 mm. fell in the course of an hour, the Israel Meteorological Service's Ashkelon station said. The Ashkelon Towns Association for Environmental Quality monitoring station reported even higher amounts, measuring up to 118 mm., said Dr. Amos Porat, head of the Climate Department at the IMS.The previous one-hour record for a downpour in Israel was 88 mm., measured on October 22, 2008, at the University of Haifa, Porat said.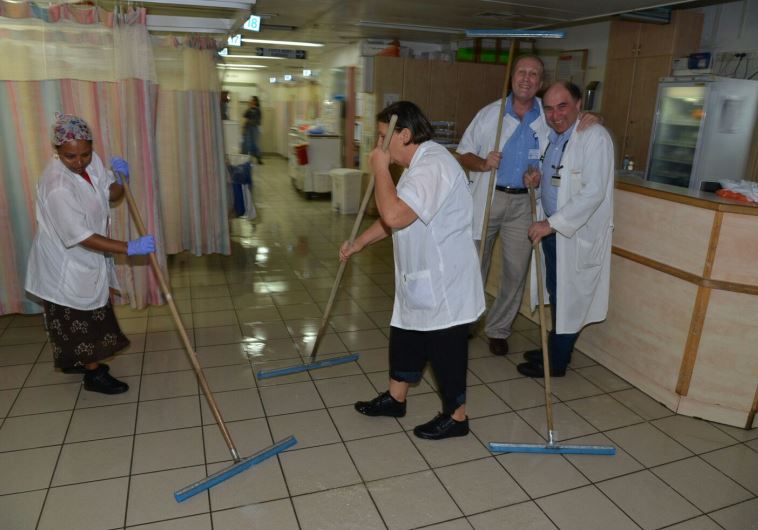 (Barzilai staff mopping up during flooding, Photo credit: David Aviouz, Barzilai Medical Center) Monday morning's precipitation in Ashkelon topped the charts even for half-hourly rainfall, with 67 mm. accumulating, he said.On Monday evening, the Negev police said that heavy rains flooded a section of Route 234, near Tze'elim, and asked drivers to take alternate routes.The rains that have hit Israel over the past few days "can be remotely connected" to the dust storm that clouded the country's skies last week, as the area is still under the influence of a Red Sea trough, Porat explained.A meteorological trough features low atmospheric pressure, as opposed to a ridge, which features high atmospheric pressure."Last week we were in its eastern part with strong easterly winds, with dust from the desert," he said. "Now we are in its western part, with westerly winds, and rainfall mainly in the coastal area."Ashkelon's Barzilai Medical Center suffered only negligible effects from flooding.Staffers in the ground floor squeegeed away the extra water. Electronic equipment was not harmed. For Tuesday, the IMS forecasts partly cloudy skies and slightly warmer temperatures, with isolated showers from the North to the northern Negev. Partly cloudy conditions, with a continued chance of isolated showers in the Center and the Negev in the morning, are expected to continue on Wednesday.By Thursday and Friday, the IMS forecast showed fair skies and increasingly warmer conditions.