Three Jewish businesses in west Jerusalem closed and around 30 owners signed a petition in solidarity with their Arab colleagues, who decided to close shop on Wednesday for the annual Jerusalem Day March."This [closing] is my way to express my solidarity with the businesses in the Old City," said Noam Frankforter, the owner of Hamarakia, a café frequented by artists and college students. "I think it could have an influence. The police, instead of protecting the Palestinian business owners, who are exposed to violence toward them and their property, are forced to close. I don't see any situation like this in west Jerusalem."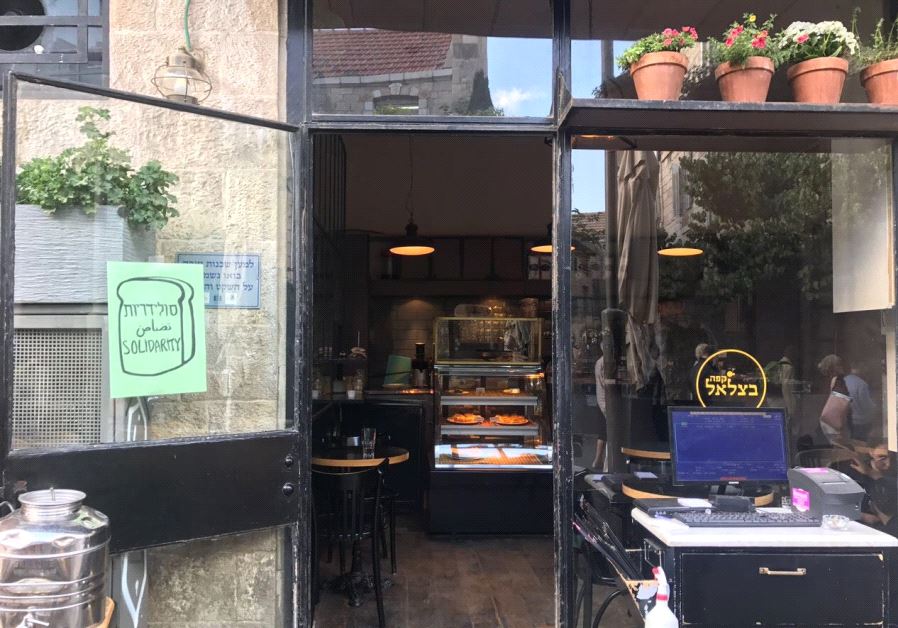 Thousands of mostly religious teenagers participate in the annual Jerusalem Day Flag March, which enters the Old City's Muslim Quarter through Damascus Gate and ends at the Western Wall. Many shop owners decide to close their stores along the march route to avoid conflict. In the past the marchers have been known to shout obscenities and bang on doors of Muslim Quarter residents.Sigmund Cafe and Agronsky Cafe also closed, while around 30 other businesses, including an ultra-Orthodox print shop, Ethiopian restaurant, and a convenience store, placed posters in their businesses and signed a petition stating their solidarity.The collective of Jerusalem-based activists that organized the solidarity initiative chose to keep the event unaffiliated with any political movement to gain diverse support."It is not about Right or Left or religion; it is about people who care about the solidarity of other workers," the activists said in a statement. "Many of the issues that unite the workers are issues with the Jerusalem Municipality."On Wednesday afternoon around Damascus Gate, Israel Police prepared for the mass of marchers that would be entering to celebrate Israel's capture of east Jerusalem from Jordan in 1967.Ibrahim Sheikh, 32, who owns a money change stand at the entrance, said: "This is our business. We usually stay open until 8 p.m., but we're closing at four. We are afraid something will happen. In the past people put materials in our locks and ruined them."Jerusalem Mayor Nir Barkat said the restrictions on Muslim Quarter residents are part of ensuring the proper flow of major events in the holy city."Part of our life all around the city – east, west, north, and south – is that the municipality, for major events, sometimes closes streets," Barkat said at a meeting with journalists last week. "[Streets are closed] when there's a flow of people, regardless of whether it's Muslim, Christian or Jewish."Police spokesman Micky Rosenfeld said that closures of streets are "standard security measures" to ensure the orderly procession of thousands of marchers.Yossi Ben-David, who owns Falafel Mullah, an iconic falafel stand near the Mahaneh Yehuda market, signed the solidarity petition."We are happy to celebrate Jerusalem Day," he said, "but there is no reason that a businessman needs to lose a day's pay for kids marching." Ben-David added that promoting solidarity with Arab businesses is not a popular stance among many of his fellow business owners, but the prospect excited his employees from east Jerusalem."I explained it to them, and they became really excited. They were happy that their Jewish boss would sign," he said.
An earlier version of this article published on May 25, 2017 incorrectly stated the circumstances concerning closed Arab shops in the Muslim Quarter of Jerusalem's Old City during the Jerusalem Flag Day March. The article stated that police forced the shops to close. While, police do maintain street closures in the Muslim Quarter area that restrict access to the march route, there were no orders from police to close shops, according to a police spokesman. Shops in the Muslim Quarter along the march route closed because tens of thousands of marchers walking through the area makes it unfeasible to stay open and some shop owners say they fear confrontation with the marchers.