Dozens of Rabbis from the Reform Movement in Israel and North America joined together for the first official morning prayer service on Thursday held in the area of the Western Wall formally designated to be used for non-orthodox worship. Women and men joined together in the prayer service and participated in the reading of the traditional reading of the Thursday Torah portion.Movement leaders and prayer participants recited the
shehecheyanu
blessing, a prayer traditionally recited at a time of the celebration of a special occasion."The prayers of hundreds of people and reform rabbis at the western wall is the ultimate answer to the incitement of the ultra-Orthodox leadership," said Rabbi Gilad Kariv, the Executive Director of the Israel Movement for Reform and Progressive Judaism. "They continue to incite and we continue to create a more pluralistic and tolerant reality in Israel.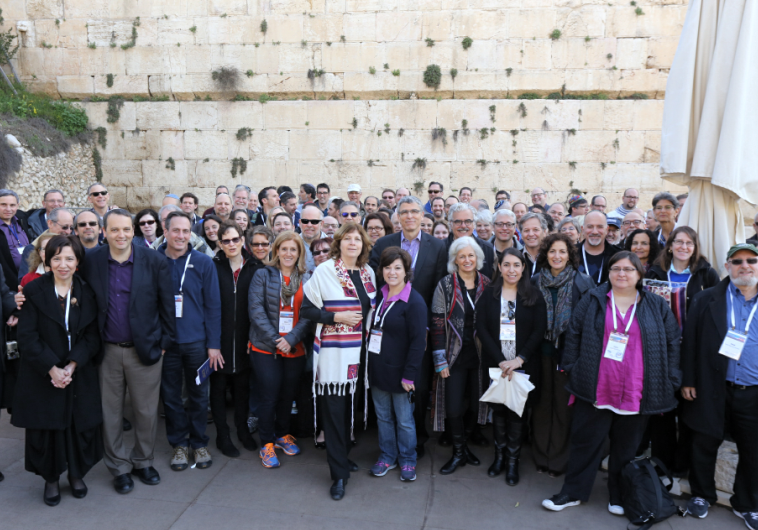 In January, in what was hailed as a historic landmark for Jewish pluralism and the non-Orthodox movements in Israel, the cabinet voted to radically upgrade an egalitarian prayer space at the Western Wall and to anchor the arrangement in law.The plan adopted by the cabinet will see the current prayer platform for non-Orthodox prayers at the Robinson Arch area at the southern end of the Western Wall formally designated as a prayer space for non-Orthodox worship. At the same time, the main Western Wall plaza as it is known today will be formally designated as a place for Orthodox worship.All visitors will be able to visit any prayer section they wish, but will only be able to pray there in accordance with the designated customs at the site.This means that once the egalitarian prayer section is complete in accordance with Sunday's agreement, the Women of the Wall organization will no longer be able to pray in the women's section of the upper Western Wall prayer site.The egalitarian section will be governed by a committee headed by the chairman of the Jewish Agency, and will include representatives from Women of the Wall, the Reform Movement, the Masorti (Conservative) Movement, the Jewish Federations of North America and the government, with an administrator appointed by the prime minister.The pluralistic nature of the egalitarian section and its governance will be established in law by changes that will be made to the Law of the Holy Sites (1981).
Jeremy Sharon contributed to this report.