According to the Police spokesman's office, a stabbing attack took place at the Dor Alon gas station on highway 443 on Sunday evening.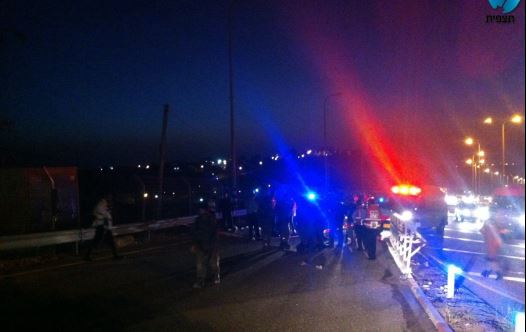 IDF and medics at the scene (photo courtesy: Tatzpit) A 26 year old Israeli man was lightly injured and treated at the scene by Magen David Adom paramedics before being evacuated to Shaare Zedek Medical Center in Jerusalem. The IDF shot one suspect who was killed at the scene. The army is currently investigating the situation along with Israeli Security Forces. Police believe there are other suspects involved, however their status remains unknown.An Israeli Medical Emergency spokesman said after the incident, "When we arrived at the scene we were met with a 26 year old with stab wounds to the upper body and being treated by military medical forces. The victim said he was attacked while fueling his car. We then continued treatment and evacuated the victim to a Jerusalem hospital."
Last Thursday,

a Palestinian terrorist struck and wounded three soldiers
as they walked with their unit on the side of Route 60, near the Shiloh junction in the West Bank.Two of the soldiers were seriously wounded, and were transported – one by helicopter and the other by ambulance – to Hadassah University Medical Center in Jerusalem's Ein Kerem. The third soldier, Lt. Daniel Albaz, was taken to Beilinson Medical Center in Petah Tikva where he described for reporters how the white four-door car plowed into them."I understood that it was a terror attack," he said with his arm in a cast. Albaz explained that he was able to shoot the Palestinian driver, whose vehicle then flipped over. The driver, who was seriously wounded, was taken to Shaare Zedek Medical Center in Jerusalem. The soldiers were part of a unit that had been stationed in the area to deal with any issues that might arise in the aftermath of last week's terror attack by Jewish extremists in the nearby village of Duma, in which a Palestinian toddler burned to death after his home was torched.In the aftermath of the attack, an unidentified assailant, assumed to be Palestinian, threw a Molotov cocktail at an Israeli vehicle in northeast Jerusalem's Beit Hanina neighborhood Monday night, injuring two people.Tensions have increased since Duma terror attack victim Sa'ad Dewabshe succumbed to his wounds this past Saturday. Hamas has made a call to action,
urging Palestinians to attack settlers in an act of revenge.