A 50-year-old Palestinian man was arrested after police seized hundreds of stolen rare antiquities from the Second Temple period stored in his West Bank home in Hawara, near Nablus.According to police, jewelry, pottery and hundreds of coins valued at tens of thousands of shekels were found Tuesday following a joint undercover investigation with the Archeology Department of the Civil Administration of Judea and Samaria into illegal trafficking on the black market.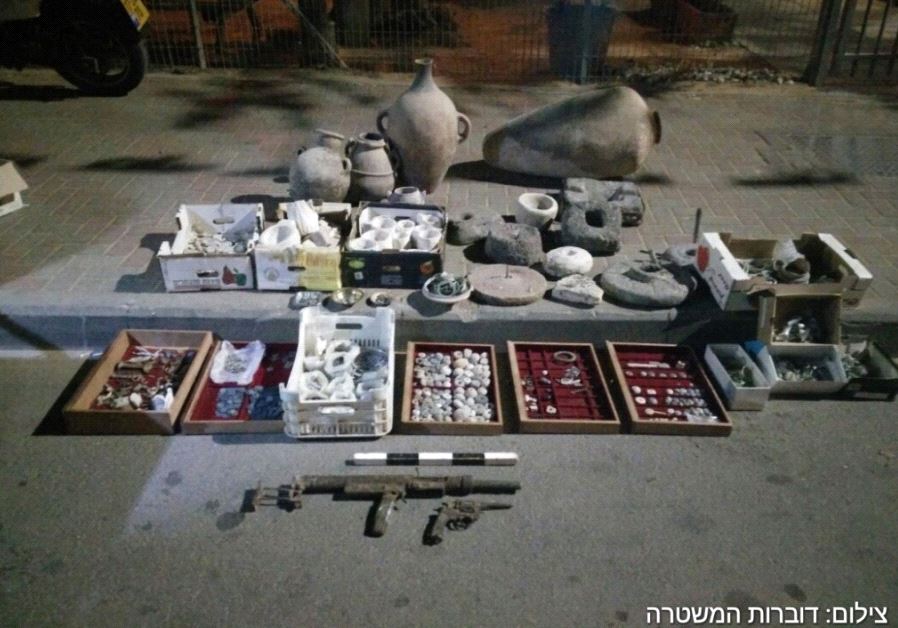 Archeologists vs robbers in race to find Dead Sea scrolls in June 2016, preventing archeology and antiquities theft(credit: REUTERS)
The unidentified suspect allegedly procured the antiquities illegally and attempted to sell them without a permit and without consulting the Antiquities Authority.Police spokesman Micky Rosenfeld said on Wednesday that the Tuesday arrest followed a lengthy undercover investigation into illegal antiquities trafficking in the West Bank and other regions of the country."As a result of the concrete intelligence that was received, police units entered the area and arrested the suspect at his home, and the antiquities were seized and returned to the Antiquities Authority," said Rosenfeld.Among the items found included basalt stones for grinding wheat, multiple water and oil jars from the Bar-Kochba Revolt, Assyrian Empire, Roman and Byzantine periods, and rare coins from as early as the Second Temple period, Rosenfeld said.The suspect, who was arraigned shortly after his arrest, claimed that he did not sell the cache, but, rather, kept it for his private collection. Antiquities theft is a common crime that is punishable by up to three years in prison.Over the last several decades, hundreds of suspects wielding metal detectors, pickaxes and shovels have been arrested across the country in attempts to loot and sell protected antiquities.To prevent such crimes, the authority set up the Unit for the Prevention of Antiquities Robbery, charged with monitoring dozens of historic sites.According to the authority, regulations were enacted last March requiring antiquities dealers to manage their commercial inventories using a computerized system developed by the authority to prevent such illicit trade.The system, "which tracks the items, was designed to prevent antiquities dealers from laundering illegal artifacts that are the product of antiquities robbery; namely, the illicit excavation of archeological sites that eradicate knowledge about the country's and the world's cultural heritage, solely for the purpose of profit," the authority said.Dr. Eitan Klein, the authority's supervisor in charge of the antiquities trade, said the regulations were enacted due to the rampant sales of plundered antiquities on the international black market."Prior to enacting the regulations, the situation with the ancient market was nothing short of miraculous, whereby there was always an abundance of finds on the shelves," he said. "Yet the dealers were constantly bemoaning the fact that sales were extremely weak.These reports raise serious questions about the remarkable survival of these stores for decades," he lamented.