A groundbreaking comics exhibition comes to Beersheba, graphically conveying Jewish female experiences.As dedications go, the opening inscription of the book Graphic Details: Jewish Women's Confessional Comics in Essays and Interviews is at the high end of the precise and self-exegetic scale. "To the 18 artists in this book and to all the women around the world who are bravely making comics about their own lives," proffers the author Sarah Lightman.The Londoner is one of the leading lights on the global female comics scene and is a doctoral researcher at the University of Glasgow. She is also the co-curator, along with acclaimed American journalist Michael Kaminer, of the exhibition Graphic Details: Confessional Comics by Jewish Women, which is currently up and running at the Negev Museum of Art in Beersheba.
Lightman's foray into the gender-specific field followed a painful occurrence. A few years back, she was sitting on a bench overlooking the River Thames when she received a text message in which her then boyfriend informed her the relationship had run its course. At the time it was a devastating blow, not least because it took place just prior to St. Valentine's Day. As she gradually recovered her personal poise, Lightman began channeling her grief into a creative avenue and the Dumped comics series soon ensued.As visitors to the Negev Museum of Art will quickly discover, Graphic Details: Confessional Comics by Jewish Women is a no-holds-barred enterprise. While it may seem more natural for such a non-PC show to materialize in this postmodern world of ours, in fact, some of the exhibitors have been around and drawing for more than 40 years.ONE OF the more senior members of the exhibitor list is Canadian Bernice Eisenstein, who is in her late 60s. Her best-known published work, I Was a Child of Holocaust Survivors, came out in 2006. In it, Eisenstein conveys the emotions she felt, and some of the darker and lighter events she experienced as a member of the Second Generation. The book, for which she provided both text and illustrations, is fueled by the horrors her parents involuntarily imparted to her. At first glance her drawings seem innocuous and even tender, but you soon sense an edginess and gnawing sadness.Any artist has to delve into emotional baggage, and putting out some of her feelings about growing up with psychologically scarred parents must have necessitated plenty of soul-searching, as well as a couple of trips through the emotional wringer. But that "warts and all" theme is evident everywhere you look in the Graphic Details show.The impetus for the exhibition came from an article written by Kaminer for the New York-based Jewish weekly The Forward. The New York writer was visiting a comics expo in the Big Apple when he noticed that a large number of the stands were staffed by women, and that many of them had Jewish-sounding names.The ensuing article was subsequently read by Lightman in London, and the rest is history – currently repeating itself in Beersheba."Michael decided that this [female comics artists] was a trend. I read the article he wrote for The Forward.I had curated a number of exhibitions before this, and I thought this was a great basis for an exhibition," Lightman recalls. The two began emailing. "We started collecting artists. We opened [the exhibition] at the Cartoon Art Museum [in San Francisco] in 2010 and it has toured to nine different galleries and museums over the past six years."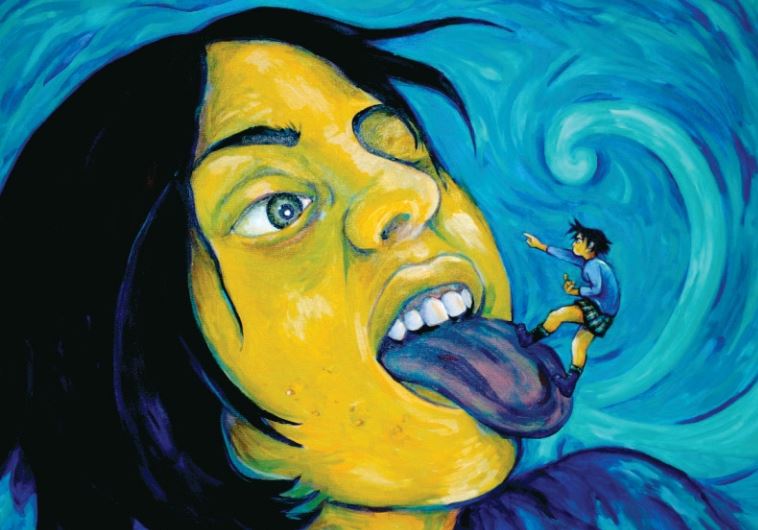 As Kaminer notes, Jews have been airing their self-deprecating gripes for many a year. The names Woody Allen, Lenny Bruce and Sandra Bernhard spring to mind easily, but Graphic Details takes the bare-knuckled introspection mindset several notches down the candor line.It appears that female comics artists are eager to tread where none of their male counterparts have mustered the courage to explore. Naturally, there are some topics that are better addressed by women, simply because men are physically incapable of experiencing them firsthand. The trauma of having a miscarriage, for example, is graphically presented by Joanne Leonard, while Achbar Ha'ir columnist Ilana Zeffren expounds on the way a lesbian goes about her daily business, as does Californian artist Ariel Schrag.We also gain some insight into a young American Jew's whistle-stop but powerful impressions of this country, through Birthright tour participant Sarah Glidden's How to Understand Israel in 60 Days or Less, while the project also takes in a decent dosage of humor, too. Miss Lasko-Gross portrays a keen sense of scatologically motivated funnies with her "The Turd" strip, while British artist Corinne Pearlman presents an entertainingly unblinkered take on what it means to be Jewish.SO, WHAT fascinates Lightman about female comics artists, other than the fact that they were marginalized for so long? "From the 1970s onward women were writing about things that men were not able to write about," observes Lightman. "[Groundbreaking 77-year-old] Trina Robbins, who by the way writes [super hero character] Wonder Woman episodes, saw men drawing sexist, misogynist characters, women being raped and women being murdered [in comics] and men thinking that was funny," says Lightman. "Trina and other women said not only is that not appropriate, but also women don't want to read those books. Women want to read about women's lives and women's experiences – the way they encounter hardships and issues because they are women."Lightman feels that female artists convey the nitty-gritty of everyday life far more succinctly than the male members of the profession."Women talk about the art of survival, and also making difficulties into something beautiful. Even a small incident in your life can become an art form, and something wondrous."
Graphic Details: Confessional Comics by Jewish Women closes on September 3. For more details: (08) 699-3535 and www.negev-museum.org.il.
The show has already been viewed by the North American public at venues in Toronto, San Francisco, Portland, Washington DC and New York, and also in Lightman's hometown, and has struck a chord with people around the globe, gaining extensive media coverage.The book, which was inspired by the exhibition, is, as the author proudly notes, "the first-ever book about Jewish female comics. It is the first of what I hope will be a continually growing library of books about Jewish female comics."If this is the kickoff for a new artistic visually arresting – and aesthetically and emotionally graphic – genre, the scene should flourish nicely in years to come. Lightman comes across as a straight shooter, and the direct approach is very much the order of the day across the exhibition's works.