Many Israeli teens dream of gaining acceptance into the Israel Air Force, and Mohammad Ka'abiya was no exception."I was proud for my village and family to see me in an Israel Air Force uniform," says Ka'abiya, now 26 and going into his final year of Middle Eastern and Political Science studies at the University of Haifa.His Galilee village of 5,500 Beduin also is called Ka'abiya, as it was founded by his great-grandfather. Most of the young men in Ka'abiya serve in the Israel Defense Forces, usually as trackers and scouts. Three village residents have fallen in the line of duty.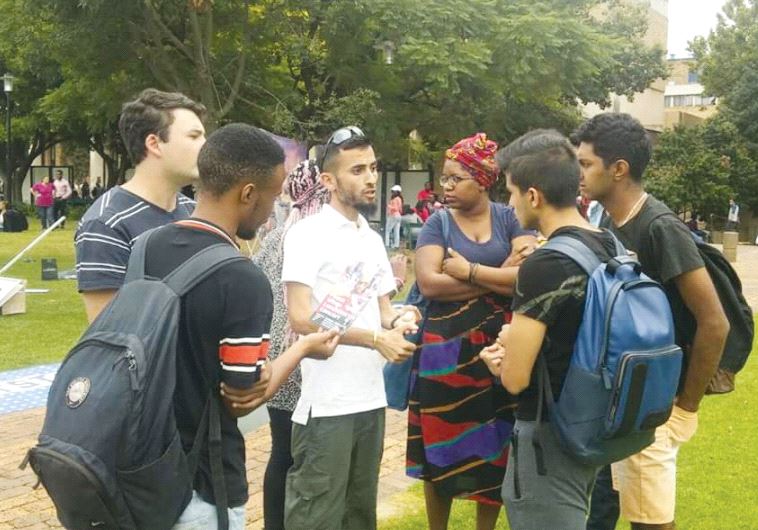 StandWithUs provides the tools for doing so, and to counter misinformation."I traveled with StandWithUs to Israel Apartheid Week last March in Johannesburg and Pretoria," he relates. "At Wits University [The University of the Witwatersrand, Johannesburg], the first thing we saw was a sign that said 'Stop Apartheid in Israel.' Two South African students came up to us and said, 'Stop beating up women and children!' I was shocked to hear it, but I understood how powerful the BDS campaign is. I understood how much we have to do to show the true face of Israel."He found it incredible to see Jewish South Africans fomenting against Israel."I told them, 'Look, I'm an Arab and I'm fighting for Israel. How can you fight against your state?' I saw that BDS activists have material from Jewish soldiers in Breaking the Silence, and that really bothers me."At one point on the Wits campus he came upon another fellow listening to a South African student claiming that Arabs have no rights in Israel."I let him finish, and then I came up to him and said, 'My name is Mohammad and I served in the Israel Air Force and I'm preparing Beduin guides to serve. I'm here to protect Israel from the BDS lies. You must know that Israeli Arabs have the freedom to live, work, worship and travel, more than many of the Jewish minorities in Arab countries.' "People don't believe me at first but when I show them my Facebook page and interviews I have done, they begin to believe." A naturally gregarious young man, Ka'abiya is one of a handful of Arab Israelis depicted in My Home, a new documentary by Toronto filmmaker Igal Hecht."This country is good for every Arab citizen who lives here. We don't have any other country. There is equality here.God bless the 'occupation,'" Ka'abiya says in the trailer for the movie, adding that thousands of other minority members in Israel feel the same way."One time a Muslim student said to me, 'How can you fight against your brothers in Gaza?' and I told her I was fighting terrorism, and terrorism doesn't have any brothers," he says."If they're shooting at me or digging tunnels to kill me and other Israelis, they're not my brothers. In a normal situation, all people are brothers. But in our situation, my brothers are the citizens who live with me in my state."People hostile to Israel have accused Ka'abiya of being an unfaithful Muslim or a Jew in disguise. He's been called "Michael" and other Hebrew names derisively."In my holy book, the Koran, it is written that this land is for the Jewish people and that I have to respect Jews and Christians. How can you use the Koran to fight against the Jewish people?" he wonders.Ka'abiya participated in the ACCESS Israel delegation to the AJC Global Forum last June in Washington, DC, which promotes advocacy for Israel through informal contact with young diplomats from other countries. He met with prominent Israelis such as Danny Danon, permanent representative of Israel to the United Nations, opposition leader Isaac Herzog and veteran diplomat Ron Prosor, in addition to ambassadors and government ministers from more than 70 countries.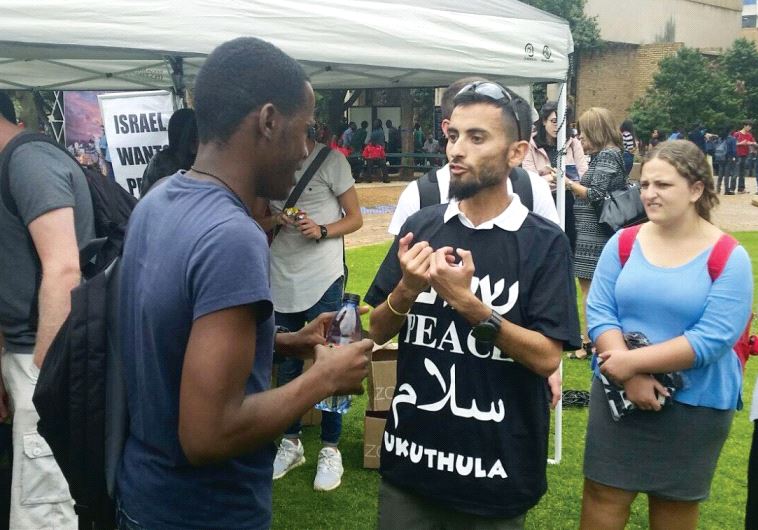 "In Washington we had many kinds of sessions about how to support Israel," he says.However, before he got to Washington, the trip was marred by a personal tragedy back home. "My cousin is in the border patrol. When my plane landed at JFK [International Airport in New York] I turned on my phone and received more than 10 SMS messages telling me that he was fired on at an attack on a checkpoint. I didn't know what to do; I wanted to go back to Israel. My family called and said, 'Look, your cousin will be okay.' But the whole time away, my heart and mind were with my family in the hospital."And then a suspicious security worker at JFK questioned Ka'abiya about the purpose of his visit. "I said that I came for the AJC Global Forum, and he said, 'But you're not Jewish.' I had no strength left to argue. I said, 'In Israel there are 1,400,000 Arab citizens. People in the US don't know that.'" Ignorance is rampant among anti-Israel activists, Ka'abiya has found. "Many of these people can't even find Israel on a map. They hate it just because of what others tell them."Realistically, he knows there is little chance of changing minds among the most entrenched BDSers. It's the people on the fence about Israel who can be influenced positively by Ka'abiya and his message, and he estimates this group to comprise as much as 90 percent of the students he encounters.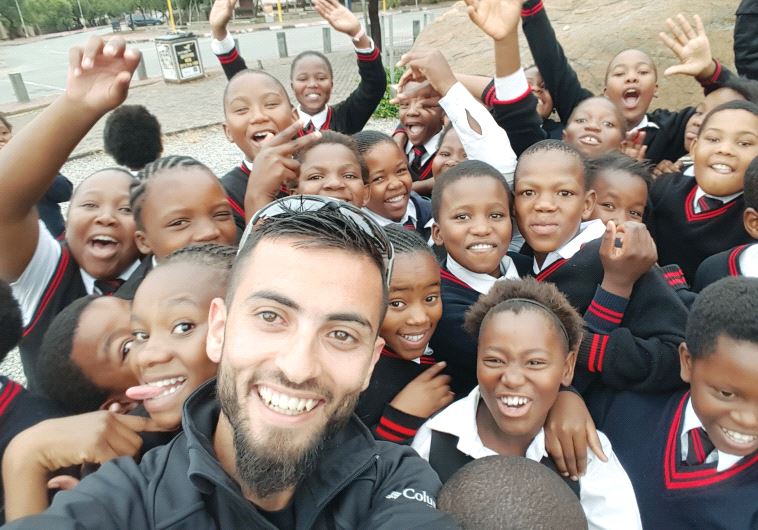 Ka'abiya and his two brothers and sisters attended the Franciscan Sisters Christian School in Nazareth and went on to higher education in fields ranging from electrical engineering to education to psychology. "My parents pushed me to learn and study," he says.He is still considering his options for the future, but he knows advocacy will be important in whatever he does."I want a public career to help my Beduin community and the State of Israel, to explain Israel and do whatever I can do for my state, for my home," he says.
"In my home we were educated to respect all people. We were taught not to hurt anyone. We had no problem with any culture or people," says the middle child of five siblings raised by a building contractor father and preschool teacher mother.While his service in an IAF rescue squadron wasn't out of the ordinary for a Beduin, Ka'abiya has continued to serve his country in what might be seen as a more difficult and even dangerous role: international Israel advocate.Ka'abiya is a StandWithUs Fellow and is active in Aharai!, a nonprofit leadership- development organization that helps youth in the social and geographic periphery – in his case, fellow Beduin – prepare for meaningful service in society and the IDF."I saw how much people lie about Israel, all the time saying it's an apartheid state and minorities don't have rights, and the IDF does ethnic cleansing in the West Bank and Gaza," says Ka'abiya, who speaks Arabic, Hebrew and English. "For me, having served in the IDF and knowing what we really are like, I decided that I wanted to explain it to others."