The 21-year-old from Seattle is dressed in fatigues and his face covered in painted camouflage."It's been an intense time lately... with a lot more work to do. We have longer hours."Or Feuerstein snaps his fingers to indicate the suddenness with which soldiers in his unit are required to report back to their base for operations.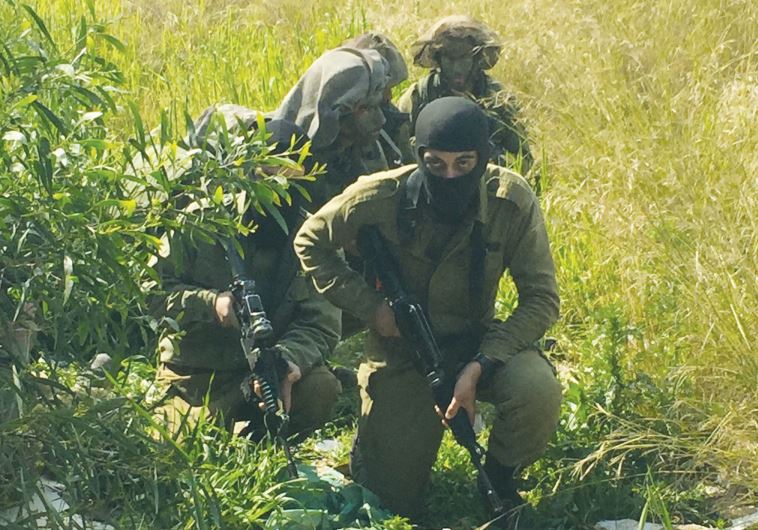 IT'S MILD weather in the coastal plain. Overhead choppers come and go from another base and the roar of jets can be heard in the distance. Israel is always on a kind of war footing. Nothing ever stops. There is no "peace time." Between September 13 last year and February 13, 2016, 174 stabbings, 70 shootings of Israeli citizens and 38 car-ramming attacks were recorded, according to the Foreign Affairs Ministry; 29 Israelis and one Palestinian were killed in the attacks. Around 170 Palestinians have also been killed, almost all of them in the course of carrying out attacks.The "stabbing intifada" is referred to as a "wave of terrorism" in defense circles. In the first 13 months of the first intifada, starting in 1987, only 12 Israelis were killed. In the first four months of the second intifada (2000), 47 Israelis were killed. Prime Minister Benjamin Netanyahu has said the country faces numerous threats, which led him to declare in the first week of February that the country would complete a multiyear project of new security fences."In the neighborhood in which we live we need to protect ourselves against beasts."The need for this stationary security can be seen on Route 443, which connects Jerusalem to Tel Aviv. Lack of a proper fence was blamed for the attack in Beit Horon by two knife-wielding intruders who killed Shlomit Krugman in January. Near the gas station on the same highway, barbed wire and improved fencing were added after two attacks in the area.Fences and defensive security provide comfort and protection, but when there is terrorism and the army has to go find terrorists or raid Palestinian villages, it calls on a specialized unit known as combat intelligence.This unit has five battalions, four of which deal with surveillance and intelligence gathering along the Gaza and southern border, as well as the northern border with Lebanon and Syria. Their role is carried out primarily along a static fence.The fifth battalion, Nitzan, operates in the West Bank, performing a unique function under incredibly difficult and intensive conditions, its officers and men say.Earlier this month, I went down to see how they train to deal with the kinds of threats Israel is facing today.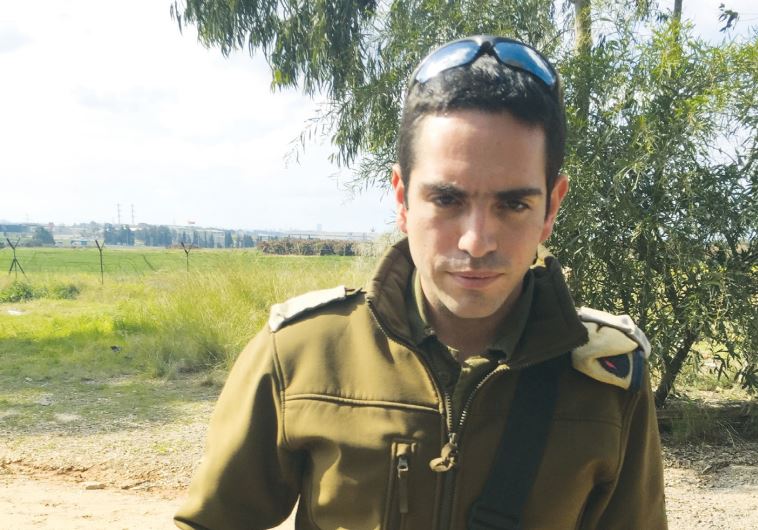 THE NEED for effective intelligence in war is as ancient as combat itself. George Washington in 1777 noted that "the necessity of procuring good intelligence is apparent… keep the whole matter as secret as possible. For upon secrecy, success depends in most enterprises of the kind, and for want of it, they are generally defeated, however well planned."Since at least World War II, it has been standard procedure in large Western armies to assign intelligence officers and specialized reconnaissance units to armies in the field. Israel's sixth president, Chaim Herzog, served as an intelligence officer in the British Army in the Normandy invasion, and like him, many early Zionist military figures understood the key role intelligence played in defeating superior Arab armies.In 2000, the IDF established a Field Intelligence Corps whose name was changed in 2009 to Combat Intelligence. The concept is to have a dedicated unit that can collect intelligence on the battlefield, target precision fire onto an enemy position using advanced radar and visual gear to observe the enemy, and use such items as balloons to survey an area threatened by an enemy.Unlike Israel's other intelligence-gathering units, such as the army's Modi'in (Intelligence) unit, its observation units and undercover work, and the 8,200 unit's hi-tech listening capabilities, the combat intelligence soldiers are more like combat soldiers in the field. They do a regular infantryman's basic training, and then advanced training in camouflage and intelligence.AT A base near Gedera, a platoon of combat intelligence soldiers is preparing for a re-training exercise. There is a constant need to keep on top of developments and threats that they face in the field.Lt. Aviram Papushado watches his men prepare. Hailing from a family of Greek Jews whose name is well known in the cookie industry, he joined the army in 2012 and fought in Operation Protective Edge in Gaza.In some places the border is fenced, he notes, but in others "we are a country without borders, in a sense."This is the case in Judea and Samaria."In this unit we use vehicular observation paired with soldiers on foot… we operate in urban areas [often] and here, in this training, the concept is to see how they can gather information from inside the buildings."He stresses the importance of having the unit work fluidly, gathering intelligence from its roving jeep, being able to insert themselves into a building and use that to their advantage against the enemy.The training area is designed to look like the kind of environment they might face in the West Bank. A large four-story building looms over an area overgrown with trees and tall grass. Other abandoned buildings hide among the trees. Someone has written graffiti on the old structures: "Free Palestine" and "Kill the Jews."As the soldiers are briefed on the training in the eastern side of the site, an army jeep arrives. From a large funnel on its roof emerges a camera attached to a long pole, like a periscope emerging from a submarine."Since July we have been dealing with a wave of terrorism," says Papushado, whose soldiers all seem to know him affectionately as "Papo." In the past month, with dozens of lone wolf-style terrorist attacks, the unit was sent from place to place in the West Bank. Its special skills are valued and highly sought after by commanders.Unlike other units deployed in the West Bank that are cycled in and out of a sector and are not able to spend enough time in one place to get to know it well, the combat intelligence battalion is permanently based in the West Bank. With its headquarters next to Ofer Prison on Route 443, it can be deployed quickly to wherever is needed."We are concentrated in those areas where we know there are problems and those areas where they want to hurt our citizens," says the lieutenant.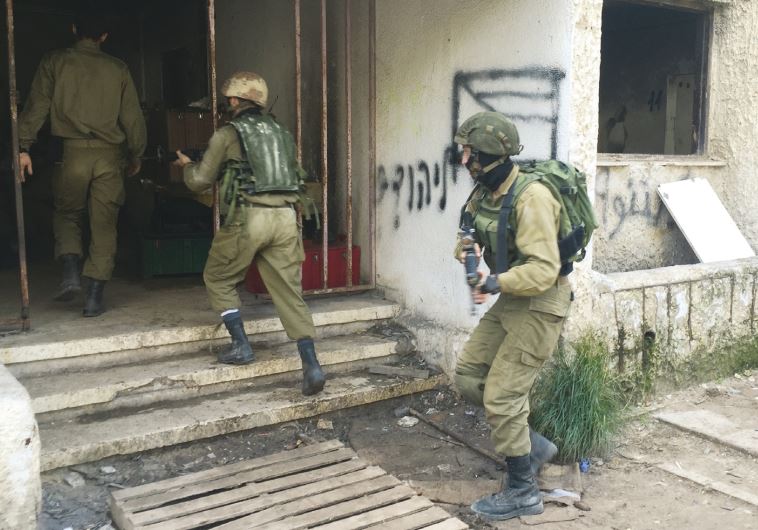 A SPOKESMAN attached to the unit explains some of the ways it deals with threats in the West Bank."If we are dealing with Kalandiya, for example [the main checkpoint leading from Ramallah to Jerusalem, which makes it a flash point of violence during protests], we have border police and army units there." There is also a refugee camp next to the checkpoint that has been the target of numerous Israeli army raids over the years, due to the presence of Palestinian terrorists who pose threats, such as targeting Israelis with gunfire. The two teenage Palestinian girls who stabbed a man on Jaffa Road in Jerusalem in November were from that area."Combat intelligence will deploy in an area before an operation. We have maps and other tools to provide the other forces involved with assessment of the threats."If Palestinians are preparing a firebomb to throw at soldiers, the field intelligence unit observing the area can warn the troops, or act to neutralize the threat. In addition, when IDF soldiers or police are returning from an operation in a Palestinian area, they may face threats as they leave a village or urban area. The intelligence unit will also be there to help protect the force and observe threats to it.Combat intelligence allows the IDF to stay one step ahead of its enemies. In this latest wave of violence the army has worked hard to exercise restraint and, as in the past, it attempts to pinpoint target those responsible for attacks.The relative strength of the IDF and the Palestinians is not comparable.Whereas Palestinians use stones, or very infrequently small arms, the IDF has massive resources. From drones to observation towers, surveillance balloons and soldiers, there is no match in the forces involved.However, to prevent violence from spiraling out of control, the IDF has learned from the first intifada that wading into protests and ending up with large numbers of Palestinian casualties, including loss of life of innocent Palestinian civilians caught in the crossfire, also harms Israel.USING SUPERIOR field intelligence, the army can go into a Palestinian village from a direction that is less expected. If dozens of youths are on one side throwing stones and the object is to arrest someone in the middle of the village, the combat intelligence can help provide a quiet and safer route in and out.Feuerstein stresses the multifaceted tools the unit has."We focus on visual intelligence, such as using binoculars – anything you can see – we specialize in that in this company.We use balloons and jeeps with cameras, including thermal imaging, and in that way we can set up defense on a road or near a settlement."However, defending hot spots where there are frequent terrorist threats is just one aspect of the work he describes as "rewarding."Another is offensive operations against stone throwers or those with firearms and firebombs.Since the recent wave of violence began, there have been several shooting attacks on Israelis in the Hebron area.In November, a father and son were killed near Otniel, south of Hebron.The Palestinian suspect in that attack was turned in by his father. Another soldier was wounded in a shooting attack soon after. On January 3, two soldiers were wounded in a sniper attack in Hebron.In such instances, the work of the combat intelligence unit is to investigate the buildings where the sniper is suspected to be operating from.www.jpost.com 13 IN THE training carried out in early November, the unit practiced how to neutralize two soldiers portraying Palestinians throwing firebombs onto a road.Papushado points to an area where a jeep has set up its observation periscope to keep track of the two Palestinians.At the same time, a group of 16 men on foot are deployed to sneak around through high brush and come at the firebomb throwers from a tall building.The soldiers set out by making a long arc around the area where the firebomb throwers are standing.The soldiers creep in the grass, their faces painted, some of them wearing black balaclavas. Eventually the IDF team moves into the tall building, clearing its hallways one by one and ascending the stairs.A second group on the roof of the building is given the order to fire at the legs of the suspects just before they throw a firebomb. This is to adhere to the strict rules of engagement of the IDF, which calls on soldiers to aim for the lower body when confronted with certain types of non-lethal attacks.Unlike stone throwers, those throwing firebombs are defined as posing a higher level of danger.With the crack of two M-16 rifles firing blanks from the roof of the building, the "Palestinian" throwers fall to the ground, mock-wounded. A group of combat intelligence soldiers rushes up to them and takes the wounded men away, putting them in a waiting truck that will take them for emergency medical care and then arrest and interrogation.THE FACT that the combat intelligence unit is training to complete every task of this mission, from surveillance to stopping terrorists with live fire and carting away the wounded, is a recent development, says Papushado."We noticed we were working with other units often, but some of it was difficult and it was easier to work with our own people. It's more organic that way. So we prefer to complete a mission ourselves."That means that everyone in the unit must be combat-ready. Even the driver of the jeep is a combat soldier who has completed a special jeep-driving course for off-road navigation.The soldiers pride themselves on their ability to arrive at an area hours before an operation may occur, study the environment, identify the threats, and if necessary neutralize those threats, or protect those who are tasked with doing so. All of this is conducted quietly, so that the enemy never even knows it is being observed.However, all this training can never predict the threats to come."It's hard to know – due to our new situation, lone wolf terrorism is the main issue. We don't know where and how it will occur, or what kind of person will come. We want to stop each attack so that it won't happen again."
"People are called back from home at a moment's notice."Five years ago, he came to Israel from the US, and he is one of the older members of this group of combat intelligence soldiers preparing for a training exercise near Gedera.