A new art museum has opened in Israel. That in itself is interesting – but this museum is not in Tel Aviv.It is not in Jerusalem. It is not in Haifa, or Holon. It is not anywhere one would expect a new art institution to be.The museum, which formally opened on June 17, is in Sakhnin – an Israeli-Arab city in the Lower Galilee, hitherto famous chiefly for its soccer team, Bnei Sakhnin. Hope is strong that the newly inaugurated Arab Museum of Contemporary Art – or AMOCA, as it will inevitably be known – will someday make Sakhnin just as famous for its art.
"We believe that culture and art, like economic wealth, should be present throughout this country," says Fainaru, artist, curator and initiator of the Mediterranean Biennale. "Most culture and art are still centered in wealthy areas; in and around Tel Aviv, in and around Jerusalem. People in this area deserve to see both established artists – like [the recently deceased] Menashe Kadishman, whose work we are showing here – and local artists. "There are people here who are interested in contemporary art – but they tell me that in order to see it, they have to take a bus to Tel Aviv. For these people, money and distance are problems that keep them from doing that. OK, we can't compare this place with established art centers like Tel Aviv, but we can give people the possibility to see artists and artwork."Continues Fainaru: On the flipside, "we are also giving people from locales like Tel Aviv the possibility to see the artists and artwork from around here. We want to make a place where people from different cultures, different religions – Jews, Muslims, Christians, Druse – can meet and dialogue about art."But perhaps the primary raison d'etre of this new museum in Sakhnin is to provide local artists with a place to be artists, to meet other artists and, most importantly, to display their work. Notes Fainaru, "There are a lot of highly educated artists around here. These people are graduates of academies, and they come back here – from Tel Aviv, Haifa, Jerusalem – and find themselves far away from art centers. They don't meet with curators, who are too lazy to ride for an hour and a half to come here. They don't have meetings in cafes and restaurants with other artists. They are unable to arrange things like exhibitions."So we want to provide them with a place to show their work and meet people who come to see it. And we want to promote them, because many of them are world-class artists. We want to show their work right alongside that of artists who are wellknown."AMOCA'S OPENING exhibition is called "Hiwar," an Arabic word we are told has two main definitions: either to "describe a calm conversation between two or more people"; or in the context of any type of conflict, "a process by which two or more parties engage in a conversation that is calm and free from animosity, with the aim of reaching an agreement on a certain issue." Fainaru and co-curator Bar-Shay see both the word and the exhibition as being essentially about dialogue.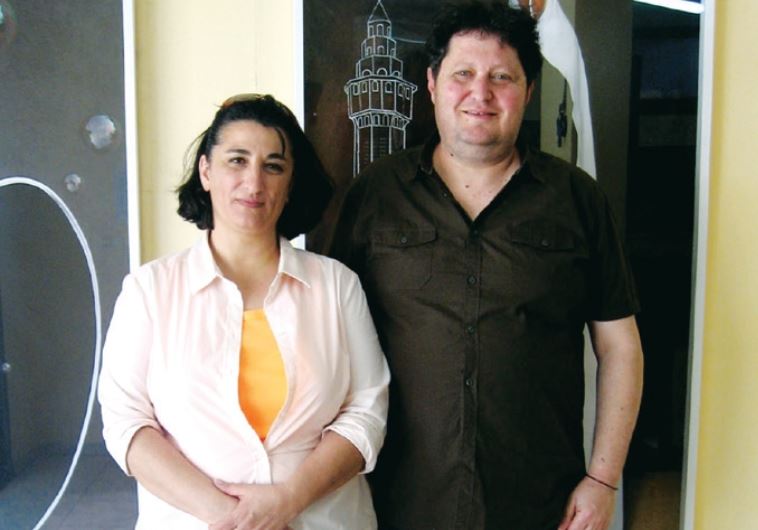 Describes Bar-Shay – artist, designer and architect –"In this exhibition we have artists from Israel, of course; Arabs and Jews. There is a Druse artist, Abir Athalla. There is a Palestinian artist, Raed Bawayah, who we have been in contact with for a long time; he lives now in Paris. And there are artists from around the Mediterranean and beyond." The exhibition indeed includes paintings, photographs and installations by artists from Morocco to Afghanistan."One of our goals is to research the art of the Mediterranean," details Bar-Shay. "We are in contact with a lot of artists from Turkey. We have a video here from an artist from Syria; in it, he says, 'I have no home. I have no friends, I have nothing.' What is left at the end is only clouds and beauty. We have an artist on display from Iran, Anahita Razmi, a feminist. And we have Mehdi-Georges Lahlou, a very interesting Moroccan artist whose mother is Catholic and whose father is Muslim. He is full of contradictions."And full of dialogue, perhaps? "Yes! And dialogue, within himself," Bar- Shay adds with a laugh. "Hiwar" has a little bit of something for virtually anyone to "dialogue" with. There are compelling autobiographical photographs by Palestinian artist Raed Bawayah, invoking memories of a childhood in a village near Ramallah, along with visually striking photographs by Angelika Sher, who grew up in Vilnius, Lithuania, and immigrated to Israel on her own in 1990.There are several videos, perhaps the most amusing being I'm Protesting Against Myself by Romanian artist Ciprian Muresan, in which a Sesame Street-style puppet rises out of a dumpster to recruit the viewer to join the puppet-speaker's protest against himself. The dumpster appears to be Muresan's version of a soap-box podium.Fainaru has contributed a traffic light, set in a small courtyard, that alternately flashes the messages "LOVE" and "DON'T LOVE." And Afghan artist Jeanno Gaussi presents two fascinating photograph and painting mixed-media artworks, one called Fragments from Kabul.But if any one work shows why AMOCA is needed and what its mission must be, it is an untitled painting by local artist Runi Zarawi, depicting a dreamy, almost impressionistic vision of a three-story residential building in an Arab village. Relates Fainaru, "He's a local painter, living not far from here in the village of Majd el-Kurum, where he was born. And this is what he sees from his window.He has a master's in fine arts from the University of Haifa, but in this area he can't live as an artist. He has a wife and two children, and works as an electrician to support them; his father is an electrician, so he is one also. But he's a fine artist, who paints at night and on weekends."This museum will allow him to be himself and also to bring his family and colleagues from Majd el-Kurum, offering the chance to see other art and to meet other artists. Hopefully, these contacts will open doors and present opportunities to Runi and these other artists. They deserve these opportunities but they work to support families, so they don't have the time to meet curators or to go from gallery to gallery to try to show their art. And when their work is displayed here, it's shown on an equal footing with established Israeli artists like Micha Ullman and Menashe Kadishman."AMOCA IS housed in the Center for Environmental Research and Education, at 100 Doha Street – a work of art in itself.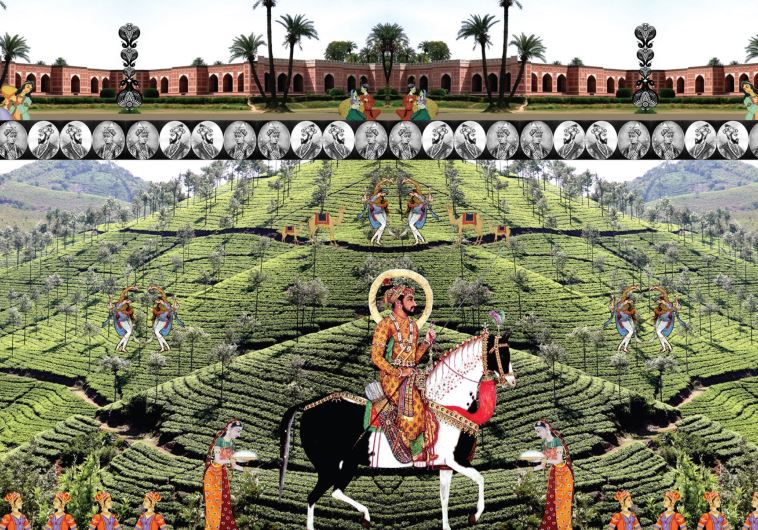 Designed by Abed Elrahman Yassin and constructed with adobe mud bricks, the building uses traditional Arab architectural techniques that ensure cool air and natural daylight, along with modern wind and solar generators. The museum has ample gallery display areas, classrooms – which Fainaru and Bar-Shay plan to use for future community art education programs – and an auditorium.The new institution does not have a coffee shop on its premises at 100 Doha Street, which is perhaps the sine qua non of any successful art museum. A reasonable facsimile ile is to be found, however, a short distance away at 62 Doha Street. Madmas is a small, friendly restaurant known not only for its coffee but also for superb hummus and falafel. Serving as AMOCA's more or less official place to refresh and relax, the restaurant also provides additional exhibition space for artwork from the current "Hiwar" exhibition.Bar-Shay and Fainaru are optimistic but not delusional; they know that they have an uphill climb ahead of them. Asked for her thoughts about the museum's future, Bar-Shay smiles and replies, "Reality or vision? Obviously we hope to expand. We want to achieve not only a greater degree of dialogue between artists, but also with the surrounding community. We want to have and support educational programs. We think it's most important to serve as a bridge between Jews and Arabs, to use art as a bridge."Fainaru asserts, "We are at the periphery of the periphery. For example, in Tel Aviv, people – even artists whose work is here now – have asked me if Sakhnin is near Ramallah. They don't even know where this city is located. They know the name of the place because of the football team, or because of the recent clash between fans of Bnei Sakhnin and Beitar Jerusalem. There are also journalists who tell me they will not come to an Arab city."Fainaru also acknowledges the challenge of reaching out to the surrounding community. "This is not going to be an easy process; we don't expect the local people to suddenly decide that they can't live without art. But I think about a place like Ein Harod in the 1930s, when they didn't even have what to eat and a group of people said, 'We cannot live on this hill without having an art institution. Art is a basic need, and we can't live without it.' "We want to send the same message here, that whatever else you do or study, art can also be an important part of your life. I think that in the long term, this will work."Even more ambitious is Sakhnin Mayor Mazen Ganayem, who states, "I was responsible for the creation of the Bnei Sakhnin football team, the most successful Israeli-Arab team in the country. What we did for this city with sport, I want to see us do with art. I want to see Sakhnin become a center for art; I want to see many people, Jews and Arabs, come together here."Where politics have failed, maybe art will succeed.""Hiwar" is ongoing through December at the Arab Museum of Contemporary Art, 100 Doha Street, Sakhnin. For opening hours, travel directions and further information: (04) 823-5789, 054-423-5790 or www.mediterraneanbiennale.com.
Equally noteworthy is the fact that AMOCA will not be dedicated to what we usually think of when we hear the phrase "Arab art." Visitors to the new museum should not expect to see traditional Islamic art, Christian art, folk art or village craftsmanship.AMOCA is here to show contemporary, modern and postmodern works by talented local artists.AMOCA is the brainchild of two Haifa-based artists, Belu-Simion Fainaru and Avital Bar-Shay, who decided to create the museum after the success of Fainaru's Mediterranean Biennale of Contemporary Art two years ago in Sakhnin.