Museums are valuable repositories of art from bygone ages, but increasingly, also have to ensure they are a viable commodity in contemporary times, too.That ethos certainly comes across in the three exhibitions currently in progress at the Ashdod Museum of Art – Monart Center.The three-part show comprises works by painter Talya Yisraeli, who proffers a singular view of life in dense urban neighborhoods in "Homeland 1 B."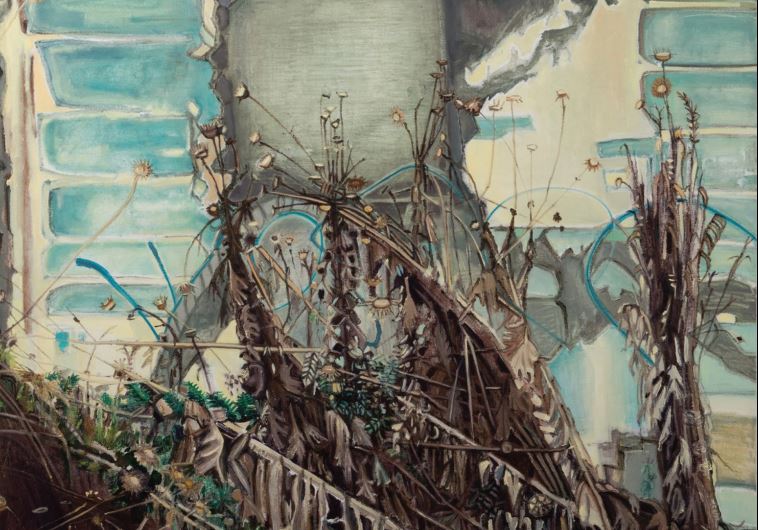 That is best demonstrated through her outsized Field of Soot oil painting, which features a seemingly infinite number of details. Anyone walking through the downmarket sections of any city in the warmer regions of the world will get a good handle on everyday domestic life there by taking a good look at balconies.Yisraeli presents an almost photographic depiction of a balcony that distends from an apartment, the inhabitants of which are clearly doing their utmost to imbue their life, within the grayest of physical environs, with as much color as they possibly can.But this is not the color you find in the neatly trimmed windowboxes of Tel Aviv's swankier northern residential climes. The balcony "designers" have seemingly jammed in anything they can lay their eager hands on, with something that appears to contain a 17th-century Dutch portrait sitting cheek by jowl with another head shot, this time of a flaming- haired woman who is definitely of the here and now. Elsewhere in the 1.8 meter by 4.3 meter picture there is a definitively kitsch doggie pic and a row of windowboxes with brightly colored, yet dusty, flowers elbowing each other out of the way. The upper reaches of the work hint at the crammed living conditions."The whole exhibition references life in south Tel Aviv and, as the title suggests, in the context of homeland, in the contemporary sense, and what that means for these people living in the south of the city," notes Roni Cohen-Binyamini, who is also on the museum curator team and co-curated the Gomon show."You get the sense of all the cultures that live there, among all the grime."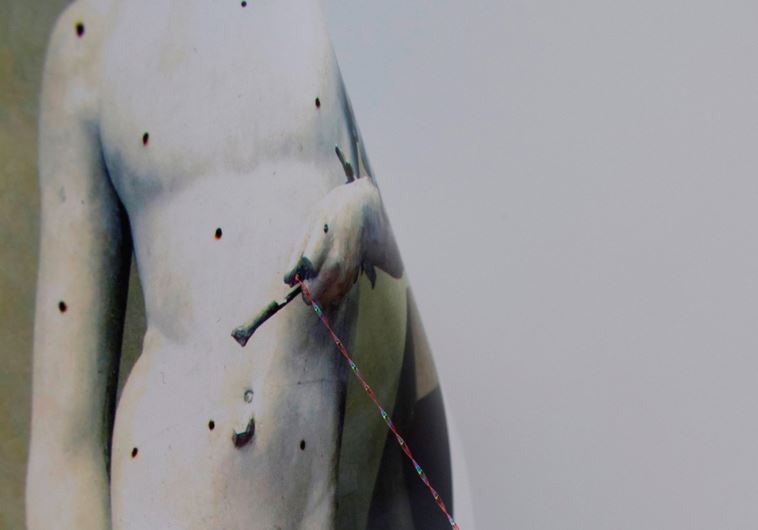 You certainly do, as Yisraeli offers an intimate microcosmic take on the dynamics of life on the poorer side of the urban tracks, and how people who drew the short straw do their best to rise above the squalor and retain their dignity.The "Within Reach" group exhibition incorporates a wide spread of disciplines and mind-sets, and features paintings, photographs, video works and sculptures and, as curator Mandel notes, "they all portray a passion to touch material and faraway places."The show is a stratified affair in more ways than one, and takes a nostalgic look back to the spheres of archeology, classic art and folklore, attempting to bridge the temporal and sociocultural gaps with life in contemporary Israel.The layered approach comes across clearly in the series of photographs displayed by Irit Tamari. Her works convey a palpable sense of how she went about putting the creations together, through the entire process, from the click of the camera button to arriving at the end product.Tamari does not exhibit single-stratum frames – instead she tends to take snaps of classic sculptures and reinvent them.The latter endeavor is expressed through various avenues of expression and activity. You may, for example, discern part of a hefty stone sculpture that has been captured as a practically weightless photograph before being infused into a completely different artistic and material slot. In an era of high technology with endless visual manipulation possibilities offered by the likes of Photoshop software, it is refreshing to see the results of Tamari's manual cut and paste as she snips around some of the images she espied through her camera viewfinder. She then takes the extracts and breathes new life into them by carefully building up three-dimensional creations that invite considered inspection.Gomon's "Enantiodromia" exhibition is neatly entitled. The Greek moniker, which means "running in the opposite direction," references a counter balancing act explained by iconic 20th century psychiatrist Carl Jung as something along the lines of an oxymoronic relationship between opposites, and how an excessive quality of one thing automatically generates a complementary amount of some correlative element.
Irony, whimsy, deterioration, withered aesthetics and a fundamentally dusty approach to life are all major players in Gomon's pictures. The artist displays a keen sense of the color spectrum on offer out there. One of the prints comprises a particularly ingenious composite of shades and textures, as the photographer looks down a sanded slope in a fenced-off construction site, with mustard flowers doing their unbridled natural thing on the other side of the cordon. Gomon's offbeat view of life around her comes through in unequivocal fashion by the red slate-covered staircase, slap bang in the middle of the sandy expanse, leading from nowhere and going nowhere at all."Enantiodromia" is the most local of the three shows, and takes us on an eye-opening trip around Ashdod, offering Ashdodites a new take on their own habitat, and out-of-towners an idiosyncratic introduction to the city. Even veteran locals will probably be surprised at some of the frames Gomon has captured with, for example, a crazily warped high fence mirrored by a similarly contorted tree in hazy weather conditions and telegraph poles and an electricity pylon reflected in a large puddle. Naturally, the seafront features prominently in the show, with the characters and structures in question generally filtering through an ethereal sandy veil.Find your way over to the Ashdod Museum of Art and prepare to be surprised.
For more information: (08) 854-5180-1 and www.ashdodartmuseum.org.il
Then there is the multidisciplinary "Within Reach" group offering, with works by internationally acclaimed painter Tal Yerushalmi, photographers Dana Darvish and Irit Tamari, both of whom have a tendency to deconstruct and reassemble original prints, and Rami Maimon who mixes photography and video work to pique the observer's interest. "Within Reach" is curated by Iris Mandel.The current Ashdod art presentation triad is completed by photographer Lena Gomon's "Enantiodromia" exhibition of thought-provoking prints that offer an intriguing left-field view of everyday life.The items arranged on the walls of the various display areas inside the fetchingly designed museum edifice certainly catch the eye, and mind, in their own right but there is also a sense of dialogue between the content of the building and everyday life outside."Part of our overall operational context here is maintaining dialogue with the locality, which is a sort of byproduct of this place," notes museum co-curator Yuval Biton. "We address questions like 'what is Ashdod?' and 'why Ashdod?' What is this place in which we work, and where does art come into play within this domain?" The urban milieu theme is a prominent element of the trio, and comes through most noticeably in Yisraeli's slot. In "Homeland 1 B," curated by Tali Bin-Nun, you get the feeling that the artist has spent long days traipsing through the streets of south Tel Aviv, breathing in the scents of African cooking, looking at the motley abodes wedged into dusty decaying buildings, and offering a glimpse of life through the prism of socioeconomic duress.