Spelunking or exploring caves is a popular pastime in Israel. In our little country lie some great historical treasures.Some of them are well known, but others are remote or camouflaged in the field and hard to see from the nearest road.These caves may be partially familiar to some travelers and hikers who follow the signs and official site lists. One such site can be found in the Shfela at Luzit.
Before you start the visit, notice that the area is not maintained or managed by the Israel Nature and Parks Authority. There is no marked trail, and there are a lot of holes and cave openings, so watch your step! Some other practical advice would be to arrive during full daylight.Before you enter the caves, it is recommended to walk above the site and beside it in order to experience the tranquil atmosphere and the pleasant views of the gently hilly area. This experience alone will take you back 2,000 years.The walk into the cave is easy and a mild downhill slope. Inside the site some of the bell caves have collapsed over time, but a few have not and remain more complete and beautiful. The caves are connected to each other by inner caves. You can clearly see lines of triangular holes in the walls that were used as a columbarium to raise pigeons in ancient times. If you pay attention, you will even spot a few rock pigeons that still like those caves as a home.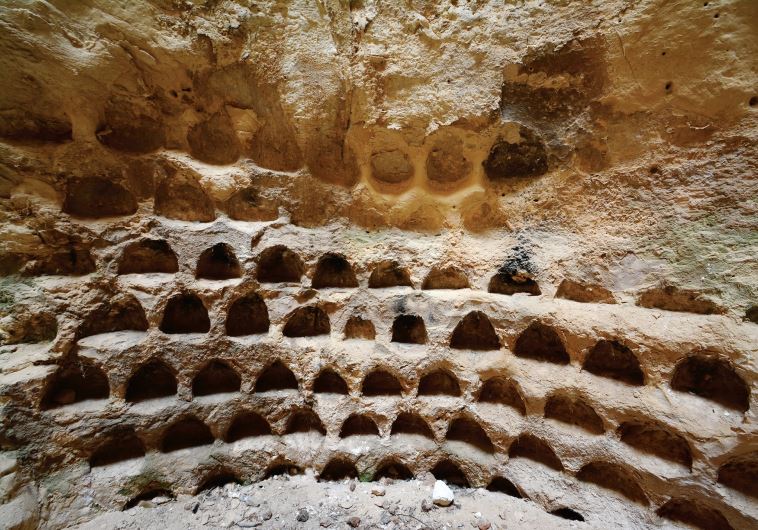 In one or two cave tops lives a small colony of bats. Bats are creatures of the night and prefer the dark, protected caves for sleeping on the ceiling and walls. The bell-shaped cave measures 10 to 15 meters from its top to where it widens at its base and forms the familiar bell shape. The temperature in the cave is pleasant during all seasons.If you have time during your visit, nearby and west of the parking area there are some caves that were used for hiding that you can explore; for that you will need a flashlight.In the area of the Judean lowlands there is a lot to explore and experience – a real natural history adventure.
Luzit Caves resemble their big sister at Beit Guvrin, which is on many typical destination lists. South of Moshav Luzit on a small hill, there is a series of wonderful bell caves dug into the soft limestone during ancient times.To get there you should drive from Route 38 which connects Beit Shemesh with Beit Guvrin, or on Route 40 which connects Gedera with Kiryat Gat. With both options you turn into Route 353 and drive to Moshav Luzit. In front of the Moshav entrance, turn south into a dirt road (there are no signs) and drive another 500 meters until you reach a parking area which signals that you have arrived.