On Monday, tens of thousands of Palestinians took to the streets to march in celebration of Hamas' 28th anniversary, chanting slogans of support and waving their hands in the air with green-washed-banners and Palestinian flags.Coinciding with celebrations in the strip, the organization issued a statement on its English language website, vowing "to continue our resistance and steadfastness until almighty Allah grants us triumph."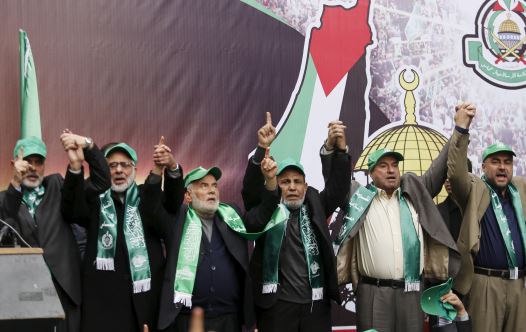 Hamas leaders join hands as they take part in a rally marking the 28th anniversary of Hamas' founding (Picture: Reuters)
The organization took the opportunity to emphasize its support of the recent wave of terror in Israel, which it referred to as the "Jerusalem intifada," and called for its continuation, along with an end to security cooperation between the Palestinian Authority and Israel - including nixing the possibility of a revival in peace talks. Hamas urged that the "heroic resistance against Israeli soldiers and settlers" carry on in a fight to free the Palestinians from the "occupation" so that they may be granted "the right of return - a sacred, nonnegotiable individual and collective right.""Hamas will never recognize the Israeli occupation, and confirms that Palestine from the Jordan River to the Mediterranean is an Arab, Islamic country," the statement read, reiterating its firm stance that the State of Israel is not a recognizable one, and stomping on all hopes for peace. The organization also vowed to free its Palestinian prisoners from Israeli jails in prisoner swaps similar to those implemented in the past. "Jerusalem is the core of our struggle with the Israeli occupation," Hamas said, as it vowed to "never compromise even one inch or a grain of its soil or holy sites."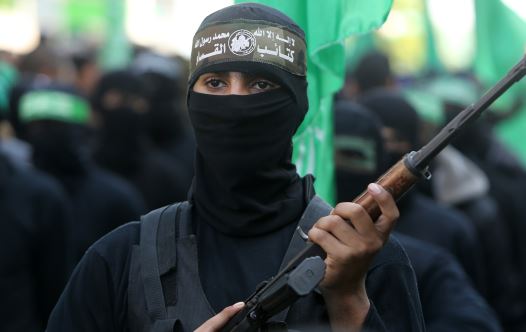 (Picture: Mahmud Hams\AFP)
"Hamas vows to remain faithful to the liberation of Palestine and to keep its weapon directed at the Israeli occupation only," the statement read.