Six people were stabbed at the annual Jerusalem Gay Pride Parade on Thursday by an ultra-Orthodox man who perpetrated a similar stabbing at the 2005 march.Yishai Schlissel, of Modi'in Illit, was released from prison several weeks ago after serving 10 years in prison for his last attack, which wounded three people."I saw an ultra-Orthodox man stabbing everyone in his way," Shai Aviyor, a witness, told Channel 2. "We heard people screaming, everyone ran for cover, and there were bloodied people on the ground."Police and medics said the attacker wounded six people.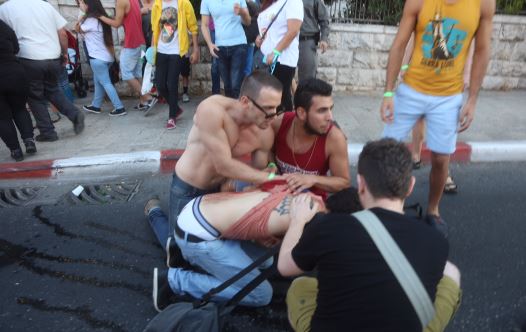 Two were taken to hospital in serious condition, including a 17-year-old woman, said a doctor at Shaare Zedek Medical Center, where the victims were being treated.The procession of thousands – which started at Independence Park in downtown Jerusalem shortly after 6:30 p.m. – was heading down Keren Hayesod Street when Schlissel lunged into the crowd, wildly stabbing the victims before being tackled by police. As police arrested him and cordoned off the crime scene, including all traffic on the major thoroughfare, Magen David Adom paramedics tended to the wounded before transferring them to the hospital. Following the attack, the Judea and Samaria Police District said they were not required to track Schlissel following his release, even though he lives in their jurisdiction, because he committed his crime in Jerusalem.Jerusalem District Police chief Moshe Edri said police didn't have concrete intelligence that Schlissel was in attendance at the parade."We were prepared for every scenario, but our perimeter was breached," he said. "This is a severe incident, and we will investigate to find out what caused this breach."Prime Minister Benjamin Netanyahu promptly condemned the stabbings as "a most serious incident" that is antithetical to Israeli values."A despicable hate crime was committed this evening in Jerusalem," he said. "In Israel everyone, including the gay community, has the right to live in peace, and we will defend that right. I welcome the Israeli religious leadership's condemnation of this terrible crime, and I call on all those in positions of leadership to denounce this contemptible act. In the name of all of Israelis, I wish the wounded a full and speedy recovery."Netanyahu added that "in the State of Israel, the individual's freedom of choice is one of the country's basic values. We need to ensure that every man and woman in Israel can live in security any way they choose. That is how we acted in the past, and how we will continue to act."The prime minister vowed to "prosecute those responsible to the full extent of the law."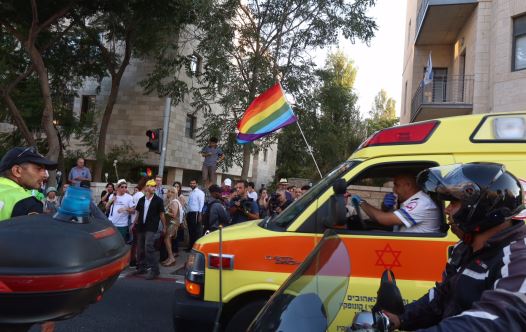 President Reuven Rivlin also issued a statement condemning the attack."We came together today for a festive event, but the joy was shattered when a terrible hate crime occurred here in Jerusalem, the capital of Israel," he said. "People celebrating their freedom and expressing their identity were viciously stabbed.We must not be deluded – a lack of tolerance will lead us to disaster. We cannot allow such crimes, and we must condemn those who commit and support them. I wish the injured a full and speedy recovery."Schlissel reportedly wrote and published a letter last week saying that there is an obligation to stop the "parade of sin" at all costs. "It is the obligation of every Jew to keep his soul from punishment and stop this giant desecration of God's name next Thursday," he wrote according to Ma'ariv. He said the parades were happening "because of our enormous sins."Jerusalem Mayor Nir Barkat described the stabbing as an affront to human rights."The criminal act this evening in Jerusalem is an attempt to disrupt social life in the city and to suppress the basic human right of freedom of expression," he said. "We will not tolerate any excuse for violence of any kind. In Jerusalem, there is a place for everyone, and together with the Israel Police, we will continue to target anyone who violently attempts to hurt others."Chief rabbis David Lau and Yitzhak Yosef denounced the attack, stating that it violated Jewish law, and called on the legal authorities to deal with the attacker with utmost severity."The Torah of the Jewish people forbids all violence and [attempts to] injure any person, and especially someone who tries to kill another person," said Lau.Yosef said the attacker should be considered like "any other murderer.""It's unthinkable that a man can lift up his hand against another Jewish soul in the name of religion," said the rabbi. "I am praying from the bottom of my heart for the full recovery of those who were injured, and in the face of this type of hatred I call on the entire Jewish people to return to unity in kindness and tolerance."Minutes after the attack, thousands of grieving and shaken participants gathered in a nearby park to collectively process the violent episode."It shouldn't be like this," said Guy Sheffer, 28, who marched in the parade. "When I came here I had a smile, now I feel we're under attack. Why are we under attack? It doesn't register in my mind that we can't express ourselves as human beings."Eitan Buchvall, a 44-year-old gay man from Jerusalem, said he thought such violence was behind the capital's gay community."I'm still in shock," he said."We thought these kinds of actions would not happen again; not only because of the increased police presence, but also because we thought different communities in Jerusalem – including the Orthodox community – believed that Jerusalem is a city of minorities, and we have to live together peacefully."Hadas, 18, who requested her last name not be published, said she blamed the violence on an anemic police presence when the parade began."For a man to run into a crowd and stab six people, clearly there was not enough of a police presence," she said."In Tel Aviv, left-wing demonstrations with just three people have the entire police force."Julie, a 25-year-old who requested her last name not be published, said the violent attack meant she will be even more vigilant in defending gay rights."This means that we have to keep doing this," she said. "It makes it even more important."A small number of protesters from the extremist Lehava organization, including the group's leader Rabbi Bentzi Gopstein, were present at the march, and were cordoned off by the police at the intersection of Agron and Keren Hayesod streets."This is the holy city of Jerusalem and there is no place for such [a parade], and no reason for people to be proud about it," Gopstein told The Jerusalem Post. "If such people can have a pride march, then soon pedophiles and anyone else with such inclinations can hold a march."Despite Gopstein's vitriol, he released a statement following the stabbings stating that the organization "is opposed to the stabbing of Jews."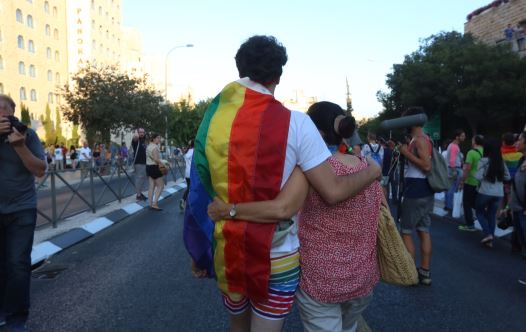 Reuters contributed to this report.