'We need a new lexicon in Hebrew and so we need to add 'Jewish terror' to the dictionary," Ami Ayalon, the director of the Shin Bet from 1996 to 2000, says in a deliberate manner, choosing each word carefully.He has a baritone voice and a clear passion for this issue. "Maybe, maybe, maybe, the murder last week will wake us up to the fact that it is not a hate crime, it is not 'wild weeds,' it is terror and it is Jewish terror. It seeks to change the government," he says, referring to the killing of Ali Dawabsha in the Palestinian village of Duma.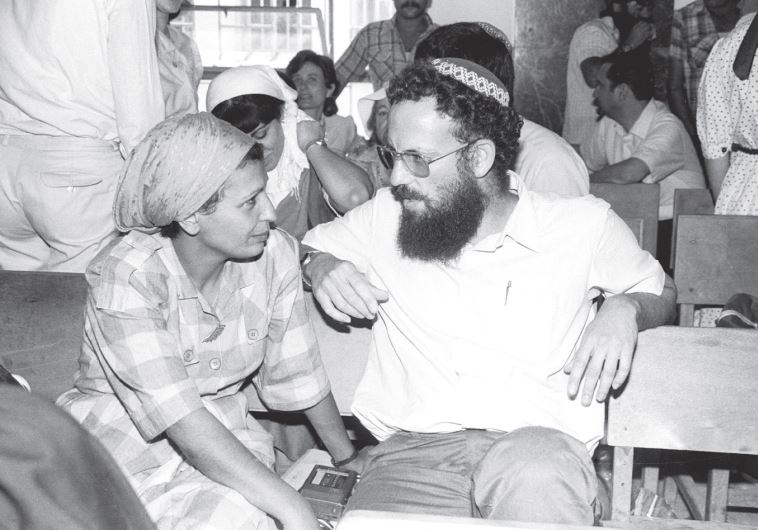 Menachem Livni, a past leader of the Jewish underground in the West (photo: Reuters)
In an impassioned speech to thousands in Tel Aviv, Nasser Dawabsha described the burning of his sister-in-law's home."My brother Sa'ed and his wife Riham caught on fire. Despite the burns, Sa'ed carried his four-year-old son Ahmed outside the house. Riham grabbed a blanket, she thought that the child Ali was in the blanket. But they learned the child wasn't in the blanket."He recalled her crying, "'Where is Ali?'" He called on the IDF to find the killers, and for the Palestinian people to "get our freedom."Duma sits on a ridgeline about 15 kilometers southeast of Nablus near Route 458. In more pleasant times one might enjoy the view here over the pastoral hills that lead down to the Jordan Valley.Now the village displays large posters with the picture of murdered Ali.Last Saturday, protesters clashed with Israeli police and soldiers on the road leading to the village. Tear gas was fired, the empty canisters littering the road.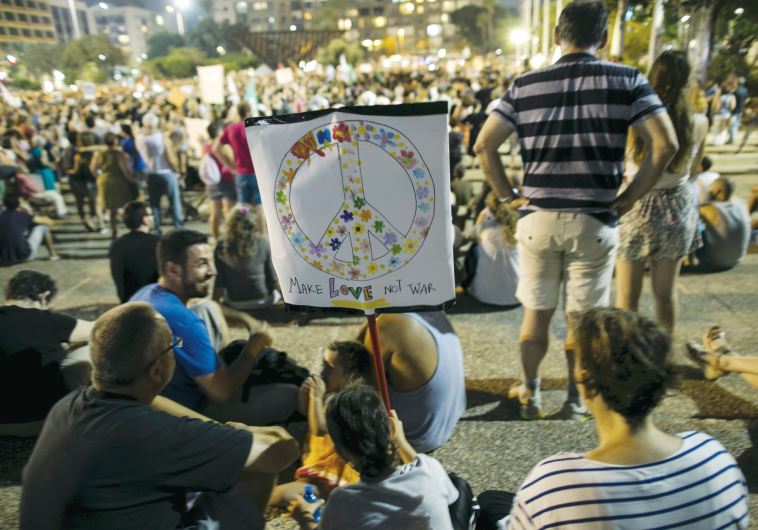 Protesters hold signs during a protest at Rabin Square in Tel Aviv last Saturday night against the violent attacks in Jerusalem and Duma (Photo: Reuters/Baz Ratner)
The sign to the village had been covered partly with a poster of Ali.Palestinian Authority Foreign Minister Riyad al-Maliki announced that the PA would file suit with the International Criminal Court about this murder and what the PA said were more than 120 attacks by Israeli Jews on Palestinians in the West Bank.Israeli society came together last week to condemn both the attack in Duma and the stabbing attack at the Gay Pride Parade on July 30. Shira Banki, 16, died of her wounds Sunday after the attack."The flames are spreading in our land, flames of violence, hatred and of false, distorted and twisted beliefs," President Reuven Rivlin said to a large crowd gathered in Jerusalem rallying against violence.But how to confront those responsible is not clear.CARMI GILLON headed the Shin Bet (Israel Security Agency) under prime minister Yitzhak Rabin in the 1990s.When he discusses Jewish extremism and attacks on Palestinians, Gillon references his own role as head of the Jewish department of the Shin Bet from 1982 to 1987 which arrested the Jewish underground members who had targeted Palestinian civilians.When he discusses Jewish extremists, he refers to the Hebrew metaphor of "wild weeds," and takes issue with the frequent claim that those who kill are just a few weeds."We're talking about thousands of well-kept seedlings that were nurtured with hatred and racism by skilled gardeners – their rabbis. I've known these rabbis for over 30 years."In the early 1980s, when I was head of the Shin Bet's Jewish unit – which was made up of four people – we did not hesitate to place Rabbi Meir Kahane under administrative detention for inciting his followers to blow up the mosques on the Temple Mount," he wrote in a statement provided to the Magazine that is based on the speech he gave in Tel Aviv to a Peace Now rally."When we arrested the 27 criminals and terrorists known as the Jewish underground, the head of the underground, Menachem Livni, turned to his rabbi and accused him: You sent me here!" Gillon, who headed the Shin Bet from March 1995 to February 1996, was at the helm when Rabin was murdered on November 4, 1995."In his interrogation, Yigal Amir claimed his rabbis had encouraged him to murder Rabin. What does our judicial system do to these 'dear brothers'? Nothing! I'm angry at our judicial system and its representatives who are copying the rabbis' tongue-clicking, and quibbling that it's so difficult to prosecute them for incitement and sedition."Gillon argues that for 30 years Israel's judicial system and society has coddled the society from which these murderers came. He claims that the "stray weeds" did not come from "among the people who are here tonight" at the Tel Aviv rally. "They come from within the settler movement and from them only."He is angry because he believes that "over and over" these kinds of murders happened. "For 30 years they [the justice system] avoided adjusting the law to reality. Maybe now they'll finally amend the law?" He draws parallels with the Ku Klux Klan in the US. "Both groups are motivated by religious beliefs involving hatred and racism. The masked cowards go out in the dead of night to carry out their wicked plans." Will Israel next find an Arab man hanging from a rope or a priest beheaded, if it doesn't confront the extremism now? he wondered.He notes that in 1983, when Emil Grunzweig was killed at a Peace Now rally by a right-wing extremist, prime minister Menachem Begin told him to do "whatever it takes" to arrest the murderers.For Gillon the actions of these murderers risk the entire State of Israel."The destruction of the 'third temple' will not be caused by our enemies outside our borders. Jews will be the ones to initiate the impending destruction."The metaphor of Israel as the 'third temple' is one that has been used for years by the secular Zionist leadership, going back to Moshe Dayan.ON AUGUST 2 the security cabinet approved the use of administrative detention against Jewish suspects.Previously, the practice of detaining suspects and not bringing them to trial was reserved primarily for Palestinians who are viewed as security threats. On average, around 400 Palestinians are kept in administrative detention every month, according to B'Tselem. At the end of June, 370 were in administrative detention.The reason for using administrative detention for Jewish or Arab detainees is that it means they can be kept in custody, sometimes subjected to enhanced interrogation techniques without lawyers present, all while there is not enough evidence against them for a judge to approve remanding them to jail. Thus, without such detention, they would be released.It isn't the first time administrative detention and other extrajudicial methods have been used by the Shin Bet against Jewish extremists. In July 2010, Haim Pearlman was kept in custody for 31 days and then released to house arrest at his parents' home in Tekoa. He was accused of murdering four Palestinians and attempting to murder seven others between 1998 and 2004.Lawyer Sharon Nahari told the media that Pearlman was subjected to torture."He said he was cuffed to a chair for 18 hours everyday. Shin Bet interrogators shouted into his ear for hours on end that he is a murderer and should confess."Pearlman's case was a minor media embarrassment, as tapes were released allegedly revealing a Shin Bet agent encouraging Pearlman to kill Sheikh Raed Salah, head of the Islamic Movement's northern branch.The Shin Bet cooperated closely with the state prosecutor and police to bring charges against the 'Bat Ayin underground' in April of 2002. However, only three out of six suspects were convicted of a plot to bomb an Arab girls' school in the Jerusalem neighborhood of a-Tur.Despite a great deal of intelligence work by the Shin Bet, much of it did not meet sufficient evidentiary standards for the court to actually convict. The Shin Bet continued to play a role in the case, arguing that Ofer Gamliel, who received 12 years in prison, should not be given early release.However, every time there are incidents of Jewish extremism, there are calls for greater focus on "Jewish terrorism."In April 2014, Jewish rioters in Yitzhar in the West Bank clashed with police and the army and slashed the tires of an IDF jeep. Six former Shin Bet directors – including Avraham Shalom, Yaakov Peri, Gillon, Ayalon, Avi Dichter and Yuval Diskin – concurred that Israel must take Jewish extremist threats seriously; otherwise they could get worse.AVI DICHTER, the minister of internal security from 2006 to 2009 and Shin Bet head from 2000-2005, is a Likud Knesset member and sits on the Foreign Affairs and Defense Committee."Why does it have to happen [that a baby was killed] for there to be change?" he asks.He has been outspoken in arguing that Israeli society and the police need to stop pretending that Jewish perpetrators throwing a Molotov cocktail are just "hate criminals" or committing a "price-tag" attack."Throwing a Molotov cocktail is no different than a grenade."He contrasts the attack in Duma with the Molotov cocktail attack on a car driven by a Jewish man and his wife in Beit Hanina on August 3."If her children had been with them and died, we would be speaking differently today, so it is the same as a Jewish terrorist with a Molotov cocktail."He sees the police, Shin Bet and army as a fundamentally human system, which is not used to viewing Jewish perpetrators as terrorists, and that system needs the right terminology.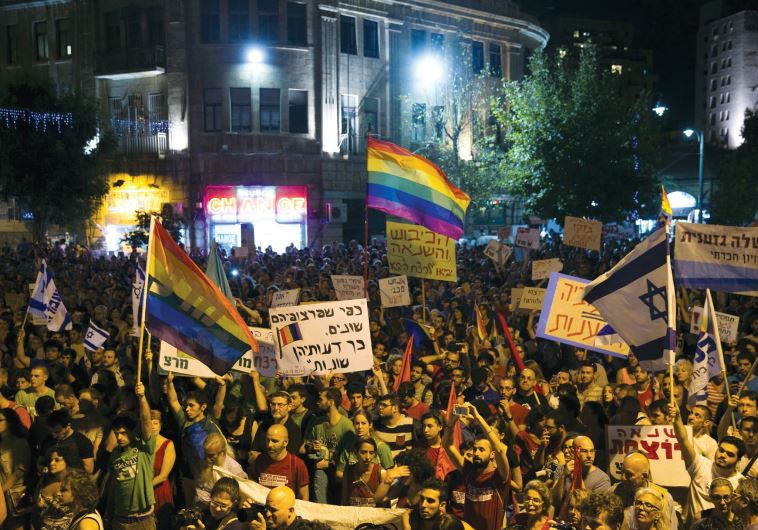 Protesters gather in Jerusalem on Saturday night after the Gay Pride Parade stabbings. (Photo: Reuters)
"Those who are willing to throw a Molotov cocktail into a car or house of Israelis or Palestinians must be labeled terrorists. Don't sublimate and use other terms; when you use the right terms, you understand you are fighting someone who tomorrow might kill, and the whole chain of law enforcement must know they are dealing with terrorists."In contrast to the other Shin Bet heads interviewed, who saw the wider Jewish extremist society as a main problem, he asserts that one of the problems is that many of these "terrorists" are under the age of 18."They don't have authority figures, they don't listen to rabbis, they don't listen to mayors... they speak and write as if they are listening only to God."Nevertheless, those who incite these youths to violence must not be shown mercy by the courts. Unfortunately, "to get punishment for incitement is harder than to get a peace treaty with the Palestinians."It isn't easy to keep people in detention. The state must show it has a case before a judge every few weeks and every month to extend it."The fight against terror, if you stop [that fight] or put the breaks on, it is like not mowing the grass," says Dichter.YAAKOV PERI, who directed the Shin Bet from 1988 to 1994 at the height of the first intifada and is now a Yesh Atid MK and serves on the Foreign Affairs and Defense committee, argues that the government and cabinet must be clear that what happened in Duma and elsewhere are terrorist acts."They call it 'hate crimes'…. If they will declare [them] terrorist acts, then the means of gathering intelligence and interrogation and punishment by courts will be much more efficient. That is the first step that should be taken."He takes issue with the claim that usually these Jewish extremists harm only property, such as the burning of the Church of the Multiplication of Loaves and Fishes at Tabgha, for which two suspects were arraigned on July 29."We politicians should condemn it from morning to night; because the atmosphere and some declarations of extreme politicians are creating an infrastructure or atmosphere that signals to some individuals that everything is possible and legitimate. What happened a few days ago in Duma is a crime for which there is no other term but cruel terrorism, which doesn't take into account the lives of individuals or babies."He argues for a four-pronged attack on the extremists, consisting of declaring it terrorism, severe punishments, deeper gathering of intelligence and changing the atmosphere in society.Peri asserts that the court system is too lenient on Jewish suspects. He references the Gay Pride Parade stabber Yishai Schlissel, who was convicted of a similar crime in 2005."He was released, he ran and did it again; that means the punishments are not effective enough."By declaring these attacks terrorism, the security services will have an easier time turning their intelligence into hard evidence, he says. He understands that no matter what the state does, there will always be some individuals and groups of extremists. "But I think [such a declaration] will be effective because people tend to listen, and it affects the atmosphere when the majority of politicians condemn [the attacks as such]."In that sense he is content with the condemnations by the president and Prime Minister Benjamin Netanyahu.Does the unit in the Shin Bet focusing on Jewish extremism receive enough support? Peri thinks that it has the ability to gather intelligence."The [Shin Bet] knows who are probably involved, but they are facing trouble in making this intelligence effective evidence in the court." For instance, Meir Ettinger was arrested on August 3 by the Shin Bet and questioned for involvement in a Jewish extremist organization.From Peri's perspective it is more difficult to stop Jewish terrorists before they strike, because "the Jewish sector is much more aware of the methods of democratic intelligence gathering."He sees them as part of a network sometimes backed by politicians or people who want their acts to have a political effect."The aim is to prevent such intentions in advance and not after they are happening, but it is not easy, because Israelis are moving freely all over the [Palestinian] territories, some of them live near the places they want to hit and live in close circles. They are open to the people around them, and in order to penetrate such groups it is complicated."When it comes to awareness of the Shin Bet's methods, the press has reported on the interrogation techniques used against men like Pearlman; websites such as Arutz 7 publish stories about Shin Bet agents allegedly infiltrating communities like Esh Kodesh in the West Bank.Peri is more nuanced on the issue of whether the presence of Jewish communities in the West Bank is the problem."The way settlers behave or [are] treating Palestinians is a big issue; it creates an atmosphere of intolerance and hate; but only on the level of atmosphere. It is not the main, last reason…. I blame the politicians and atmosphere; I don't want to say rabbis [are to blame for Jewish terrorism], because there is no proof they are behind it. There is a dangerous increase and we should take all means to stop it. And we should treat those individuals as terrorists, Jews or Palestinians."When it comes to administrative detention, he describes it as an unfavorable method to use."Sometimes when you have intelligence or it is almost impossible to bring to court, administrative measures are efficient, and we did it in the past, but we faced difficulties in doing it again; but it wasn't approved by the Justice or Defense ministries."He argues for using it only in specific cases, not often.AYALON, A former admiral in the Israel Navy and one of the founders of a movement in 2009 to promote a twostate solution, has a precise view of the challenge Israel faces."It is important to say that although people say they killed one child [in Duma], the intent was to kill seven children and four adults."Neighbor Emam Dawabsha's family happened to be away the night of the arson, but it is likely they would have been wounded or killed in the attack as well. This comes on top of some 40 other occurrences, and Ayalon notes that in the recent arson attacks they have not prosecuted anyone except relating to the church attack.Ayalon points out that the prime minister has not done enough to define it as terrorism."I think the problem is that it is not the same dozens of people, a few solitary individuals, who were involved in political acts or to undermine the government; they wanted to kill and murder and burn on the way. But the problem in our society is that it was given legitimacy or empathy and to understand the reasons. The problem is not with the small minority of dozens or very few hundred who choose to use violence; the problem is with the society around them and atmosphere," he says.The defining point is the history of the Jewish underground in the 1980s.They killed Palestinian students, they moved on to attempting to bomb the mayors of Palestinian cities, and then on April 27, 1984, 15 of the extremists were arrested after having placed bombs on six Arab buses. In all, 29 people were arrested, relates Ayalon, but only three got life sentences, and their sentences were commuted after serving less than seven years in prison."Over 300,000 people signed a petition to release them," he notes. "I am a real farmer who grows olive oil. I know exactly, when they speak about 'wild weeds,' it is stupid; there is no wild weed when there is no water." The water is the society around them that supports Jewish extremists today as it did in the 1980s.Like Peri and Gillon, he argues that although the Shin Bet has the intelligence, it is hampered in bringing it to court."We need a full legal remedy."There are circles around the extremists: "Those who encourage their ideology and encourage their beliefs, and also NGOs abroad that support them financially even without knowing it."He points to the book Torat Hamelech as a prime example of incitement. "It encourages terrorism, as the Hamas covenant does." He is greatly agitated that rabbis who receive state money signed on to support the book.Therefore, when Jewish attacks are seen as terrorism, "We can treat it by going after the ideology, the sources of financial support and bring it to court and better investigate it." We must be realistic. The problem of this kind of terrorism will never be fully solved, but only when the ideology behind it is confronted, he argues.Ayalon doesn't like administrative detention."It is not very useful… but when we talk about terrorism, there is no difference between [Jewish terrorists] and Hamas… Detention doesn't prevent it, and I'm not interested in taking sides [on the issue]."He thinks that "paradoxically, this government, actually taking an aggressive stance, is more likely," because the attacks ruin the image of the settlement movement, which forms part of the coalition.For Ayalon, the fact that there may be only 20 to 40 activists is no comfort; just two of them can "explode the Middle East" through their actions.He describes it as just an accident of life that he went into the navy and did not become a settler like some of his friends after 1967."I understand today we have to choose between conquering and occupying or keeping our human values and our democracy. Otherwise, we lose our Jewish democratic identity."He is optimistic that this government may take the right decision and crack down on the extremists. In the long run, however, he asserts the methods the Shin Bet uses against Palestinians or Jews should not be increased.He recalls the speech he gave to the Shin Bet upon leaving. "I believe we should reduce the methods that we use against Palestinian terrorism, and we can therefore create hope."Avi Dichter says he is hopeful that the vast majority of Israeli society will prevail."The whole of the country, ministers and politicians, came out against the murder in Duma and Jerusalem, to look it in the eye."
This story first appeared in the Jerusalem Post Magazine.
Since the burning of the Dawabsha home and an adjoining residence on the night of July 30, Israeli society has been convulsed by internal soul-searching.