NEW YORK – Thousands of people of all ages waved blue and white flags and danced and sang in Hebrew as they gathered along Manhattan's Fifth Avenue on Sunday to watch the 53rd annual Celebrate Israel Parade.The New York City parade traditionally takes place on the first Sunday of June, a day that NY Governor Andrew Cuomo recently also proclaimed "Shimon Peres Day," in honor of the late Israeli president.
Hundreds rally in New York to support Israel
"It's something we need to celebrate and cheer," she added."Israel keeps it as a holy place for all religions. I feel like there is no one better to maintain and keep Jerusalem safe for all."The Celebrate Israel Parade began in 1965 as an impromptu walk. It later became an annual event to celebrate Israel, rain or shine. Tens of thousands of marchers from different Jewish and pro-Israel organizations take part in the event every year accompanied by US and Israeli leaders, entertainers, musicians, dancers, celebrities, floats and marching bands.Among the special guests at Sunday's parade were Jerusalem Mayor Nir Barkat; his New York City counterpart Bill De Blasio; Public Security, Strategic Affairs and Public Diplomacy Minister Gilad Erdan; NY State Governor Andrew Cuomo; celebrity kosher chef Jamie Geller; and a delegation of Knesset members and US representatives.Israel's Ambassador to the United Nations Danny Danon, who was also in attendance, expressed "great pride to march in the streets of New York and see the strength of the pro-Israel community.""Here at this parade, in the UN and everywhere else – the bond between the US and Israel is stronger than ever," he said.Although the official theme of this year's event was "Celebrate Israel Together," Jerusalem took center stage on the many floats and signs on Sunday."I remember the Six Day War. It was very miraculous," Elliott Landowne said from behind police barricades along the route. "We need to focus on the importance of Jerusalem as Israel's capital. It should be united and it's something Israel should strongly stand for.When Jerusalem was divided it was very sad. Jewish people couldn't go to the Old City, synagogues were destroyed. It was a terrible time. Nothing should ever return to anything like that again."As with every year, security on Fifth Avenue was reinforced with hundreds of NYPD vehicles and officers, some of whom joined the crowd in waving Israeli flags.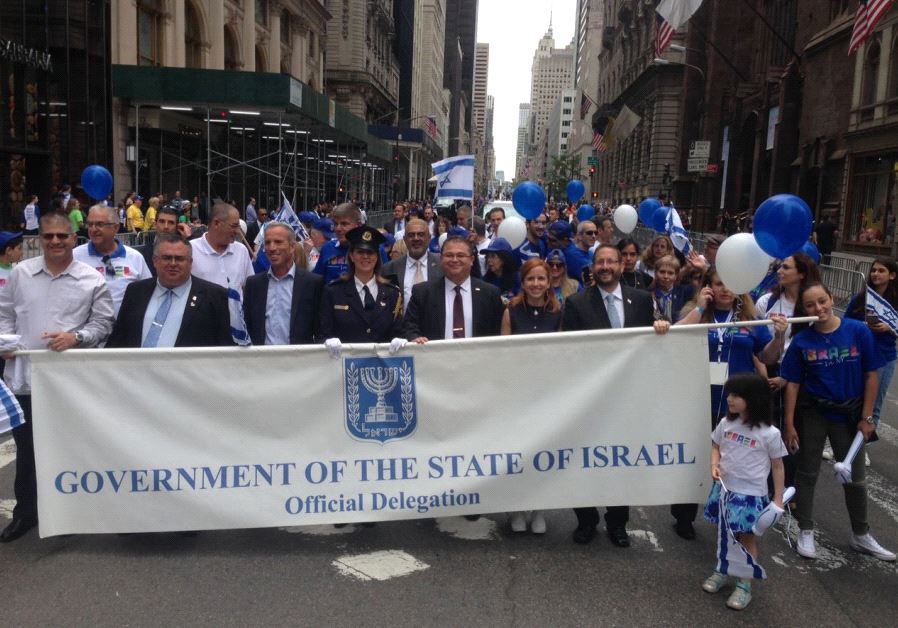 Protesters at the beginning of the parade route chanted "Free Palestine," but their sound went almost unheard, drowned out by loud Israeli music.While most groups at the march stressed they were united by a love for Israel, some – like the Progressive Coalition that includes different leftwing Jewish groups – sought to remind the crowd that "celebrating Israel means celebrating democracy, human rights and civil rights for all who live in Israel.""There is certainly a lot to celebrate," said Rabbi Ayelet Cohen. "But we also believe that the occupation of the Palestinians is dangerous for Israeli democracy and runs counter to Israeli values and the values of Zionism. Ending the occupation will advance Israeli democracy and strengthen Zionism."Beyond the parade itself, Sunday in New York City was filled with celebrations of Israel, as Jewish organizations and officials organized other events following the march.
"It's incredible. It shows the love New York City has for the Jewish people, the State of Israel and Jews all over the world," Sheerlee Itzhaki, one of the 40,000 people who marched in the parade told The Jerusalem Post. Itzhaki participated on behalf of the Modern Orthodox Moriah School in New Jersey in which her six children are enrolled.This year, she helped organize the school's participation in the parade. Like many other groups that came, the school chose to focus on the theme of Jerusalem, as Sunday also marked the 50th anniversary of the Six Day War and the city's reunification.All Moriah School marchers wore yellow shirts designed by the students with the number 50 in large digits displayed on both sides."Jerusalem means so much to the whole world and to the Jewish people," Itzhaki said."It's something that we are very proud of and we want to celebrate."Itzhaki said she wanted children in the school to understand that Jerusalem is important because it is "a place that combines and unites all faiths, all religions and all people."