Like many American children of Holocaust survivors, Mark Wilf speaks affectionately and glowingly of the
goldene medina
that took in both his parents after the Shoah.As well he should. For the United States gave the Wilf family both welcome refuge and a chance to start over. And they took that chance and built on it – quite literally.They built and built and built and built. Garden Homes Incorporated, the Short Hills, New Jersey real estate development firm started by Wilf's father and uncle – survivors who arrived in the US with nothing in 1950 – has built more than 40,000 homes and is one of the largest real estate development firms in America. And a subsidiary, Garden Commercial Properties, is a huge shopping center and office-building developer.The Wilf family also owns the Minnesota Vikings, an American National Football League team which in July will officially open a 66,200-seat, state-of-the art, enclosed stadium in downtown Minneapolis.The stadium is a long way from Jaroslaw, Poland, the city from where Mark's father, Joe, and his brother Harry, were expelled to a Siberian labor camp just before Hitler occupied southern Poland.
A massive arena with an outdoor stadium feel
After surviving the war, the brothers wanted to return to Jaroslaw, but pogroms against returning Jews in 1946 kept that from happening, and they went instead to the American-occupied sector of Germany. From there it was off to America, first to Birmingham, Alabama, and then to New Jersey, where they started building single-family homes.Today the entire population of Jaroslaw could fit about twice over in the new stadium. Joe's sons Mark and Zgymunt, known as Zygi, are respectively, president and chairman of the Vikings, and Harry's son, Leonard, is the vice chairman.
"America has been so wonderful to my family, to my parents," says Mark Wilf in an interview conducted in the Bud Grant boardroom named for the legendary Vikings coach in a building in Minneapolis, just across the street from the stadium. The predominant color in the room, in fact in the whole floor where the team has offices, is Viking purple."They always were tremendous Zionists and had a tremendous love of Israel," Wilf says of his parents, "but also just such a love of America – what it has meant for our family, what it has meant for the world. Its is the greatest country."In December, Yeshiva University bestowed an honorary doctorate on Wilf, 54, who – like the rest of his family – has contributed generously to that institution.In his remarks bestowing the honorary degree, YU President Richard Joel noted, "In 2005 you and your brother Zygi took control of the National Football League's Minnesota Vikings, at around the same time that a genetic marker shared by individuals with Jewish and Viking origins was discovered, highlighting a centuries-old theory that Vikings were actually Jews."Wilf gave a robust laugh, as did his mustached brother Zygi, watching from behind, outfitted – like Mark – in cap and gown. THEY LAUGHED less four weeks later, however, when they sat in the owner's box as the Vikings played the Seattle Seahawks in an NFL playoff game in frozen Minneapolis.The score was 10-9, with 25 seconds left to play in the game. The Vikings were at the Seahawks 20 yard line, when kicker Blair Walsh trotted on to the field for what everyone thought would be an easy field goal – a chipshot in golf parlance – ensuring the Vikings a win and furthering their chances of going to the coveted Super Bowl."Blair Walsh from 27 yards, left hash," the deep-voiced announcer on the Vikings Radio Network declaimed, calling the play-by-play. "Snap good, spot down, Walsh's kick is up. It is no good! He missed it! Are you kidding me? The season can't end like that. He missed it left… Blair Walsh missed a 27-yard field goal, and the Minnesota Vikings are going to lose 10-9."And, indeed, the Minnesota Vikings lost 10-9, one of the most heartbreaking losses for a franchise that has had its share of heartbreaking losses over its 56- year history. They have gone to the Super Bowl five times, and they have lost five times. Heartbreaking."The loss in the playoff game..." I say sheepishly during an interview with Wilf, trying tenderly to raise a sore subject."OK, bring it up," he says, feigning annoyance."A very tough loss for fans, who yell and moan, and then they get over it. What's it like for an owner?" And, indeed, the Minnesota Vikings lost 10-9, one of the most heartbreaking losses for a franchise that has had its share of heartbreaking losses over its 56- year history. They have gone to the Super Bowl four times, and they have lost four times. Heartbreaking.Mentioning that his parents were Holocaust survivors, Wilf said that his "mom and dad always put a positive face on things. So when we were kids, and the [New York] Giants [whom they followed closely as children] would lose a very tough game and we would be all upset, my dad would say, 'Look at it this way, things could be worse. You could be the owners.""We laugh at that now," he says, laughing. Then he returns to the missed field goal and sounds very much like a sports-franchise owner grasping at that silver lining for the fans: "It was a very difficult way to lose this year, but we had a great season, and made a lot of progress, and hit a lot of milestones going forward."While saying that it was important to put the loss of a single football game in perspective, he acknowledges how important the sport is to so many people, and how that itself is testament to America's greatness."People care deeply and are passionate about sports, and we are very blessed to be able to live in a country that is able to make that a passion, and to be able to enjoy those things in life."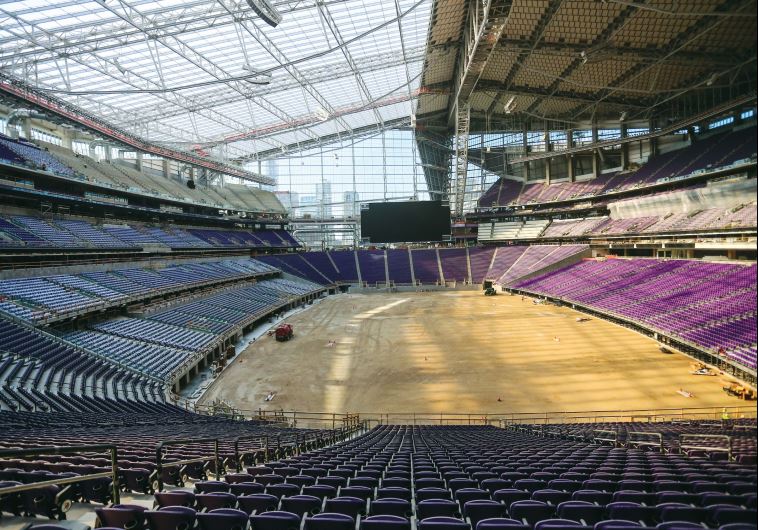 THE MINNESOTA Vikings are one of nine of the NFL's 32 teams to currently have Jewish owners. Together with Robert Kraft of the New England Patriots, what makes the Wilfs unique is their very public association with Israel and Jewish causes.As Joel pointed out in his introduction at the YU convocation ceremony – and a statistic that appears in many stories about the family – the Wilf Family Foundation has given more than $200 million over the last half century to Jewish and Israeli causes.There is the Wilf Campus at Yeshiva University; The Wilf Center at the Jewish Family Service complex in Elizabeth New Jersey; the Wilf Children's Hospital at Shaare Zedek Medical Center; the Harry Wilf (Independence) Park in Jerusalem; and the Wilf Plaza in Teddy Park outside the Old City walls of Jerusalem. And there is much, much more. For instance, the Wilfs are among the main benefactors of Yad Vashem, and were leading donors to the new Holocaust History Museum built there in 2005.While to many Israelis and Jews this type of largesse toward the Jewish community is a point of pride, it could – potentially – be a sore point for others.Indeed, in an open letter to Zygi Wilf on the MinnPost web site in 2012, as emotions were running high over the amount of public funding for the $1.1 billion stadium (the Vikings have put up $592 million, the taxpayers $498m.), a reporter named Marlys Harris wrote that a year earlier the Wilf Family Foundation "spent $5.5 million on a vast number of charities all over the world. But it donated only $22,500 or 0.4% to nonprofits here in the Twin Cities. Is that any way to treat us?" Asked whether his generosity toward the Jewish community causes resentment among the Vikings' fan base, Wilf replied, "I don't think so.""America is still a meritocracy, it's about being successful, and I think fans just want to win, and they want to make sure their ownership provides the resources to win. And we do, that is very important for us. We are in it because we love football. But we are in it to win, we are competitive. I think competition is a good thing. Growing up in a business family is by nature competitive, and sports is another outlet for that."Wilf says it is also important for them to "give back" to the community."We try to make sure to set that example with our team and the community, and I think that message is starting to take hold here. We support a lot asof the things that are going on here."For instance, last February they dedicated the $5m. Wilf Family Center at the University of Minnesota's Masonic Children's Hospital.Wilf's connection to Israel – "my father and uncle always had a tremendous Zionist bent" – is not only through philanthropic work. He also owns the Ramada Renaissance hotels in Jerusalem and Tel Aviv, and is building a new Jerusalem hotel across from the Great Synagogue in the capital. He comes to Israel about once a year.Wilf says his father – who is still alive – was excited when the family bought the team in 2005 for a reported $600m. (It is now worth an estimated $1.1b.)."People would always come up to him and say, 'You're a survivor, you guys are involved in football?' He loved it. We went to games [growing up]. He loved everything about coming to America and everything about it. He enjoyed sports. It was a way to get together and do things together."Moreover, Wilf says, "going to sporting events and participating in sports was important to becoming a part of American society."The father of three boys and a girl, he is proud and open about the family's Jewishness and its connection to Israel. He lives in New Jersey, where he is active in a Modern Orthodox synagogue in Livingston, and "commutes" to Minneapolis regularly to help run the Vikings and attend games.Do you go to all the Vikings games? I ask. When he answers affirmatively, I pose the "Sandy Koufax question," referring to the Los Angeles Dodgers pitcher who instilled pride in a generation of American Jews by not playing on Yom Kippur in the first game of the 1965 World Series, a game that happened to be played in Minneapolis. "What do you do on
yom tov
?" "If there is a holiday, I wouldn't travel for that type of thing," he says.Which leads to a question Sandy Koufax's mother might have asked, had her son selected football over baseball. With a great deal of concern recently about concussions and brain damage caused by playing football, is this something that he would want his sons to play? "I think there are some great values to playing football," he answers, very diplomatically.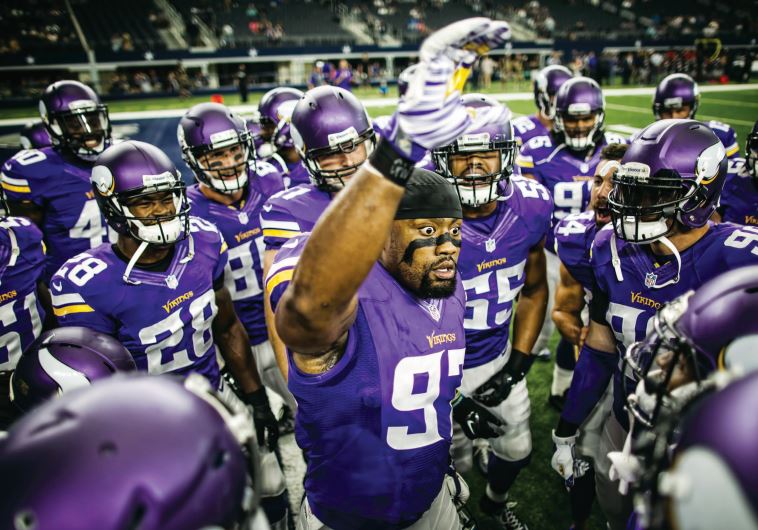 "One of my sons played a little bit of tackle football when he was young for a few years.""But did you want him to quit, or continue?" Wilf gives an easy laugh, and then evades the question."We feel the NFL commissioner and the league are on the right path in terms of figuring this out, and getting the game to improve in terms of player safety and so forth," he says."I know there will be tweaks over time in terms of making it safer for youth. There are some great values you learn in teamwork and the discipline it provides for a lot of young people. It's a great sport."Asked whether his players are aware of his Jewishness, Wilf says, "I think so, yeah. I believe they know that; I'm not sure we dwell on that in the locker room. They want to make sure, you know, [that] they are happy, and that we have the right coaching staff and people behind them."While he hasn't invited quarterback Teddy Bridgewater, running back Adrian Petersen or any of the other players to any of the family
smahot
, he has invited the head coach.But if the Vikings finally win an NFL championship, Wilf says he would be "happy to bring them over to Israel with the Vince Lombardi trophy. We would love to show off a nice silver trophy to the prime minister."
The writer was a guest of the Minnesota Vikings.