We live in a gloriously multifaceted society.This cultural melting pot of ours is populated by people of many ethnic origins, with a wonderfully wide spread of roots, so when the state's legislative body decides to install a permanent display of artworks designed to reflect that spectrum, it has to have its wits about it.The said exhibition opened officially at the Knesset in late February and is located on two levels of the sumptuously appointed state edifice. It comprises 52 ceramic creations produced by a multicultural, multigenerational slew of potters, taking in an eclectic range of items that reflect the aforesaid prismatic makeup.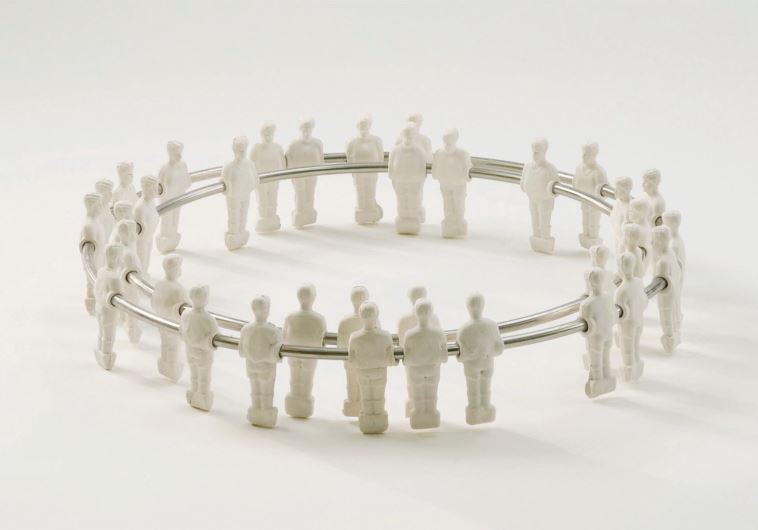 The latter, naturally, is also informed by the cultural baggage of the creator; and, as noted, as we live in such a rich, motley national- social milieu, that must have been quite a challenge for Bauman. "I think the collection we have here reflects that complexity, and it was also very important for me to exhibit the artistic side," the curator notes. "I wanted to include the different languages, the artistic languages. I think that indicates the different languages and origins of the artists. You can see here the impact of European languages, from Africa and other places. This is a very varied body of work."It is indeed. If the Knesset visitors' pre-exhibition idea of ceramic art is limited to pot and/or vase forms, they are in for an eye-opener.There are plenty of the stockshaped artifacts, but there is an abundance of left-field items, too.There is, for example, the totemic contribution from Moshe Sheck, and Rina Peleg's oval "Plaited Earth," which needs close inspection in order to ascertain that it is, in fact, made of ceramic material rather than raffia or some other pliable organic substance."This is something really varied, in all senses," Bauman continues."There are older and younger artists, Israeli-born artists and those who immigrated here. This is a very diverse group of artists who also come from all over the country."The artists in question clearly came at the subject matter from all kinds of angles, and the curator notes that the base material is particularly accommodating in that respect. "Ceramic art has a very long tradition. In our region that's about 10,000 years of ceramic activity; in other areas of the world that stretches back up to about 18,000 years. Ceramic art has a traditional depth to it.On the other hand, this is a very flexible material, and the artist can employ contemporary techniques and styles in their work, too. New techniques are constantly emerging, and there are new approaches all the time." The Knesset show is a case in point. "You can see here works that reference the ancient world, but there are also things that very much feed off the here and now, in modern-day Israel."That is evident throughout the exhibition. Take, for example, Amnon Amos's Amphora, which comprises a blue-based, decorated vase encompassed by a lattice- like, similarly shaped pottery casing. Then there is Itamar Beglikter's Granddad's Soup, a narrow, white work that is actually more reminiscent of a teapot than a tureen. Things go decidedly off the beaten track with Batia Malka's Tzabar offering, which comprises a higgledy-piggledy conglomerate of babies' bodies, heads, feet and hands, which duly puts one in mind of a cactus plant.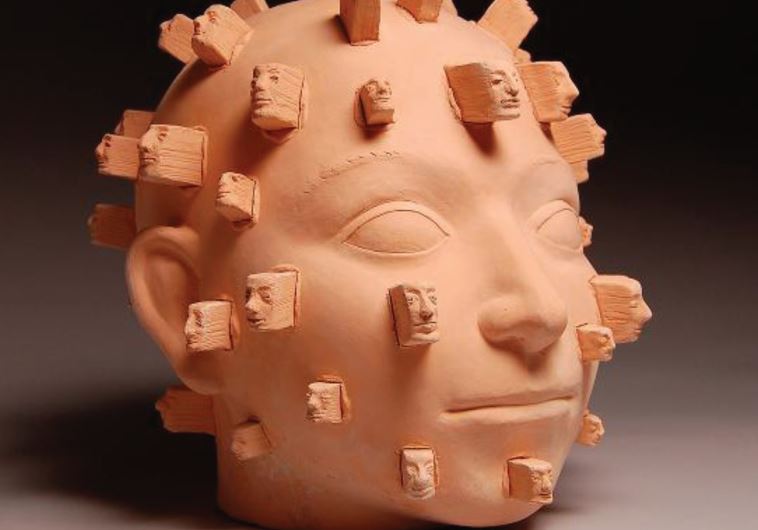 The allegorical element certainly hits you in the eye when you encounter Talia Tokatly's Battalions of Cyclamens. While the hues Tokatly used certainly seem appropriate for the core flora, rather than present with flower- like shapes the 67-year-old Mevaseret Zion-based artist chose to allude to pink-, purple- and white-leaved plants with a jumble of crockery, which appears to have been thrown together in the aftermath of an earthquake.The works in the exhibition were culled from proposals from around 150 artists, who responded to the Knesset's request for proposals. After the ideas were collated, they were discussed by a committee of art mavens, who arrived at a spread that doesn't do a bad job at representing the country's ethnic and social cross-section. There are works by Ethiopian-born artists, immigrants from the former USSR, an intriguing creation by Arab potter Mervat Essa of a couple of ceramic handkerchiefs, and the tonguein- cheek, basalt-colored Eshet Bayit (House Woman) item by veteran Brockton, Massachusetts- born artist David Morris.Bauman explains that the identity element is not just a matter of portraying one's roots and putting that into tangible form. In the early days of the state, artists were looking to express something of the then-emerging national identity, too. "Here you have something by Amnon Yisraeli, who is considered a member of the second generation of ceramic artists here, who worked during an era when they were still asking what Israeli pottery is."The exhibit in question comprises three sandy-colored artifacts – a plate, a bowl and a vase-shaped item – which have an archaic, Middle Eastern, earthy feel to them. "Here he used an abstract decorative form, but he also used figures of local species of animals."The exhibition has been laid out with the idea of focusing on the intrinsic cultural elements and mind-set of specific works, but also includes some deft juxtaposing which, the curator notes, is designed to highlight the breadth of cultures embraced by 21st-century Israel."Look at this," says Bauman, indicating Yisraeli's work's neighbor, Bama'agal Nahuga (We'll Dance in a Circle) by Eilon Armon, which features a couple of concentric rings of white porcelain male figures, with a circular metal bar running through each, and which puts one in mind of a game of table football. "This is a super-contemporary work which talks about get-togethers of men and the sports culture."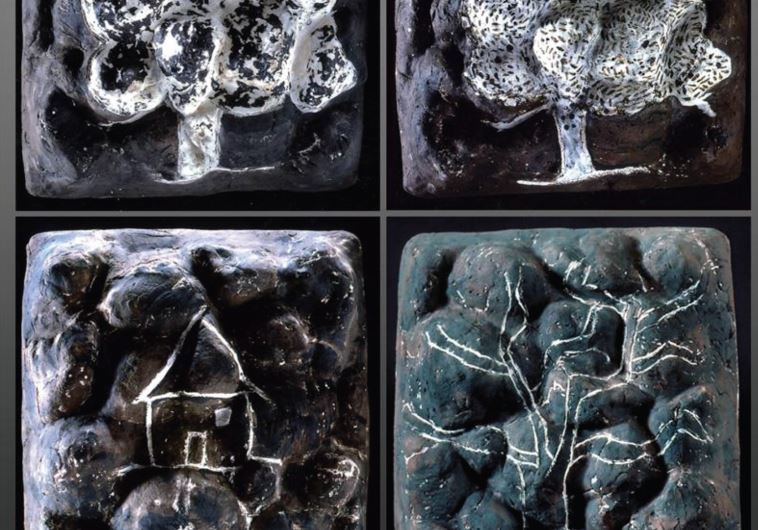 There's a material-thematic flip side. "By using porcelain, this also references the delicate, fragile European domains and brings that into the male-dominated sphere in a totally contemporary way."There are also elements that feed off the world of nature, such as Yael Cadmor's Red Sea 2 coral- imaged creation, and Maya Muchawsky Parnas's almost ethereal Two-Day Old Wreath, while contributions such as Tamar Meshulam's Balata and Gali Greenspan's Venus Towers take the observer out of the expansive, cloistered spaces of the Knesset straight into the heart of some bustling and possibly grimy downtown urban neighborhood.One would have thought it would be well-nigh impossible to portray the multifarious nature of this country through ceramic artworks, but Bauman and her cohorts have done a more than decent job.
Curator Shlomit Bauman, who is wont to display a dab hand at the discipline herself, has done a good job in putting together a lineup that is both visually striking and thematically comprehensive."We selected works that relate to issues of local identity and multiculturalism, as they resonate in the range of their components in the field of ceramic design," says Bauman. The individual associative element was addressed on both a material and a human level. "The works that were chosen reflect, in some way or other, an aspect of identity of the material – the ceramic material – and also artistic identity."