Three people were wounded in a shooting by a machine gun-toting attacker on a high-speed train between Amsterdam and Paris on Friday carrying over 550 passengers, French Interior Minister Bernard Cazeneuve said. The gunman is believed to have boarded the train in Brussels, Belgium armed with automatic weapons, knives and at least nine full magazines of ammunition holding almost 300 rounds, according to a report from the Daily Mail. The suspect was arrested when the train stopped at Arras station in northern France. A ministry spokesman said the attacker's motives were not known. Cazeneuve said the French anti-terrorism prosecutor was investigating the case.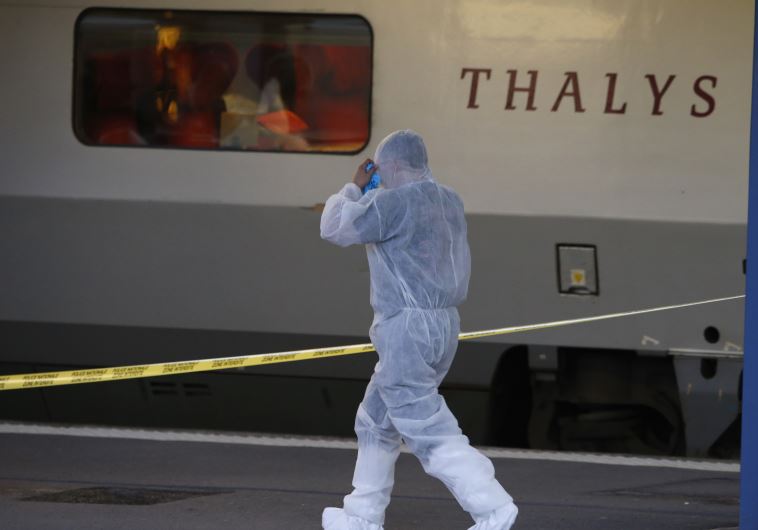 French investigating police in protective clothing prepare to enter Thalys high-speed train
Police union official Slimane Hamzi said that the suspect, a 26-year-old man of Moroccan origin came out of the restroom brandishing the gun and opened fire. According to the police, the suspect was already known to security services,At a news conference, the minister said three US marines had been on board the train and helped overpower and disarm the attacker, successfully preventing any further injuries or casualties. According to the Daily Mail, the US Marines were said to be on leave in Brussels when they became suspicious of the shooter and followed him onto the train. After recognizing the sound of weapons being armed when the suspect went into the restroom, the marines decided to take action. "Without their courage we would have surely faced a terrible tragedy," Cazeneuve said.The wounded include a French actor, Jean-Hugues Anglade, Cazeneuve said, a Briton, and one of the brave US marines, who is said to be in critical condition.The minister urged caution over the likely nature of the attack, which he said was a matter for the prosecutor to investigate."As always where an act that could be terrorist in nature is involved, the greatest care and the greatest precision will be used," he said.A spokesman for the Thalys train company said "The situation is under control, the travelers are safe. The train stopped and the emergency services are on site."Thalys is partly-owned by SNCF and Belgian railways. French President Francois Hollande said he had talked to Belgian Prime Minister Charles Michel and that the two governments were cooperating in the investigation. Michel said in a tweet: "I condemn the terrorist attack... and express my sympathy for the victims."France has been on high security alert since Islamist militants killed 17 people in total in attacks at the satirical magazine Charlie Hebdo as well as at a Jewish Supermarket in Paris in January.