Once a week a slim mother of eight stands on an empty windswept hilltop in Amona and prays for a new home."I love that hill. I go there and I hug and kiss the ground. We belong to Amona. That is our place," Tamar Nizri, 38, told
The Jerusalem Post
.The cabinet in March authorized a new settlement for 40 families, including the Nizris, who were forcibly removed from their homes in Amona in early February. It was the first such settlement to be officially approved in more than two decades."We know that this offers us a new horizon and that our future is there," Nizri said.The IDF, however, has yet to complete all the necessary bureaucratic paperwork allowing work to begin at the new site, a 15-minute drive down the road near the Shiloh settlement.
No date has been announced when the homes, or even temporary housing, will be built. To protest the uncertainty and delay, some 30 families have remained in dormitories at the field school in the Ofra settlement just below where they once lived.The evacuees want the government to act, Nizri said, as she sat on a single-mattress cot in one of two small rooms in the school designated for her family.Her two youngest daughters, Noa and Avigail, ages five and seven, sat on a small rug by her feet and drew pictures as she spoke.The room has served as the family's bedroom, living room and kitchen for more than two months.Seven of her children sleep in a small room next door. The eighth, a 19-year-old daughter, is currently on a trek in India with her husband.There are no private kitchens, so families eats their meals in a communal dining hall."You see what conditions we are living in. But we are willing to pay the price to be here so that we can have the new settlement," Nizri said."As long as I know that it is temporary and our lives here have a purpose, I can remain." Nizri became one of the most recognizable faces by speaking at rallies and press events during the two-year battle against the 2014 High Court of Justice decree to raze Amona."I love people and I discovered that I had something to say," said Nizri, a Jerusalem native and life coach.Activism was the last thing on her mind when she first came to Ofra after high school more than 20 years ago to study at a religious seminary.A year later, Nizri married Yehoyada, who was then in Lebanon and home once every three weeks. They rented a caravan from the Amona organization, the construction arm of the settler movement, as Nizri continued to study, while she and her husband waited for their first child to be born.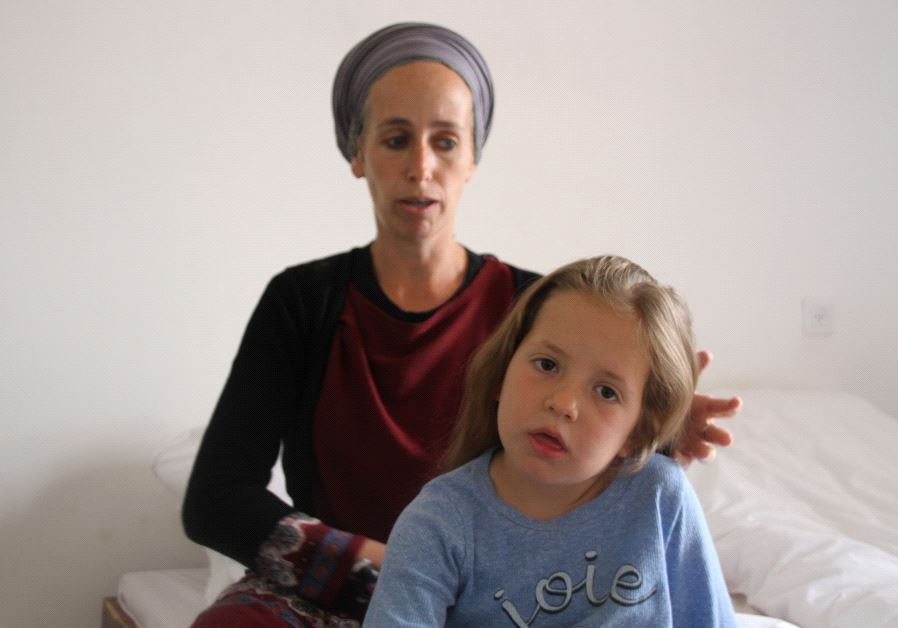 They fell in love with the adjacent hilltop at a time when only one water tower and three small caravans dotted the rocky landscape.They were filled with the romanticism of starting a new community and did not worry about legal issues.
Breaking ground in Amona
The outpost – despite getting a NIS 2.1 million grant from the Construction and Housing Ministry – was not authorized. The state considered the land to be privately owned by Palestinians from the nearby village of Silwad."We were young. I was nineteen-and-a-half. My first daughter was just born. My husband was 22. It didn't occur to us to check if someone owned the land," said Nizri."I saw an empty hilltop.There was nothing there, not even a tree, just stones and thorns. Why would I think it belonged to someone? No one told us we weren't allowed to build there. Families already lived there. The state gave us electricity and a road. I thought this was how you build a new settlement."Historically, both within Israel's sovereign borders and in Judea and Samaria, settlers have built first and received authorizations later.Nizri expected any problems would one day be addressed, not realizing how much the 1993 Oslo Accords changed things.Amona was among the first of some 100 outposts built between 1995 and 2005 that had little legal recourse. That was particularly true for those built on private Palestinian land.The Civil Administration's stop-work and demolition orders went unheeded, as the small community celebrated each new caravan and the planting of every tree.After the birth of a second child, Nizri longed for a real home. She and her husband took all the money they had, got a mortgage and built a wooden, single-story 120 square-meter house for slightly less than half-a-million shekels.They chose wood instead of concrete out of a belief that temporary structures were acceptable but that permanent ones were forbidden."We built a large home for the children that we would one day have. There were four large bedrooms, a living room, a kitchen," she said.It was the largest such structure in Amona at the time, 2001, Nizri explained, so all community events were held in her living room.The family planted scores of trees and an organic garden. They kept goats and turkeys. Her husband opened the Har Hazor Winery.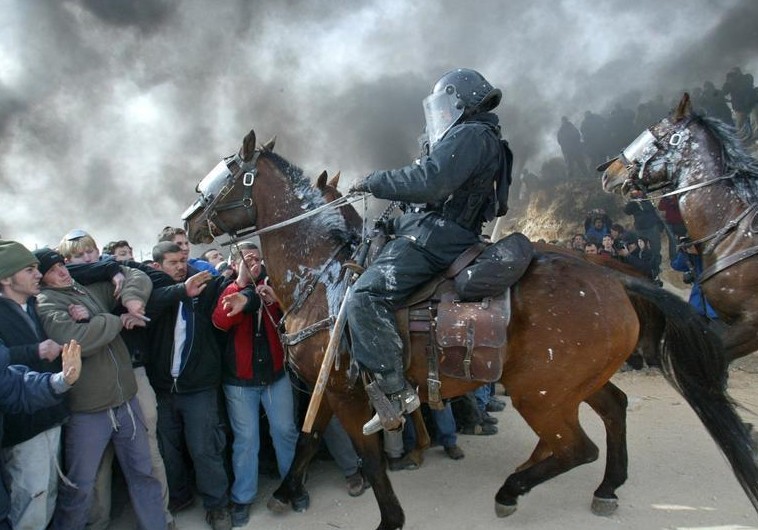 Nothing dented her optimism; not the Peace Now petition to the High Court of Justice that led to the 2006 demolition of nine stone homes nor the 2008 Yesh Din petition against the entire community."Even then I didn't absorb it. I thought we would succeed," Nizri said.Amona is one of the more symbolic outposts. It is known for the violent clashes between right-wing activists and Border Police during the demolitions.
The legal battle for Amona
"We cried out on behalf of all those who love the land," said Nizri. "We tried to wake up those who loved Judea and Samaria to an injustice that was about to occur."The families could not save their homes in Amona, but they were able to pressure politicians into passing the Settlement Regulation Law, which retroactively legalized 4,000 homes built on private Palestinian property in exchange for compensation to the land owners.Because the High Court is adjudicating, Nizri is hard pressed to call the law a victory.Similarly, she is still waiting for a completely new settlement – the first in 25-years – to be authorized.That will be "a knock-out blow" to left-wing groups that tried to destroy the community, she said."We paid a heavy price.When a person is uprooted from their home, it is a story that follows you for the rest of your life. There is a pain and a longing for a home that was but will never be," said Nizri.Throughout Jewish history, there have always been those who sacrificed for the greater national good, she said, pointing to the development of Judea and Samaria as her example.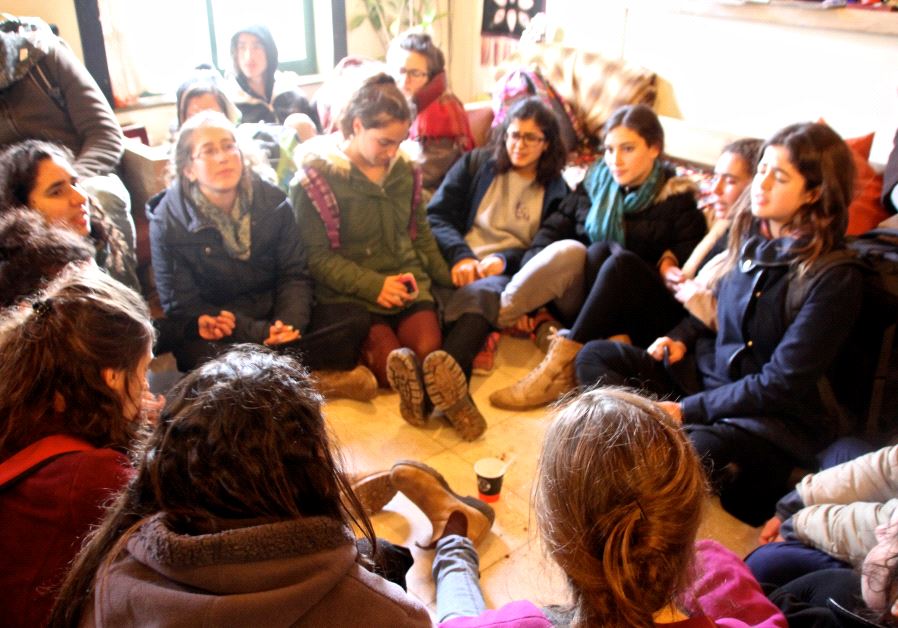 "We were simply emissaries for those who love the land of Israel. "Our strength came... from the understanding that we were in a public fight and not a private one," she said.On the last day before demolition, Nizri opened up her house to as many activists who could fit in her living room, in order for them to be present to protest destruction of the community.Volunteers cooked large vats of soup, spaghetti and potatoes in her kitchen. Teenagers slept on the floor or huddled together praying and singing until the Border Police arrived."If my strength is from the people of Israel then I wanted them there in the hardest moments," said Nizri. "Those who came gave me the courage to endure this test."
Evacuation day
Moments before the protesters were dragged out, she stood in her packed living room and said goodbye to her house. The first six days – from Wednesday when they were pulled from her home and Tuesday when cranes destroyed it – were the hardest."It was like being with a body after death but before the burial," she said.The family longed to live in their hilltop house, which they could see from the field school. But Nizri did return several times that first week and with her mother's help packed the possessions which the family had left. Mother and daughter even swept the floors and wiped the countertops before leaving for the last time.On the day of the demolition, she sat on the ground.She watched the bulldozer level her home and watched as a crane bit into the structure again and again. The whole operation took 20 minutes – one minute for each year she lived on the hilltop."My husband told me I was crazy. He did not come with me. But it was important to see it happen. It was like the closing of the circle. I felt that there was something inside of me that nothing could be destroyed."In those painful moments, Nizri said, she understood the difference between a house and a home. "I felt the house was being destroyed, but that nothing could touch the home."