After months - or even years - of anticipation, the smash summer blockbuster
Wonder Woman,
starring none other than Israeli Gal Gadot, will have its glamorous Los Angeles premiere on Thursday. Fans of both the beautiful Israeli actress and the legendary comic superheroine have been breathlessly awaiting the new film. And the wait is almost over - the movie hits theaters across the US on June 2, and makes it to Israeli fans a day earlier, on June 1.Gadot is undoubtedly one of the biggest stars to come out of the Holy Land, and the film release launches her to global stardom. According to an IMDB ranking of the most popular figures in the entertainment industry born in Israel, Gadot is No. 1, while Natalie Portman comes in second place. Third place goes to Odeya Rush, who starred in
The Giver
and
Goosebumps
, among others. The 32-year-old, who grew up in Rosh Ha'ayin, first came to fame after winning Miss Israel in 2004. She later landed a role in the Fast and the Furious franchise, before being cast as "Wonder Woman." She first played the role last year in the film
Batman v. Superman
, and was praised as the standout in an otherwise critically-panned movie.Gadot doesn't hide her Israeli heritage, mentioning it frequently in interviews and TV appearances. On
The Tonight Show with Jimmy Fallon
this week, she said it was shocking to see herself on giant billboards around New York City, since "I'm from Israel, from this small city, and suddenly I'm all over Times Square." She's also mentioned her training in the IDF as giving her good practice for the intensity of getting in shape for
Wonder Woman
.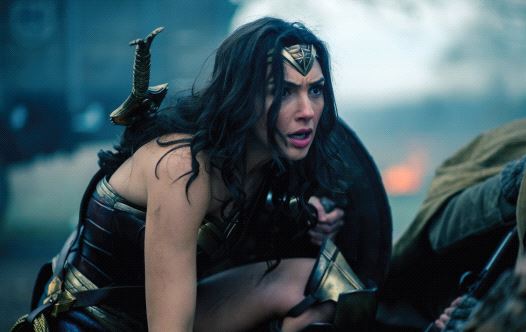 Gadot has been doing the customary round of press and interviews ahead of the film - even though she's in so much pain she can't sit down. The actress is channeling her superhero powers after throwing her back out recently, and has been interviewed only standing up. She appeared this week on both
Good Morning America
and
The Tonight Show
- doing both shows in an unusual standing position. The UK premiere of the film, which was scheduled for next Wednesday, was canceled after the deadly terrorist attack on Monday at an Ariana Grande concert in Manchester. Warner Bros. said "in light of the current situation, we will not be proceeding with our plans for the 'Wonder Woman' premiere and junket activities in London."The Israeli ad tech start-up Taykey conducted a study of Gadot's popularity online, and found that a whopping 95% of mentions were positive, with 4% neutral and 1% negative. The start-up noted in a release that such a high figure is unusual "for actors, who are usually controversial, and especially for well-known Israelis." It noted that Gadot is placed "unrivaled at the top of the list of the most loved Israeli in the world." And, with another 'Wonder Woman' role coming up in
The Justice League
, due out in November, it doesn't look like Gadot is going anywhere anytime soon.