If there is a single issue that has become central in the news in the last year, it is the millions of migrants fleeing from Islamic State in Syria and Iraq, as well as from other conflicts and poverty in Africa, and landing in Europe – or dying as they try to.This issue was very much a part of the recently concluded Berlinale, the 66th Berlin International Film Festival, and the winner of the Golden Bear, the festival's highest award, was Gianfranco Rosi's Fire at Sea (Fuocoammare), a documentary about the residents of the tiny Sicilian island of Lampedusa, and the migrants who arrive there by boat.The island is only 20 sq.km. and has a population of just 6,000, but for hundreds of thousands of migrants, it is their first stop in Europe.
Following the premiere of Fire at Sea, but before the announcement of the festival winners, Rosi was interviewed in a lounge at the Berlin Palast, the main theater of the festival."For the past 20 years, Italy has been on the front lines in immigration," said Rosi, whose previous film, Sacra GRA, about the ring road that surrounds Rome, was the first documentary to win the Golden Lion at the Venice Film Festival."What is a paradox and what now kind of, a little bit, makes me laugh is that much of Europe is discovering immigration in the last three to four months. Everybody talks about migrants. Europe always said, 'That's your problem.' And now for the first time, Europe seems to have discovered that there is a world that is moving, people escaping from something."But Rosi is more comfortable talking about his film than the politics behind it."My first encounter with Lampedusa was through the media. There was this huge disaster of people dying off the island" in 2013, when between 300 and 400 migrants drowned after their boat capsized.Although he arrived on the island at a moment of relative quiet in terms of arrivals, he "wanted to show the emptiness of the island with the ache of the tragedy," and began filming the fisherman's family. They, like all the other island residents who do not work with the migrants, have no contact with those arriving. The migrants are taken straight to a center and then to the mainland. Soon enough, boats began landing again on Lampedusa.Rosi focused on Samuele Pucillo, a preteen, his fisherman father and his grandmother. By focusing on this family, Rosi has captured a home that seems as warm and inviting as any portrayed on film. Although, or perhaps because, this family lives so simply, their home seems emblematic of the basic comforts that the migrants have lost, and that they are searching for. The family members emerge as characters, not generic symbols – especially Samuele, who is inquisitive and energetic, but also anxious and self-conscious. Rosi, who lived on the island for months and who shot over 80 hours of film there (although the movie runs a trim 108 minutes), said, "People cry when they see the bodies [of migrants], but for me the most moving scene is when he [the grandfather] is drinking the coffee and looking at her [Maria, Samuele's grandmother]. After they have spent 60 years together, there is so much love there and Maria dedicated a love song to him" on the local radio station.The title of the film came to him naturally, when the grandmother requested the radio station DJ play a 1950s pop tune called Fire at Sea during a storm.Rosi does not try to turn the Lampedusa residents into spokespersons for the developed world, simply because, through an accident of geography, the migrants end up on their doorstep. The grandmother, hearing news of yet another boat full of asylum seekers ending up on the island, says, "Those poor souls," but Rosi does not badger her with questions."I tried to show the identity of the island through a kid," Rosi said. Samuele, who hunts birds with a homemade slingshot, suffers from a lazy eye that is treated by a doctor."I had a feeling he is always a metaphor for something else. He is hunting, there's a meaning. When he has the lazy eyes, we have the lazy eyes. The kid has the pain of growing up, that we all have when we are kids, and for us it is the hardness of watching something we don't know that is coming to us. These are all elements that we have in our subconscious."Samuele, who appeared at a press conference looking dazed and delighted in a new outfit and bright white sneakers, was upset over his portrayal in the film, Rosi said."He hated me because I showed him vomiting," when he got seasick riding in a boat, a shameful moment for a fishermen's son."He said, 'Tell me you didn't do that, I hate you!' Samuele was also embarrassed at being shown wearing his eye patch, and slurping his spaghetti: 'I don't do that anymore, why did you show that?'" Rosi, who works alone, without any crew, also explores the other side of the island in the film. He visits a center that houses migrants temporarily, follows the crews that evacuate the boats, and interviews a doctor who treats their medical problems, which often means declaring deaths.There is just one shot of corpses piled up in the hold of one of the boats, but this was enough to trigger accusations that Rosi had exploited the migrants' deaths."Pornography!" shouted one journalist at a press screening.Rosi is sensitive to this accusation, but rejects it.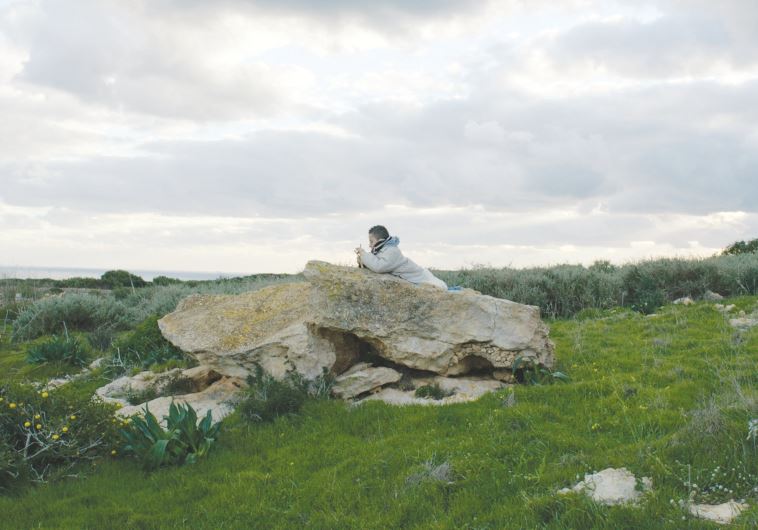 "I knew this [accusation would be made], of course I knew this. When I show the death it is very controversial, but do we show that, or pretend that it's not there? The responsibility is not on me, that I'm filming, but on the people who let this happen. And this cannot happen. People cannot die this way. Kids. Women. Pregnant women. I had images of death, I could make a film of death, one hour of death, and I choose to put just one single image. The captain came to me and said, 'Go under the boat. You have to go there.' I thought: I don't want to film death. But there is a duty to do this. You cannot turn your face away, you have to go under and shoot."Showing clips on his phone that he had not used in the movie, he said, "They lock this [compartment] with 150 people. They don't know where they are going to be. You pay $800 to die down there. Some people say, 'I won't go there,' so they beat them up and throw them inside."This is one of the biggest tragedies facing Europe – 40,000, 50,000 people died, and they didn't do anything for them."He spoke of some of the migrants' stories he heard while making the film, of tens of thousands of people captured and imprisoned in inhumane conditions in Libya, and other hardships."The only thing my film wants to do is promote awareness."It was fitting that this film won the top prize in Berlin, a city that has accepted approximately 80,000 migrants, while Germany is struggling to cope with the nearly one million refugees it has admitted in the past year.Dieter Kosslick, the director of the Berlinale, said the festival staff made an effort to involve migrants in every aspect of the festival. This included hiring migrants, having volunteers escort migrants to movies, giving a Syrian chef the opportunity to cook for one of the food trucks, and raising money for a center for torture victims."This is our responsibility," Kosslick said.Rosi said that, in spite of their compassion, the Lampedusa residents' tolerance only goes so far."They hate journalists," he said, because they think reporters have spread negative rumors about their island and they are weary of being asked their thoughts about the migrants."They say: 'We are fishermen. We accept anything that comes from the sea.'"
The movie, which takes an intimate and engaging approach to a monumental subject, juxtaposes the life of one boy and his family from Lampedusa with the migrants who arrive on an almost daily basis. It also follows a doctor who works with the migrants, and the crews who meet the boats and cope with the influx. These crews nearly always discover that some migrants are dead, some dying and that many have serious injuries and health problems.Fire at Sea "goes to the heart of what the Berlinale is about," said three-time Oscar winner Meryl Streep, who headed the seven-member jury that chose the winners in the main competition. Fire at Sea also won the Prize of the Ecumenical Jury and the Amnesty International film prize.Accepting the award, Rosi said, "My deepest thought goes to those that never made it on their journey of hope."Dedicating his award to the people of Lampedusa, he praised the humanity they have shown to the refugees arriving there.