You don't need to tell Nihad Dabeet that every cloud has a silver lining. The man appears to be simply awash with optimism, and there is a pervading sense of positive energy that filters through his metal-wiring sculptures currently on show, in the "On the Wire" exhibition at the Hankin Gallery in Holon.The 47-year-old Ramle resident and artist has had enough experiences to last most people at least a couple of lifetimes. To mention but a few of the headliners in his bulging résumé to date, he was an ardent supporter of the Communist cause, was the first Arab student at the Thelma Yellin High School of the Arts in Givatayim, spent six years studying art in Bulgaria – a period that straddled the fall of the Berlin Wall – and spent another five years and 10 months in Greek prisons for trying to smuggle "social drugs" from Bulgaria into Greece.Ask Dabeet if he regrets meddling with an illegal substance, and the ensuing long-term negative fallout, and you get a surprising reply.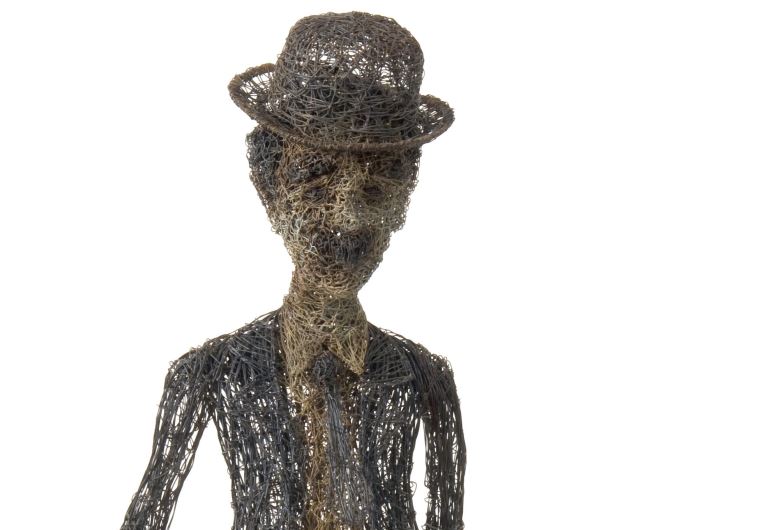 "There, I didn't pay any attention to what people around me said," he explains, adding that he got all sorts of remarks – and not necessarily about his artistic creations. "First of all, they thought I was Jewish. My family name is Dabeet and they called me David, and I was an Israeli, too. I told them I was Christian Orthodox, which is just like the main religion in Greece, but they just thought I was sucking up to them. So I stopped trying to convince them and, anyway, I didn't want to tell them personal stuff about me or have any sort of relationship with them. I just went with the flow." Instead of bemoaning his rotten luck for having his wings clipped behind bars for almost six years, Dabeet seems to have come out of the challenging episode with renewed faith and a definitively sunny outlook on life."Everything is a learning experience," he posits. "It's the school of life."He also believes there may have been a higher purpose behind his doing time."I am not a bad person," he says simply. "I realized I could help people there."One way to do that was to put his years of study and artistic endeavor to good use. As the prison authorities were not exactly disposed to providing "David" with an artist's tools of trade, he made do with a basic commodity that was available in decent quantities.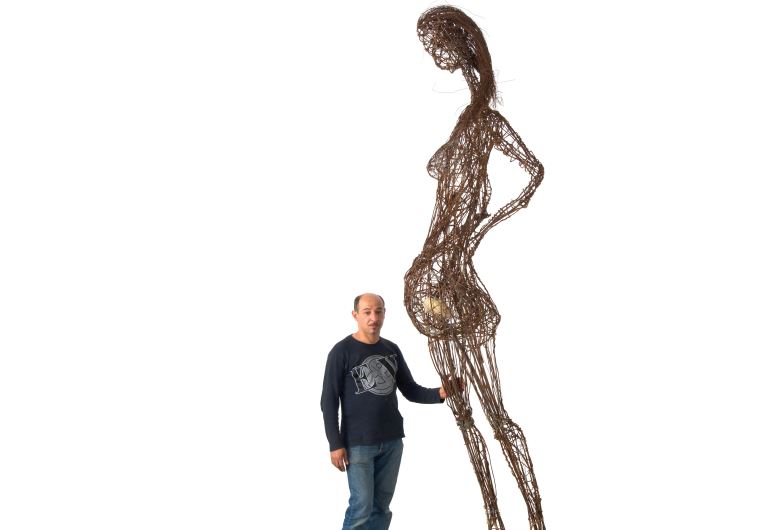 "I made things out of bread," he details. "That was part of my learning curve, to learn how to manage with what I had. I still do that."Dabeet also worked creative wonders with toothpicks from the prison canteen. After returning home to Ramle, he began working with at-risk youth and called on his hard-earned patience and street-level creed and wisdom to get the youngsters on his side."They all knew I'd been in prison. It had been in all the papers. They all came from that kind of framework, so if I made some remark about their behavior, they couldn't say I didn't understand them or have any idea where they came from. They knew I'd been there and done that."The arrangement worked out well. "I had 20 kids in the group, and 18 of them completed a full bagrut [matriculation] diploma," Dabeet notes, adding that for him it was a matter of jumping in at the deep end. "It was a program called Forming Behavior By Designing Art. I had no idea what occupational therapy was, I just ran with it. I took a chance, just like you have to do when you are creating art."There were, of course, plenty of bumps along the road Dabeet took with his young charges, but, typically, he worked through them and, gradually, the youngsters began to trust him and to go with his flow."They had made all sorts of things and one day, I went home and made a metal frame and began tying lengths of wire to the sides, and made a mesh," he explains. "I put the things they'd made out of Das [modeling clay] and I put them in different positions in the wire grid. It was a way of putting them into a framework."Dabeet's experiences naturally informed his evolution as an artist, and some crop up in his works from time to time.One of the fetching items on display at Hankin Gallery features a diminutive olive tree – there are several in On the Wire – with a swing attached to it. Therein lies a tale of latent hands on fatherhood.Back in his student days in Bulgaria, Dabeet had a fling with a local woman. "We weren't in love or anything like that," says the artist."She said she wanted to have a baby and she didn't know if she could, because she'd had some kind of operation."Happily, the transient confluence produced a bouncing baby girl, although Dabeet didn't meet his daughter at the time. All he had was a photo of her on a swing. "Over the years, I'd do sculptures with a little girl on a swing, sitting or standing on it. Anyone who saw those sculptures liked them a lot."The swing element vanished from Dabeet's oeuvre four years ago, for the best of reasons."One day my daughter got in touch with me," he says. "She's 24 now. Everything changed when she came back into my life; she brought me good luck."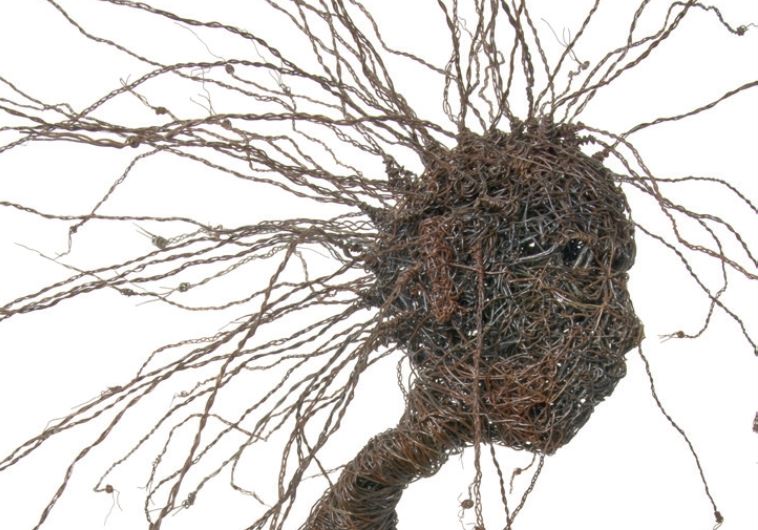 Dabeet was delighted to hear from his firstborn and immediately said he'd send her a plane ticket to come to visit him in Israel.In terms of financial outlay, he got more than he'd bargained for. "I thought she was in Bulgaria, but she was in Sydney, Australia," he smiles.Still, he feels it was a good investment, and not just in emotional terms. "It was wonderful to have some time with her. My life changed after that. Back then I was living in a tiny house, and now I have an enormous house with 15 rooms. It was derelict. It needs a lot of doing to it, so I make some works of art, sell them and then take time off from work to get on with getting the house in shape. My daughter brought me luck."With his wife, Dabeet also has three children – aged seven, five and one, the eldest of whom popped into the gallery from time to time to show her dad how her drawings were coming along."You need to do something with the roof," advises Dabeet Sr., and the youngster scurried off to add some finishing touches to her creation. "She can draw for hours," says the proud father.The exhibits covers a number of themes, with some Giacometti-esque dancer figures, quite a few arboreal works, some complete with rich foliage, and a fun-looking full-size figure of Charlie Chaplin.The latter brought Dabeet first prize in a competition in Haifa a few years back, while the olive tree theme was spawned by a competition in the Galilee, held as part of the annual Olive Festival. Dabeet landed first prize in that, too."What I know how to do is very simple. I match the material to the theme," declares Dabeet. "If I made a tree out of wood, that would be stupid. And a stone tree also isn't appropriate. But it is very easy to make a tree out of metal wiring."It may be "easy" for Dabeet, but when you hear that one of the tree figures has 20,000 individually fashioned leaves, you begin to wonder about his take on degrees of difficulty."I love what I do, so it is not hard work for me," he states. "You can give me any material and I will know what to do with it."There are also some charming equine figures in the Hankin Gallery exhibition."That comes from a foal I had a few years ago," explains Dabeet. "I really loved her and I'd go for rides all over. It is because of her I started working with metal wiring. I'd pick up bits of wiring as we went along."Sadly, the artist's beloved beast was stolen, and it took him some time, effort and, eventually, dinero to retrieve the foal. But, despite the efforts he made to find the horse, which included paying out a handsome amount to the "owner," he soon passed her on to the person who loaned him the cash to buy the foal back. "I felt I'd become too attached to the horse," Dabeet recalls."I felt as if I'd enslaved myself to her."That laissez-faire ethos comes through in much of Dabeet's work and in the way he approaches his art and breadwinning efforts."I once made a sculpture of an olive tree, a big one, and a friend said I should hang pretty things on it. So I took 5,000 coins from all over the world, drilled holes in them and strung them up from the branches. I put the tree up in a public space in Ramle, and some people took some of the coins, but I didn't mind."That, too, proved to be a good investment."A wealthy woman saw the tree and she bought some works from me," says Dabeet. "People need to touch things, need to feel real things.Most of the people who buy my work are hi-tech professionals who work with virtual, non-real things."They need that connection with tangible reality. We all do."
"On the Wire" closes on January 30. For more information: (03) 559-0021 and yasminholon@gmail.com
"The minute I entered prison I became a free man," he reveals. "I freed myself of fixed modes of behavior. Before that I was always surrounded by artists, from childhood. Whenever anyone expressed an opinion about my work I would take that into account, so I would be hurt more easily if their criticism was not favorable."Things were very different in the slammer.