Something truly extraordinary is coming our way. It is something that, for lack of a better expression, you don't see every day.On Sunday, October 25, two very unusual artists will come out on stage at the Israeli Opera's Performing Arts Center and present their audience with several minutes of total silence. They will then take the audience on a beautiful voyage – to a distant place, or maybe to a place deep within themselves – far away from their day-to-day lives, their worries, cares, hopes and fears, and far away from the present realities of politics, terrorism and war.Joined by other musicians, the two artists will sing, chant, and engage each member of the audience in a way that cannot be described merely as a concert or show. What the audience will experience, for the third time here in Israel, is what might be called transcendence, or perhaps just a short but wonderful vacation from real life.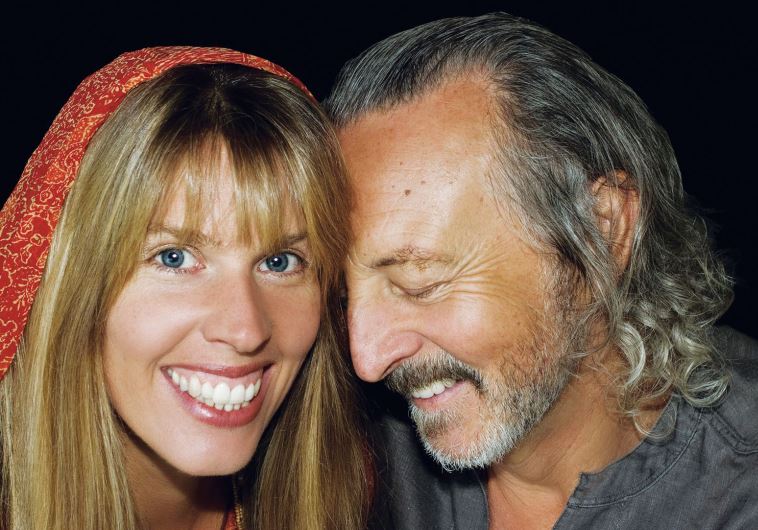 With no fixed address or physical home, they have been traveling the world and performing together for almost 25 years, after meeting each other in 1990 at the Hindu ashram of the guru Osho, in the Indian city of Pune.Their music is a fusion of ancient Sanskrit mantras; English songs composed by Miten and others; Indian, Tibetan and Nepalese musical forms; and various contemporary styles of performance, including call-and-response singing between them and their audience. With an ever-growing number of devoted fans, ranging from the Dalai Lama to Cher, Premal and Miten have performed for audiences throughout the world and have recorded 17 albums, with CD sales exceeding one million with an unknown number of downloads.Largely on the basis of Premal's singing – with a voice variously described as "angelic," "mesmerizing," and even "narcotic" – the couple's debut album, Essense, rocketed to the top of New Age and World Music charts, where it remains to this day.Following its release, Premal and Miten began receiving invitations to perform in yoga studios throughout America, and soon found themselves chanting mantras to an audience of 1,500 people in Grace Cathedral in San Francisco.Their most recent album, Songs for the Sangha, almost immediately became No. 1 on both iTunes and Amazon World Music charts and launched them on their current European tour, which will land them in Tel Aviv for their third appearance in Israel.The couple, interviewed by Metro through Skype a few hours before their performance in Helsinki, Finland, are looking forward to performing here again."In general the Israeli people are very passionate," says Premal. "They have this feeling of 'We live life to the fullest.' And they show it, and we show that we enjoy, that we are together, and that we are celebrating. That is totally in line with how we live our lives. That's where the music comes from. It feels almost like being at home. It's a good feeling."Premal and Miten nod agreement with our observation that the world seems to be particularly messed up at the moment and quietly reflect on our question about whether they can do anything to heal it.Miten shrugs and says, "All we have is the power of the mantras. We don't have any mystical formulas. We just know that there's something about those healing sounds that work. We just feel a responsibility to share. "As you say, it's never been this bad, it's never been this crazy. I don't have any big ideas about saving the planet. I don't think humanity is capable of saving itself. But I think that, individually, we can be prepared internally – and that's the gift of the mantras. So that's where we're at."Premal adds, "Being prepared is about finding the strength from within. We have to find our inner roots. It's the mantras and also the sense of community of singing together, of coming together.Going beyond words, there are no answers. It's just a celebration of the moment, beyond the mind. For me that's the most nourishing thing."And then there's the silence. We can all be together. So many people, falling into the silence so effortlessly. It's not like, 'Oh my God, I must be still now.' It just happens, and that's perhaps the most powerful."Says Miten in conclusion, "For us, it's like the two wings of a bird. Meditation and celebration. This is what helps us take flight."So who are these people? Premal was born 45 years ago in Nürnberg, Germany, to parents described as both artists and mystics.She began chanting mantras at around age four or five, was taught violin and piano, and received voice training.When she was just 10, her mother returned from a trip to India and introduced her to the meditation techniques of the guru Osho.She became a child devotee of the guru, and in her late teens she left Germany and moved to Osho's ashram in Pune, where she received the name Deva Premal, "Divine Loving," and met her life partner, Miten.Miten, formerly Andy Desmond – rock musician, singer and songwriter – was born in 1947 in Surrey, UK. After forming the folk/rock duo Gothic Horizon with musical partner Richard Garrett and releasing two albums, The Jason Lodge Poetry Book (1964) and Tomorrow Never Knows (1965), he spent most of the 1970s touring as a solo opening act for such performers as Fleetwood Mac, Hall and Oates, Randy Newman, Ry Cooder, The Velvet Underground, and recording albums with groups like The Kinks.Desmond lived the high and wild rock-and-roll life of the '70s, until he decided that he had had enough. Totally disillusioned with the music business, he left career, friends and family, sold his guitars and other possessions, and began to immerse himself in the world of Eastern religion and philosophy.Finding his way to Osho's ashram in Pune, Desmond had no friends and knew no one. He was given the name Prabhu Miten, "Friend of God," and has been "Miten" ever since. He and Premal met in 1990 and began to travel and perform in 1992.In the years since their foray out of the ashram and into the world, Premal and Miten have developed more than just a cult following.Asked to what do they attribute their enormous success, Miten replies, "I remember somebody asking the Beatles that, when they first went to America, and John Lennon said, 'If I knew what it was, I'd be a manager.' I don't know, but I think we've tapped into a thirst that we all feel. And like I said, it's beyond entertainment.So I think it's got something to do with being an auspicious time."When people come and we come out onto the stage, there's this welcoming and there's the usual expectation that now comes the music. But what happens is not music. Premal sits down and she closes her eyes for five minutes. We all just close our eyes, and you can feel the audience going, 'What? What?' And then slowly, slowly, it moves into this space where there's no uncomfortable coughing. There's just this silence. And then the music can begin."The music is there to deepen that experience of inner peace, where we forget our troubles for a while and forget the things we have to do in our day-to-day world."It's not escapism. Because what happens by the end of the evening, you actually have something that you take out into your life. So it's almost something like a 'reboot' for us all when we play.So rather than going back into our lives when the evening is over, we feel like we're going forward into our lives, from this moment on, taking something with us that we didn't have before."Stories abound about the mantras' capacity to reach people who are otherwise unreachable, and the apparent ability of Premal's chants to heal.Teachers of autistic children, for example, report significant improvements in attention and focus when the children are listening to Premal and Miten's CDs.Surgeons have emailed the couple to say that their music helps them to focus during difficult operations. The music and mantras have even been embraced by inmates in maximum security prisons.Premal and Miten have performed in these institutions often, most recently at San Quentin in California.When asked how these mantras work, Premal replies, "We just need to see that it works. We don't really need to understand why. But I like that it happens to autistic children. Or it happens to people who really don't know that they are listening to a mantra, people without the mind-set that what they are hearing is supposed to work in a certain way.Also animals. We've heard lots of stories of animals being totally drawn to the music, of not liking any other music but always sitting on the speakers when one of our mantras is playing. It shows that they go straight to the essence, to the core, and we don't need to understand anything about it."Miten adds, "One factor really is Premal and her voice. Many people sing mantras, but not many people can convey them with a voice like hers. I think that's a huge, huge, part of it."So what will we be seeing and hearing during their upcoming appearance in Tel Aviv? "Basically what we are bringing everywhere.A reunion, in which we all come together," Premal says. "It might be different bodies and different voices than before. But with the mantras and the silence and the songs, it really doesn't matter. I'm really liking also that we finally got it together to have all the lyrics projected. That makes it easier for everyone to sing and for us to create an evening together."The couple will be accompanied on stage by Manose – a young Nepalese master of the bansuri, or bamboo, flute – who has joined them in many of their previous appearances.Premal and Miten have no interest in the current attempts by groups like the BDS movement to boycott Israel, nor do they agree with them.Says Miten, "Our mantras are beyond any kind of political, religious or emotional dimension. We just don't concern ourselves with that stuff. Where people ask us to come, we go. That's really how we do it. We don't really have time to deal with that other stuff. It's just holding us all back."Premal adds, "In a way, what we do is needed more here. Everybody should come. The more people are uplifted, the less space there is for conflict. It's crazy to punish whole groups of people. People don't need punishment, they need healing."
Deva Premal and Miten will perform on October 25 at 7:30 pm at the Mishkan for Performing Arts at the Israeli Opera, 19 Shaul Hamelech Boulevard, Tel Aviv. To order tickets: 058-334-5228 or http://bit.ly/ DEVAMITENINISRAEL
The two conductors of this spiritual journey are a beautiful young woman known to the world as Deva Premal and her musical collaborator and life partner, known simply as Miten.