The Nachum Gutman Museum, Tel Aviv If you find yourself walking through the charming Neveh Tzedek neighborhood in southwestern Tel Aviv during the Passover vacation, make sure to visit the Nachum Gutman Museum of Art.Gutman (1898-1980) was one of Israel's first artists to break away from the standard European tradition of art, rejoicing in Israel's vibrant Mediterranean colors and brilliant light. His paintings and drawings show sunny scenes typical of Tel Aviv in his day, such as fishermen hauling in a net full of colorful fish; a crowded beachside cafe; a horse-drawn carriage with two veiled women peering out. Arab women are a theme often repeated in Gutman's work.Gutman had a quirky way of depicting humorous vignettes in rough clay sculptures. It's easy to see that he snatched scenes from real life, like a pompous man delivering a speech and an old couple holding a bawling grandchild.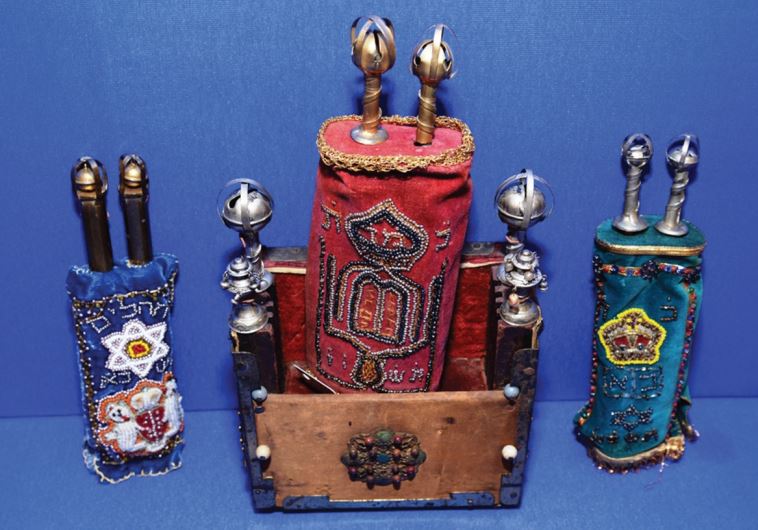 21 Shimon Rokach Street, Neveh Tzedek, Tel Aviv (03) 516-1970, www.gutmanmuseum.co.il/en/ Hours: Monday to Thursday10 to 4; Friday 10 to 2; Saturday 10 to 3; closed Sunday Entrance free for children under 18. Free for everyone on Hol Hamoed, and there will be a scavenger hunt in the streets close by.The Herzliya Museum of Contemporary Art Think of Herzliya, and you think of boats bobbing at a dock in the sunny marina, high-end hotels along the beaches, great restaurants, or surfing.What you may not expect is a museum exhibiting cutting-edge contemporary art and social criticism.The Herzliya Museum of Contemporary Art is a surprise, and a welcome one for those who appreciate artists' reflections on the issues of the moment.The exhibitions change every three months. Metro viewed installations related to the theme of time and how we relate to it."We work all the time, ready to answer our cellphones, Facebook messages and emails 24/7. It makes the whole world like a small village," explains director Aya Lurie."On one hand, there's progress. More of our problems are resolved. On the other hand, it gives us fewer hours to sleep and makes a hectic everyday life."The exhibits include the works of seven collectives composed of artists, computer engineers, designers and scientists. Their fascinating installations interact with visitors in real time. One exhibit, created by the Bat-Girl collective, starts a dialog with you as if in an Internet chat room; it expresses not connection, but existential loneliness. "You're part of the community, but in reality, alone," observes Lurie.The museum hosts workshops and summer courses for adults and for children from age 3½ through high school age. There are tours on Saturdays, and kids under 18 enter free. It's a disabled-friendly space with wide doors and an elevator. The building was part of the local Yad Labanim organization and is still connected to it. Just be careful not to wander into the nearby magistrate's court by mistake, as we did.4 Habanim Street, Herzliya (09) 955-1011, info.museum@herzliya.muni.il, www.herzliyamuseum.co.il/english/homepage Hours: Tuesday and Thursday 4 to 8 p.m.; Monday, Wednesday, Friday and Saturday, 10 to 2; closed Sunday The Tikotin Museum of Japanese Art If you like Japanese art and see the sense of limited exhibits, you'll like the exquisite Tikotin. It's the only museum in the Middle East dedicated to traditional and contemporary Japanese art and culture.The museum owns a collection of more than 7,000 artworks and craft objects, choosing to display in a spare and sober style that allows maximum freedom to focus and absorb them. One floor is enough to display the current four exhibits. The museum's second floor has a movie theater showing new films every few weeks, a cafe and a gift shop.89 Hanassi Avenue, Haifa (04) 838-3554, www.tmja.org.il/eng Hours: Sunday to Thursday 10 to 7; Friday 10 to 1; Saturday 10 to 7.The Safed Hungarian Memorial Museum An obscure museum in Safed turns out to be a unique memorial to the Jewish communities of Hungary who perished in World War II."Yet," says Ron Lustig, director, "it's not a Holocaust museum. It's the home of objects that commemorate the Hungarian Jewish community's life, and what its rich culture gave the world. Behind every object is a person, a family, and we know of each one individually."
Lustig is the son of the original founders, Haya and Yosef Lustig, and like them, dedicates himself to preserving remnants of that bygone world.Look closely at a halla plate decorated with the Hebrew blessing for bread. You'll see that it exchanges the letter heh for het, reflecting a linguistic quirk of native Hungarian speakers. Study the photographs of school groups and Jewish soldiers. A beautiful porcelain plate tells a strange story about the Jews during the Austro- Hungarian Empire. Jewish couples looking to marry were required by law to buy an expensive set of porcelain dishes in one particular Viennese shop. Only with the receipt, proof that they'd spent the money, would the authorities register the marriage: in other words, the Judenporzellan was a special tax on the Jews.The Holocaust is inevitably present in many of the exhibits. A striped jacket from the camps hangs in a glass case. One section is dedicated to rescue efforts and heroism. An exhibit I found especially moving is a blond braid, cut from the hair of a little girl who sent it as a birthday gift to her father in a work camp.He survived the camp, immigrated to the US and kept the braid in the breast pocket of his jacket always. It arrived in the mail as a donation to the museum just a few weeks before his death.The museum's most impressive project is housed in a separate small building. Inside is a restored aron kodesh – a holy ark where Torah scrolls are kept. It was rescued from the shambles of the devastated synagogue of the Jewish community of Tokaj, a small town in northern Hungary.Haya and Yosef Lustig, touring the grounds, saw wooden boards thrown to one side in the yard. The wood, which they immediately recognized as pieces of an ark, had been moldering there for more than 50 years. The Lustigs had the pieces shipped to Israel for restoration.The problem of finding a qualified carpenter to do the work was solved when a man arrived, opened his portfolio, and proved to be chief restorer of the scenery at the Russian Ballet. Today the ark is reconstructed and repainted in white and gilt, but part of it was left unrestored to show the condition it was in when the Lustigs found it. Its restored dome rests to one side, as the building's ceiling is too low to allow placing it on the ark.The Torah scrolls inside the ark also survived the Holocaust, and each has its own story. There's also a bookcase holding worn, dusty prayer books rescued from destroyed synagogues. I experienced the privilege of opening one such book and reading a few Psalms from it. Whose hands last held the book 70 years ago? The front page bears a handwritten name, Daniel. Was he a young yeshiva student, a brisk middle- aged businessman, an elder with a white beard? We will never know.There are audiovisual stations in Hebrew, Hungarian and English all around the museum, and a short video is available for groups in the lecture room.There is a library, where archives preserve thousands of documents and photographs relating to the Jewish communities of Hungary, Transylvania, Carpathian Russia, Slovakia, Bachka, Banat and Burgenland.
The museum is a resource for those seeking genealogical information and conducting historical research.The staff will guide you through the trove of gravestone photographs, slides of synagogues, and an extensive database detailing the fates of individual buildings.The Saraya Building, Safed (04) 692-5881, www.hjm.org.il Hours: Sunday to Thursday 9 to 2; Friday 9 to 1; closed Saturday The Museum of Yarmukian Culture This small museum, nestled inside Kibbutz Sha'ar Hagolan, preserves some big history. In its display cases are objects made by the neolithic Yarmukians, named for the nearby Yarmuk river, where they first settled.Objects from their daily life give a fair idea of how they farmed, prepared food, hunted, traded and worshiped.You can view their decorated pottery jars, flint sickle blades, grinding stones, and stones that weighted fishing nets. And their idols.The artifacts were found in the remains of stone homesteads excavated nearby. Their pottery, with its characteristic incised herringbone pattern, is considered the oldest in the Levant. The Yarmukians progressed from nomadic hunting and gathering to settling in one place when they found the rich forests and fertile land by the Yarmuk River. But they didn't trust nature to continue providing grains and fruit, fish, cattle and even children.They needed to gain the good will of forces that they believed ruled fertility: in other words, gods.Over 70 detailed fertility idols of fired clay were excavated from their houses. They mostly represent seated females with exaggerated thighs, breasts and buttocks, and with strangely slitted eyes. The Yarmukians also worshiped simple upright idols of stone with lines cut into them to represent eyes and mouth. A real blast from the prehistoric past, and a little creepy.But however they worshiped, Yarmukian communities lived in several places around what today is Israel.One site, partially excavated then buried under modern construction, is under Habashan Street in Tel Aviv. Yarmukian artifacts are on loan to the Metropolitan Museum of Art in New York and the Louvre. It's worth a side trip to Kibbutz Sha'ar Hagolan to view some of those findings yourself. Guided tours for groups and schools are available with advance reservation.
Kibbutz Sha'ar Hagolan, Jordan Valley (04) 667-7386, museum@myc.org.il, www.myc.org.il Hours: Sunday to Friday and holiday eves, 9 a.m. to 12 noon; Saturdays and holidays, 10 to 1.
Two elderly men clinched in a ferocious argument are captured in a clay jug. Gutman also wrote and illustrated children's books that became Israeli classics, receiving the Israel Prize for children's literature in 1978.Part of the museum's charm is its small size and feeling of intimacy with the artist. One hour will do for the whole tour. I came away with a fresh appreciation for Gutman's evocative naive style, so grounded in Israel's landscapes and the people of his time.