The beauty of Zichron Ya'acov – a town that sits in the Carmel Mountains and overlooks the sea – draws locals and tourists looking for something special.A visit there is incomplete without a stroll down the pedestrian promenade on Hameyasdim Street. It boasts a lively display of restaurants, galleries and other unique shops, but probably the most unique spot is Tut Neyar Paper Mill, a family-run, home-based business where the art of handmade paper is being preserved.The sign at the entrance of the driveway leading to the house stands as a beacon for all who want to see how paper is made. The wall next to the driveway is covered with colorful potted flowers, and the yard, which is clearly the workspace, is filled with papermaking equipment, a pile of peeled mulberry sticks, plus a mulberry tree strategically growing at the entrance of the studio.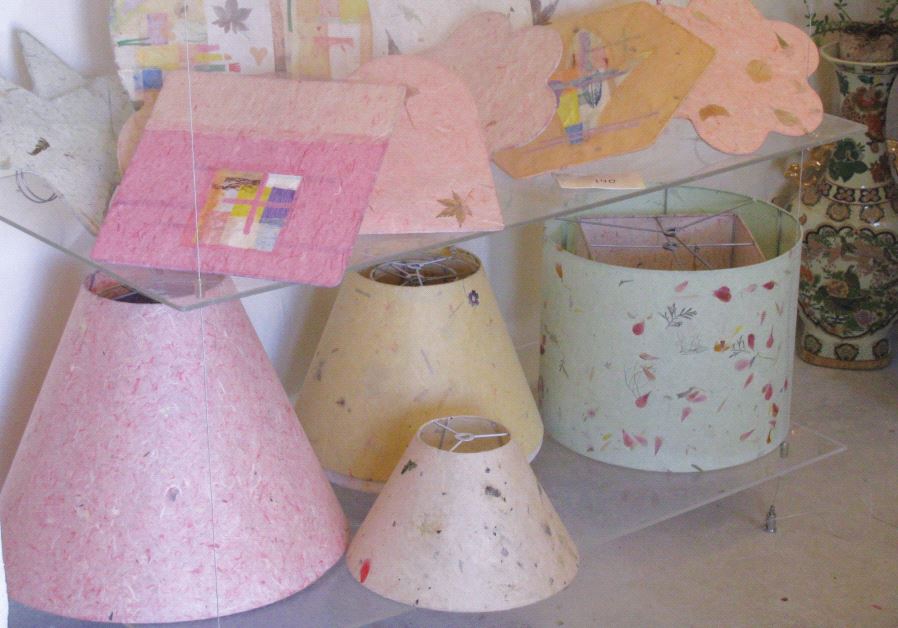 But this is not ordinary paper. It is beautifully colored textured handmade paper, turned into unique items of various shapes, forms and uses, offering a colorful display of art and creativity.Outside, little girls' giggles fill the air as Shaked, Neumann's son, shows them how to dunk wood-framed screens in large plastic vats filled with water, flower petals and plant pulp. Originally a ceramic artist, Neumann entered the world of papermaking by accident."In 1985, when my brother Ohad [Tsfati] was in Japan studying calligraphy and martial arts, I visited him with the idea of studying ceramics," she says. But fate stepped in and she interacted with Izhar, her brother's friend whom he had met on the airplane when he traveled to Japan.She ended up living with Izhar in Kadoide, a remote village, where he served as an apprentice for two years, working in the rice fields alongside a family who happens to be the only papermaking family in the village."Ceramics studies in Japan was not exactly what I was looking for and I had difficulties with the language," she says, and put her original plans aside.Instead, she ended up apprenticing with Izhar for six months. "Papermaking can't be learned in a school," she explains. "The best way is by being an apprentice."Papermaking dates back to 105 CE when Chi Lun, a Chinese official, invented a technique for making it, along with an actual recipe. His inspiration reportedly came from watching paper wasps gather fibers from dead wood and plant stems, mix them with saliva, and make nests from the resulting water-resistant nets of gray and brown papery material. Lun used mulberry, fishnets, hemp and old rags. Papermaking spread throughout Asia, and in 610 CE it was brought to Japan by Buddhist monks.She and Izhar learned a type of papermaking called washi – wa means Japanese, and shi means paper – which is the name of the paper made by hand in a traditional Japanese manner. It is made from the fibers of the bark of the gampi tree, the mitsumata shrub or the paper mulberry tree, but can also be made using bamboo, hemp, rice and wheat. It creates a paper that is tougher than ordinary paper, and is used in many traditional arts.Although they have been making paper since 1986, Tut Neyar (meaning mulberry in Hebrew) opened in Zichron Ya'acov in 1990. "We brought mulberry trees from Japan, and now we own 500 trees, which are growing in Zichron Ya'acov and the surrounding area," Neumann says. "The trees grow fast, approximately four meters each year. Their care is easy; all they need is water."We prune them so that the branches grow straight up, and then between November and March, when the leaves fall and the trees become dormant, we harvest them," she explains.Neumann shows me around as she explains the process of making paper from mulberry."We boil the sticks for about an hour.This separates the bark and makes it easy for us to peel the bark off," she says, adding that the general public is welcome to help them with the harvesting."Our guests help peel the bark, and then they have the opportunity to make their own paper."The bark is then cooked with bicarbonate of soda for two hours to remove the starch, fat and tannin, and to soften the bark. The sticks are then rinsed a few times to take all of the soda out. At this point, the pulp can then be dyed with natural colorings from pigments as well as pecan shells, pomegranate or persimmon.The pulp is then mixed with water and tororo plant (hibiscus) which thickens the water."In addition to mulberry, we also use abaca [banana] and cotton. Sometimes we use oat straw, sugar cane, iris leaves, rag paper and jeans," says Neumann.However she adds that anything, as long as it has fiber, even onion peel, can be used to make paper.Neumann shares some tricks of the trade. "The mulberry is good for lampshades because it is transparent and brings out the light," she continues, "but cotton is not as transparent as mulberry, so it's good for stationery."As we walk around the work area, Neumann raises her voice over the sound of mallets pounding the softened bark in order to separate the fibers.Shaked stands with watchful eyes as the little girls, who are there for a birthday party celebration, removes the dunked screens from the vats, shook them and let the water drip.After draining the water from the screen, approximately one hour later, once it dries, the paper can be taken off the screen. Alternatively, it can be put in a press and placed on a Formica board to dry.As it is a family business, each one has a responsibility. Shaked is in charge of the workshops and makes paper. Izhar specializes in making very thin Japanese paper, which is for artists and can also be used for wine labels and museum archives.Timna makes wall hangings, stationery, lampshades, fans, place mats, notebooks and business cards.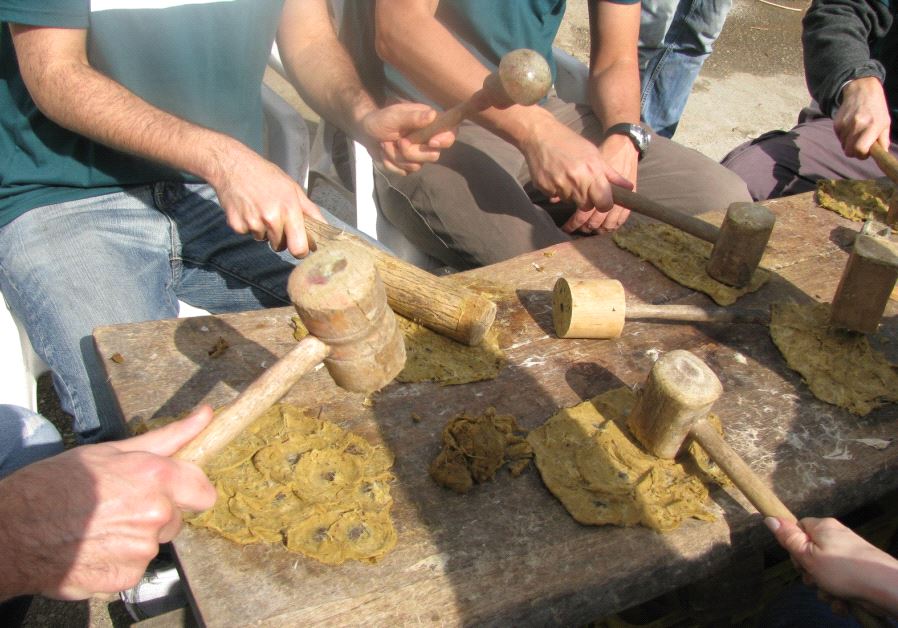 Ohad, who returned to Israel after 26 years in Japan, is a self-taught artist. He uses the bark of the mulberry tree, and by coating it with the fermented juice of unripe persimmons, is able to create a water-resistant, strong, leathery texture that he turns into unique notebooks, bags and bowls."He is always stretching his imagination, trying to think of new, interesting ways to use paper," says Neumann."There is no competition between the family members," she smiles. "Each one makes different products. We try to collaborate.""I love what I am doing," Neumann says. "It's nice to build something from nothing. Ceramics will always be special, but I can't do both.""I have always loved art," she continues."I have to do something with my hands. There are so many possibilities in paper and I love the feel of it," she says.That trip to Japan, during which everything seemed to happen by chance, helped her "to know part of my soul."Tut Neyar offers papermaking workshops year round for all ages.
tutneyar.wixsite.com/tutneyar www.facebook.com/tutneyar/ Ohad's work is also exhibited at Gal Gaon Gallery in Tel Aviv: talentsdesign.com/
Timna Tsfati Neumann sits in her studio surrounded by – you guessed it – paper.