Today's Iron Dome missile defense system is a far superior being to the one first fired on April 7, 2011 – five years ago, according to a senior air force commander. That day marked a new chapter in Israeli military history, and set into motion new capabilities that challenged attempts by Israel's enemies to terrorize and paralyze its civilian life.Today, more Iron Dome batteries are scattered around the country than ever before, and although they may share the name with the system used five years ago, that is where the similarities end, said Brig.-Gen.Zvika Haimovich, commander of the air force's Aerial Defense Division.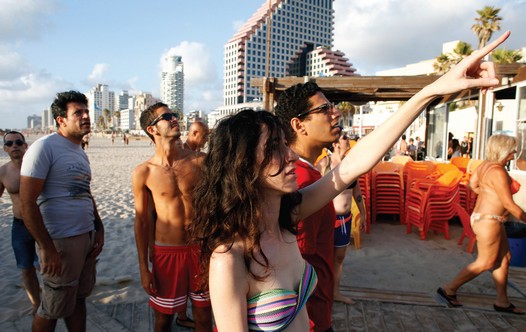 (Photo: Beach-goers look at explosions as Iron Dome intercepts a rocket over Tel Aviv, July, 2014, Credit: Reuters)
This is part of the immediate effects, unfortunately, created by the nuclear deal," the air defense chief stated."Our adversaries are investing in improving the range, deadlines, accuracy and quantity [of their projectile arsenals]," he said. "We see these things, and we are preparing ourselves. We have answers, though I cannot go into detail."Haimovich said no country on Earth is as threatened by rockets and missiles as Israel. Since 2006, "more than 10,000 rockets and missiles were fired into Israel. Do you know another country that dealt with that many?" he asked.Yet Israel's air defenses have undergone a revolution since the Second Lebanon War, when the country had no ability to actively shoot down any of the thousands of rockets that rained down on the North."I do not want to imagine what it would be like if we were not in this improved situation today," he said."This is a race, between us and our adversaries. I was always taught that it is better to be ahead of the other side. We are developing systems, technologies and doctrines to maximize our capabilities," he said.Israel will never have "100 percent" defense, Haimovich cautioned."In the next event, missiles will fall in Israel," he said. "I can't defend everything. We will have to be flexible in how we activate [our defenses]."Counting how many rockets Hezbollah and Hamas have is not very useful to understanding the threat, Haimovich argued. "I would not suggest counting. Whether it is 50,000 or 80,000 rockets, the story is about efficacy. We need to intercept what has to be intercepted. Many rockets fall in open areas, where the potential for damage is low. We don't want to waste munitions on intercepting that," he explained.If Hezbollah tests Israel again, it will meet "readiness and capabilities" that it has not previously encountered, Haimovich added. "I think it understands this."
"As someone who knows Iron Dome from its first day, I can say this system has matured and improved in its ability over the past five years," he told The Jerusalem Post. "Other than the name, everything is completely different. It has very much improved its effective capabilities."Produced by Rafael Advanced Defense Systems, the Iron Dome batteries have gained years of experience in three conflicts with Gazan terrorist organizations, and have undergone a series of upgrades, which remain largely classified.The IAF has also improved its ability to integrate Iron Dome with other air defense systems."All of these things create a single, integrated air defense system," Haimovich said. Iron Dome will soon be joined by David's Sling, which will shoot down short to medium- range rockets and ballistic missiles, guided projectiles, cruise missiles, aircraft and drones. Its range of coverage means it can destroy incoming threats over enemy territory, away from Israeli skies, and it is due to go operational in the coming year.Arrow-2, which destroys ballistic missiles in the upper atmosphere, is already operational, while Arrow-3, designed to destroy ballistic threats in space, will also soon officially go online."There's no single date for when David's Sling will become operational.We are still the process of doing this, and it takes time," Haimovich said. "We are advancing well with the Arrow-3, and we have already had a successful trial. In the coming year, the first elements of the system will start going operational."Patriot surface to air missiles are still relevant to the IAF's air defense tools, he said. "We used Patriots three times in recent years to shot down drones and an intruding [Syrian] aircraft. In the next clash with Hezbollah or Hamas, we will have to deal with drones, and this is where we will find the Patriot as a relevant reply."Ongoing upgrades "are part the process we are leading in the IAF," Haimovich said. "The challenges we will face will not stop in the coming year."Israel's enemies are studying its vulnerabilities, investigating past conflicts, and drawing lessons, he warned. "We want to be head of the other side, and adapt to the threat.We want to be more effective." Iran, now enjoying sanctions relief, is behind much of the new deadly missile and rocket threat facing Israel, he added. "After the nuclear agreement, I can see how this is influencing Iran; I see Iran giving much more support to terrorist organizations, in the form of money, and technological and technical assistance, in anything you can imagine. Iran is conducting missile tests, and provides close assistance to Hezbollah and Hamas.