Three Palestinian terrorists launching two separate gun and car ramming attacks near Kiryat Arba on Monday morning were shot dead by the army.The first attack began when two armed terrorists in a Palestinian vehicle entered Kiryat Arba, made a U-turn, and came to a sudden stop. The gunmen exited their vehicle and opened fire at security personnel, lightly injuring a Nahal brigade soldier.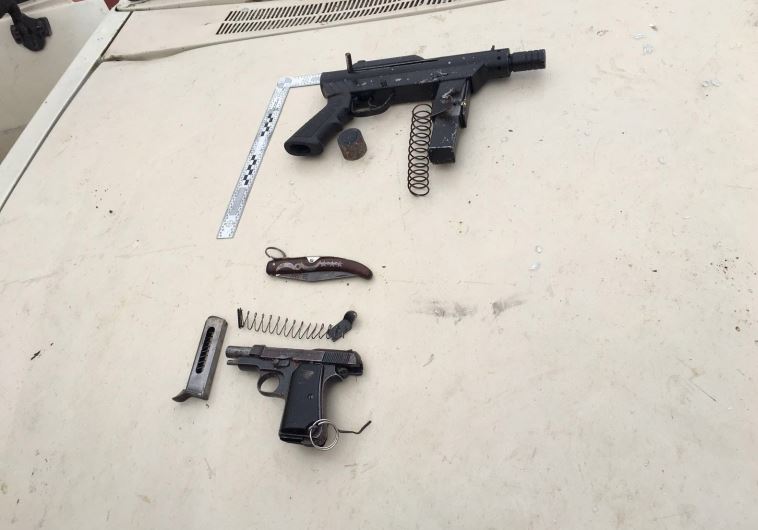 (Firearms found at the scene of the attack outside Kiryat Arba. Credit: IDF Spokesperson's Unit)
The two gunmen who carried out the first attack near Kiryat Arba were Hebron residents.The first, Kassem Abu Oda, 31-year-old, was in prison between 2001 and 2003 and 2006 to 2009 for his Hamas-related activities, while the second, 22-year-old Amir Junidi, has no prior record of security offenses. Both worked together in the same vegetable store in Hebron.The third terrorist, who carried out the vehicular attack, is 18-year-old Yusef Traira, a resident of Bnei Naim, who had no record of past security offenses. Sources said they believed there was no connection between the two attacks.Magen David Adom paramedic Eyal Mor Yosef responded to both incidents."When we got there we saw a 20-year-old [soldier] who was fully conscious, suffering from a penetrating wound to his limb. We provided him with first aid on the scene, and evacuated him to the Shaare Zedek Medical Center in Jerusalem, in light condition," he said.Later in the day, police thwarted a stabbing attack planned by two Palestinian women at the HaZeitim Crossing checkpoint in east Jerusalem Monday night. According to police, the suspects – both from Abu Dis, and aged 24 and 29 – hid knives in their bags. When security personnel found the weapons, the women confessed to attempting to travel to the capital to carry out stabbing attacks against Jews. They were immediately placed under arrest, police said."Border police, in conjunction with military police forces, act with determination and professionalism in order to keep the capital safe on a daily basis," police said in a statement praising the arrest."Their alertness enabled the arrest to take place without casualties, and prevented the suspects from entering Jerusalem."
The attackers were shot dead in IDF return fire.Soon afterwards, a Palestinian vehicle traveling from Bnei Naim rammed a bus in the same area near Kiryat Arba. An IDF soldier who was near the bus narrowly escaped injury. As the terrorist attempted to exit the vehicle, soldiers on the scene shot him dead. Two additional soldiers were lightly wounded from shrapnel from the car ramming attack, and received treatment on the spot from army medics.