An off-duty police officer foiled a terrorist attack near the capital's Tzahal Square on Tuesday morning when he searched two Arab teens found to be carrying an ax and a box-cutter, who confessed they were searching for Jews to attack.The officer was driving home from an overnight shift at approximately 8 a.m. when he noticed the teens behaving strangely near the square, located west of the Old City, police spokesman Micky Rosenfeld said."He spotted two suspicious-looking individuals and immediately parked his vehicle and pulled them over to be searched," Rosenfeld said.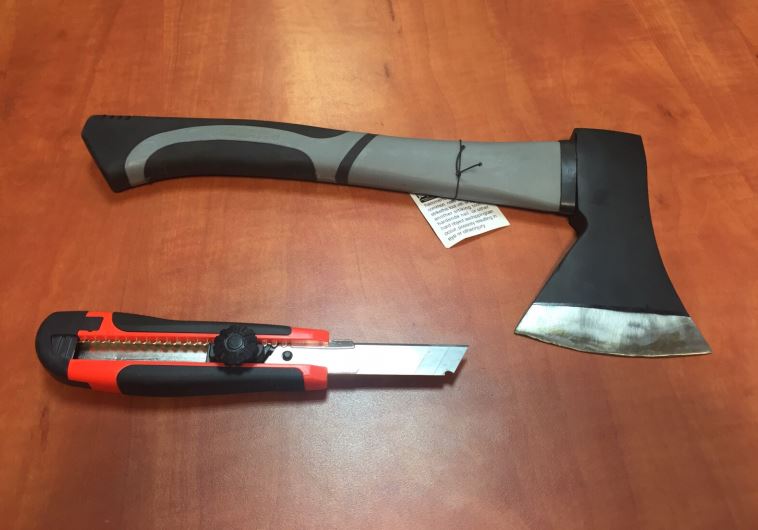 (Photo credit: Police)
Police also detained a 15-year-old Arab boy in the Old City who was carrying a makeshift knife fashioned from a school ruler, on Tuesday morning.The minor, a resident of southeast Jerusalem's Silwan neighborhood, was taken into custody for questioning.Rosenfeld said multiple police units, aided by a special task force, have become increasingly proactive in preventing terrorist attacks in the capital."The ongoing heightened security carried out by police has prevented a number of attacks, by identifying suspicious-appearing individuals and searching them immediately for weapons," he said. "Police will continue to prevent attacks throughout the city."Meanwhile, the Shin Bet (Israel Security Agency) issued a statement on Tuesday saying that two Arab-Israeli teens who planned to stab a Jewish man at a Migdal Ha'emek gas station in the Galilee earlier this month were inspired by "incitement on the Internet."The statement came as the boys, both 16, were indicted in the Nazareth Juvenile Court on charges of attempted murder, possession of a knife, and conspiracy to commit a crime.The two teens were spotted on October 13 lurking at a gas station outside Migdal Ha'emek by a number of passersby, who called police to report two young men "behaving strangely," the Shin Bet said.The two teens fled the scene but were found soon after by police officers, who saw them try to throw away a kitchen knife and a makeshift blade while police chased them. The Shin Bet said Tuesday that while at the gas station, the two pointed out a specific target – an Orthodox Jewish man – but changed their plans when the man's family arrived at the station.According to the security agency, while under questioning, the two teens – both from an Arab village near Migdal Ha'emek – admitted that "they were deeply influenced by recent events and by incitement dealing with claims about Israel's actions on the Temple Mount."They told investigators they were upset that "Arabs can't pray at the [Aksa] Mosque," and that they were inspired by recent stabbing attacks in Jerusalem.
"One had a new ax and the other had a box-cutter. They were questioned at the scene and admitted that they intended to carry out an attack in the area against Jews."The 16- and 17-year-old suspects from the a-Tur neighborhood on the Mount of Olives were arrested after backup units arrived, he said, adding that no one was wounded.