Earlier this month, a hole was discovered in the roof of a tunnel at Washington state's Hanford nuclear waste site, sparking fears that some 3,000 workers had been exposed to radioactive waste.It was not the first time. Serious nuclear accidents have been few and far between – seven since 1957 – but their stories will send a chill down your spine.Radiation poisoning, known in the medical world as acute radiation syndrome or ARS, is an acute illness that often leads to death, usually due to a decrease in blood cells. A new drug initially developed by Pluristem Therapeutics and being further developed in conjunction with the United States National Institutes of Health (NIH), may revolutionize the treatment of ARS.

When someone is exposed to radiation, it attacks all three blood lineages – white and red blood cells and platelets – putting the individual at risk, explained Racheli Ofir, vice president of research at Pluristem. Low white blood cell count reflects a weakened immune system, making an individual vulnerable to infection. Red blood cells carry oxygen to the body, so we cannot live without them. Platelets are responsible for coagulation, preventing internal bleeding.Pluristem's PLX-R18, a simple injection of placenta cells into the thigh, induces a victim's body to create new blood cells, repopulating his or her blood system.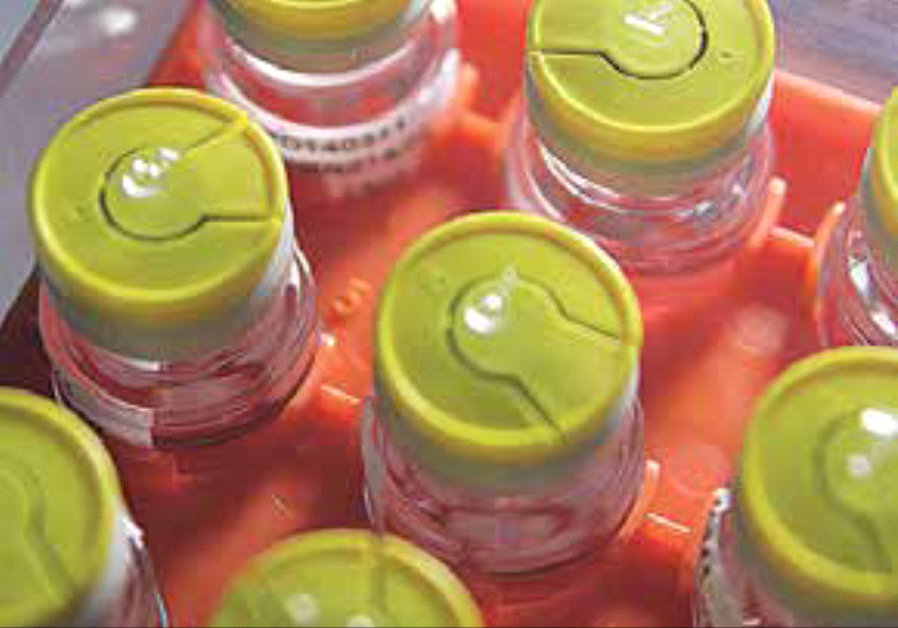 In animal studies, 70% of small animals exposed to high levels of radiation died when untreated. In contrast, nearly 100% of animals survived when given PLX-R18. Moreover, a recent study of NHP's (non-human primates) has also shown improved survival rates, with an average of 85% in the treated group, as opposed to a 50% survival in the placebo one. And because the cells are grown using the company's proprietary 3D micro-environmental technology and are an "off-the-shelf" product that doesn't require the matching of tissues between the donor and recipient, they can be administered instantly and in the field in the event of a multiplecasualty radiation attack."We know with our compound that in the event of a nuclear disaster, we could reduce the number of fatalities by thousands," said Arik Eisenkraft, former head of the Chemical, Biological, Radio-Nuclear (CBRN) Medicine branch of the Defense Ministry, who currently serves as Pluristem's director of homeland defense projects.Pluristem was founded in 2003 as a 3D cell manufacturing company. It is a clinical-stage biotherapy company focused on using placental cells and its 3D technology platform to develop cell therapies for conditions such as inflammation, ischemia and hematological disorders.Several years ago, Chairman and CEO Zami Aberman realized the company's technology could also be relevant to victims of radioactive catastrophes.The first experiments were done on small animals, in collaboration with Prof. Raphael Gorodetsky, head of Biotechnology and Radiobiology Laboratories at the Sharett Institute of Oncology, Hadassah- University Medical Center in Jerusalem.After multiple small trials gave Pluristem confidence in its solution, the company appealed to the NIH, which expressed high interest in testing the cell therapy and collaborating, said Ofir. Today, and after the success in a pilot study conducted on large animals, the company is working to design a pivotal large animal study that will hopefully result in FDA approval, making PLX-R18 available for treatment of ARS in about one year.Eisenkraft said that any country that operates using nuclear energy, has old nuclear plants, or is at risk for a nuclear attack must be prepared. "A country cannot choose whether to do this. It is really a must," said Eisenkraft. "We – Israel and the US – claim this is something governments owe to their citizens."In the case of a catastrophe, PLX-R18 can be administered quickly and efficiently through an intramuscular shot. Further, unlike any other known treatments for radiation exposure, PLX-R18 can be given to someone without the need to determine whether he or she has been exposed or not, due to the cells' safety profile. "Our cells are smart cells, so they know how to sense the situation in the body and will induce an increase in blood count only if it is needed," Ofir said.Eisenkraft said he envisions that once the drug hits the market, governments will purchase and add it to their disaster recovery supplies. He said each placenta can make tens of thousands of vials of Pluristem PLX cells; each tiny vial holds hundreds of millions of cells. Very few vials are needed to treat a person.The product is stored in a freezer and takes minutes to thaw and administer."PLX-R18 gives you a wonderful answer to a major gap in emergency preparedness in each and every country," Eisenkraft said. "We have to be prepared."This article was prepared in cooperation with Pluristem Therapeutics.