A cartoon poster of Wonder Woman hangs on the dormitory wall above a little bust of Lenin. Next to the skimpily clad warrior princess is another poster with the Islamic shahada: "There is no god but God, and Muhammad is his prophet." Lenin's gaze, however, is directed to a third poster above a work desk, this one depicting a liquid being dripped into an Erlenmeyer flask under the chemistry pun "Drop the base."A door at the end of the room bursts open, revealing a billow of steam, and a young man with a white towel wrapped around his waist stumbles out. He dodges his way through a stream of anxious youths in various stages of undress hurrying to get ready in time for the first graduation ceremony of the Eastern Mediterranean International School.It's kind of a big deal; their parents will be there.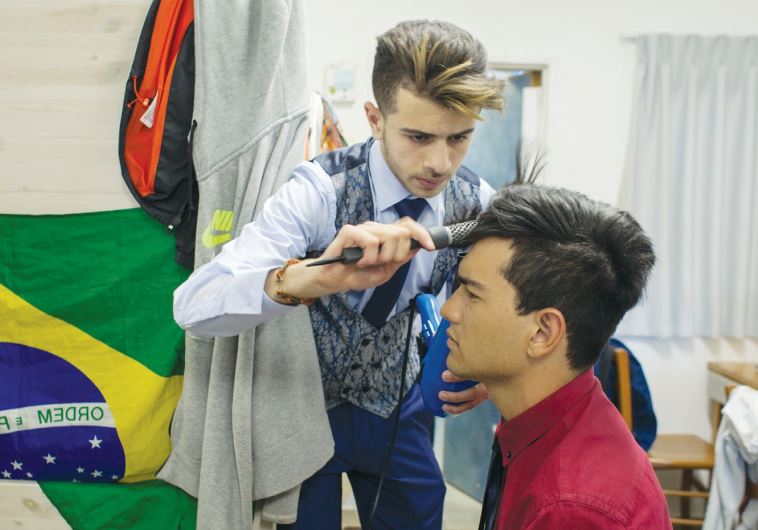 WE PARKED and stepped out of the car.Around us was a lush, leafy town that seemed to be inhabited only by children and a gang of squawking peacocks. It felt like Neverland. Meged rounded up three kids and ordered them to give me a tour of the school.They were Carlos Sevilla, a lad with a mop of long curly hair from Ecuador; Amin "Aminoacids" Haj Yahia, from Taiba; and Tamara Kanner, an Israeli born and raised in Singapore. We walked through EMIS's three buildings, which combine classrooms and dormitories.Each class is dedicated to a particular person, such as Nelson Mandela, Gandhi, Albert Einstein and J.K. Rowling. The halls are also covered in homages to John Lennon and Pink Floyd's The Wall; students have helped design the school's appearance as much as the teachers.On one wall, the students were encouraged to pin a note with either the name of someone important to them, a valuable lesson, or a funny memory. Under the latter was a confounding note that read: "Running away naked from the police." Amin told the story behind it. It was pretty funny but, alas, unpublishable.Meged reappeared and handed me a cola-flavored popsicle. The kids went to prepare coffee as the PR manager shepherded me to an office, where a couple of women sat behind a desk covered in fat pink folders. They were Maya Kogan- Elias, director of admissions and marketing, and Carolina, an intern.They didn't have much time to talk; the folders were application forms.Do people come here for a good education at an affordable cost? "No, no!" Kogan-Elias reacted. "It's so much more than that, that's so boring! Students here organize volunteering activities, like teaching English in Arab schools, raising funds for refugees, learning sign language."Carolina took over: "The students weren't all open-minded a priori. Some were homophobic, xenophobic.… But here they got to meet people who think differently and that opened their mind. Kids who grew up thinking homosexuality is a moral sin now share rooms with gays."I left the office to chat with Carlos, Tammy and Amin, and asked what they think is special about the school.Carlos has an interesting theory: most students were used to being the best in their classes back home, but here they found that being academically outstanding suddenly wasn't enough to stand out. Now, a core component of the IB program is Creativity, Activity, Service, which encourages students to create and participate in other activities parallel to their studies, like the volunteering Kogan-Elias described.The trio showed me an edible algae farm they had built with students from the American International School in Gaza, and Amin explained how he organized a homemade TEDx event. So, as Carlos put it, this creates an atmosphere of "geeky competitiveness," wherein everyone is trying to out-achieve everyone else.Political arguments do flare up sometimes, but the kids don't remember them ever getting nasty. Well, maybe once. But that's it. Students here have firm political stances, but they know how to debate and respect people's opinions. They probably fight a lot more over the laundry than politics.Time for dinner. All the students from Hakfar Hayarok's various schools – an anthroposophical school, a college, a junior high school and a special program for gifted students – eat together in a kibbutz- like dining hall. There I met. Naveh, a warm, theatrical man with a voice like a rake over gravel. Both he and his wife are graduates of Hakfar Hayarok. I asked him about the decision to buy EMIS from Rose. "I think it's an important project for peace and for Israel. The students will go home as ambassadors and represent Israel in their own countries."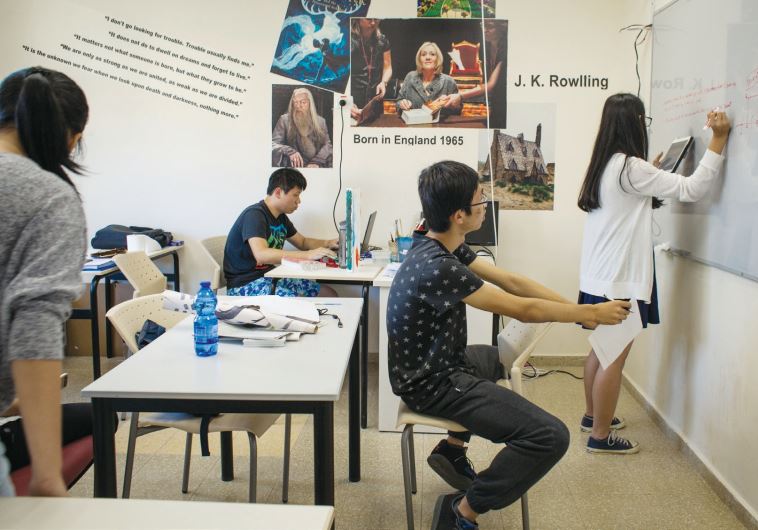 FAST-FORWARD to the graduation, a week later, and his words become clear. I walk out of the dormitory, leaving Lenin and Wonder Woman behind, and head over to the alfresco buffet arranged for the occasion. The parents have come from all over the world to be here, including the copious extended families of those from the West Bank. No sign of discord here.As the ceremony begins, the parents are ushered towards the youth village's little amphitheater. The crowd looks like a United Nations assembly. Then the soon-to-be graduates approach the stage in single file, looking very handsome in their sky-blue academic caps and gowns.A Palestinian boy and a South Sudanese girl walk up to the microphone to present the speakers. The school's founder, Rose, gives an opening speech bubbling with pride, and later an Israeli mother and an Arab father tell of their own love and pride towards the students, interspersed with the indifferent squawking of peacocks.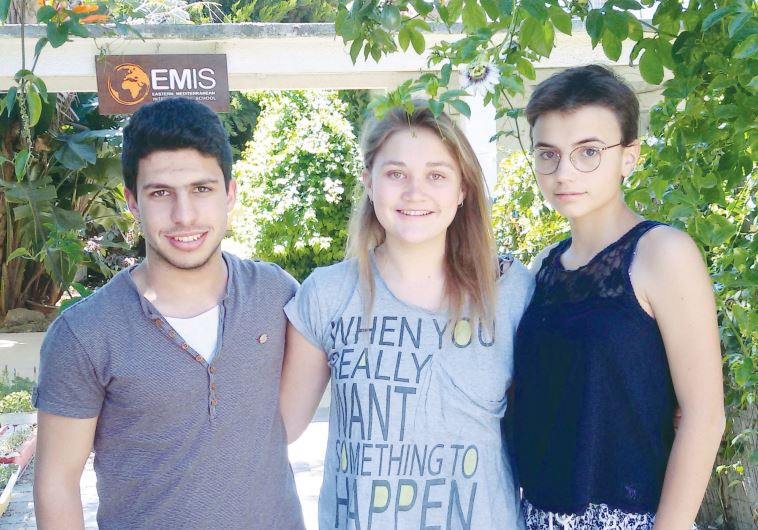 As you read this, most of the students will already be back in their home countries, and the sum of what they learned during the past two years was summarized by Maayan Agmon, student speaker, when she told the audience: "The books are wrong and the teachers are still learning."
Located deep in the greenery of Hakfar Hayarok, a youth village south of Ramat Hasharon, EMIS is an international boarding school aimed at 16- to 19-year-olds who are pursuing an International Baccalaureate, a prestigious diploma that will get them into many universities worldwide. About 20 percent of the students are Israeli Jews; another 20% are Arabs, some of them from the Palestinian Authority; and the remaining 60% are from countries as diverse as South Sudan, Georgia, New Zealand, Ecuador, and even Yemen and Afghanistan, both countries with which Israel doesn't have diplomatic relations.EMIS IS the brainchild of Oded Rose, an Israeli hi-tech executive with a soft spot for education and coexistence. When he was 16 he received a scholarship to study in Canada's Pearson College, one of 15 boarding schools that form the United World Colleges. Their mission is an education that unites cultures for a peaceful and sustainable future. Their scholarships allow undergraduates to study in a multicultural environment, providing an academic and humanitarian education. After the movement was created in 1962, The Times hailed it as "the most exciting experiment in education since the Second World War" – which strikes me as well-intended but poorly phrased eulogy.Rose obtained an International Baccalaureate and, as he carved out a successful business career, never forgot he owed it to that acceptance letter he received at sweet 16. Some years ago, he noticed there was not a single UWC school in the Middle East, so he reached out to the organization and offered to found one in Israel. UWC chickened out. It sees Israel as a conflict area.So Rose decided to create the school himself. He contacted the manager of Hakfar Hayarok, Dr. Koby "Sisco" Naveh, and asked for permission to create EMIS within the premises of the youth village. Naveh said sure, and Bob's your uncle; Rose erected his school in 2014 and maintained it for two years with money he collected from foundations and donations. But it was short-lived. By late 2015, the expenses became too taxing for one man to handle. This was a problem; his first batch of students was more than halfway through their studies. That's when Hakfar Hayarok stepped in and offered to buy the school. Rose agreed and a couple of things happened. Since Hakfar Hayarok is a public institution, EMIS now receives some government funding (it still needs outside aid desperately, though, as the PayPal Donations button on its website attests); and you can now read promotional articles about the school in Israeli media outlets such as The Jerusalem Post."When Rose was the manager he didn't want any publicity in Israel," Ruth Meged, PR manager of Hakfar Hayarok, told me as we drove into the youth village. The main reason for Rose's apprehension were the Palestinian students from the West Bank; while their families support them studying in EMIS, they tend to keep it a secret from friends and distant family. To hear Meged tell it, Hakfar Hayarok was dying to publicize the school in Israel, but Rose insisted it remain hush-hush. However, the moment the keys changed hands, Hakfar Hayarok started an intensive publicity campaign to promote the school within Israel. I kid you not; even as I write this article, I am bombarded with EMIS publicity on every website I visit.