For Paralympic athlete Pascale Bercovitch, her favorite part of the 2008 Paralympic Games in Beijing was not the opportunity to compete for the first time at the age of 40, but downtime in the Olympic Village, talking with competitors from all over the world.Four years later, in a similar village about 8,000 kilometers away, she once again had the chance to share her life story with more athletes.In less than two months, she'll do it again in a third continent in front of a third delegation.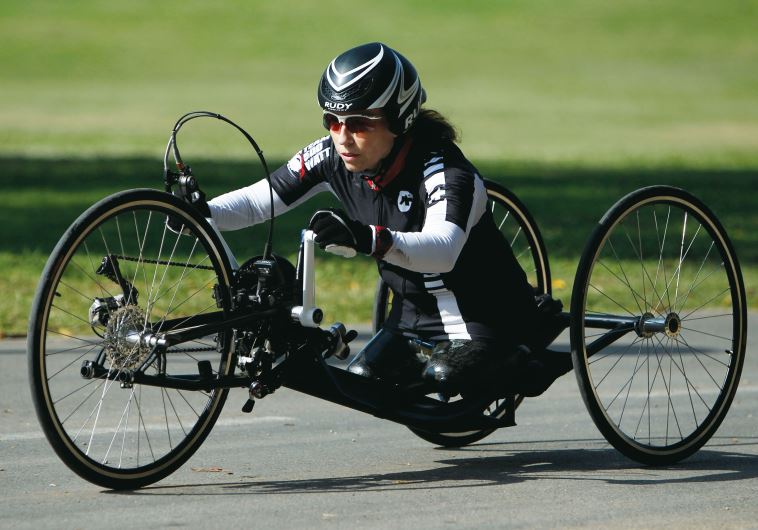 AFTER THE army, Gen. Davidi encour aged Bercovitch to go to university and become involved in athletics. She started swimming, becoming a member of the national team with aspirations to swim in the Paralympics. The time commitment of training, though, was too much and she wasn't able to make enough money. She became a journalist and let go of her opportunity to compete in the Paralympics."If you would have come to me when I was 20 and said to me, 'You know, when you will be 40, you will be at the Olympic Games,' I would have said, 'Oh you're nuts, you're insane. Go to the psychiatric department of the hospital,'" she says. "But that's life, you know, it's crazy, it's coming when you don't expect it."That opportunity came a little bit later: in 2008, she rowed at the Paralympics in Beijing. The Israeli team finished in last place with a single bronze medal, and then failed to qualify for 2012. Yet in 2010, Bercovitch decided to switch to handbiking to compete in the 2012 games.A chance meeting at a bike shop gave Bercovitch her trainer. Mark Or, an immigrant from South Africa, was impressed with Bercovitch's mind-set and the two bonded over their shared experience of growing up in a foreign country.Later that year, the two teamed up to train for the 2012 Paralympics. It was Or's first time working with an amputee; his only other experience with a disabled athlete was a paraplegic man. Or said it took time for him and Bercovitch to learn and understand her physical capabilities.For instance, most people's center of gravity is below their navel. Bercovitch's is in the middle of her chest. That made some body exercises, such as standing on her head, different. In some strengthening workouts, she needed to be strapped in so she didn't fall. Or said that when they first started working together, if she dropped a dumbbell while bench-pressing, she'd be unable to stabilize herself.However, all that struggling gave her an advantage: she was forced to learn how to control her body. It made her a better athlete, a better mover."If you do something with less of strapping her in, where she has to actually work to stabilize herself, that would be a great exercise to add in," Or says.So, as a 44-year-old, Bercovitch competed on the largest international stage for the second time. On the bike track she was unsuccessful – Israel finished in last place – but she said she was happy because she put in her best effort.She changed sports again in anticipation for the 2016 Paralympics. She called handbiking "complicated" in large part due to the reliance on having the best bike and the astronomical expenses that come with it. She replaced it with kayaking, which is similar to rowing, her first sport, but uses a single paddle instead of two oars. She found another avenue to create a source of income for her training, capitalizing on her experiences as a motivational speaker during her time in the IDF. One of the groups she spoke to was a Tel Aviv digital media start-up company called Matomy Media Group. With the motto "We Play to Win," CEO and co-founder Ofer Druker found Bercovitch's story represents the goals of his business."This woman, every morning when she wakes up, she has to fight to achieve her goals," he says. "This is something that we want to show to our people, to our employees, to the young generation out there, in a sense, that there are people who are waking up every morning and they have to fight and they win every day."Matomy announced its sponsorship of the Paralympic athlete in May. They give her some money to help provide resources, including nutritional supplements and chiropractic work to help compensate for the inadequate funding she receives from the government and Olympic committee. This isn't unique to the Paralympic community; Bercovitch's trainer says that most athletes in Israel don't get adequate stipends.That's one of the things her trainer of almost six years is most impressed with: Bercovitch's ability to balance her training with her career and family, which consists of a husband and two children."Putting it all together is truly amazing because in other places, you just focus on your sport," he says. "She's able to do all three and do them all well."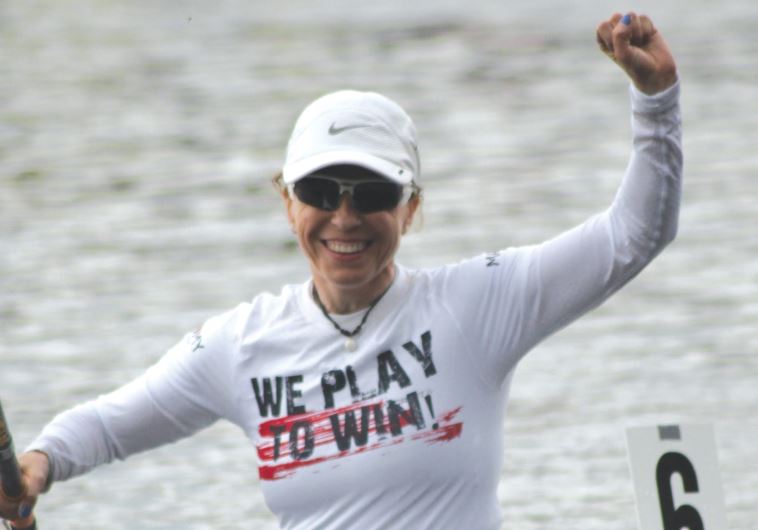 NOW BERCOVITCH is poised to become the first Paralympic athlete to have participated in three different sports – rowing, handbiking, and kayaking.She'll compete against much younger competitors, but she's confident her experience and ability to move will escalate her. The efforts to learn to stabilize her body in the gym will translate from the handbike – a land sport – to kayak, which takes more effort to stay even on top of the water. In addition to her Olympic sports, she surfs, water skis, rides horses, skis and meditates."I'm just moving all the time. And I love it," she says.Her favorite part of the Paralympics, however, is off the track and out of the pool, meeting other competitors.Looking back over her career, she doesn't favor one experience over the other and, instead, is always looking forward to the next one."It will be in September," Bercovitch says. "It could be my best. I'm always discovering new things."It's never too late to discover those things. She says time isn't fair, but it does continue to give her chances."Anything is possible, just relax," she says. "If you can't do it when you're 20, you will do it when you're 40."
"I am first of all a mover and then I am an athlete," Bercovitch says.She is also a veteran. She's a mother.She's 48 years old and is about to become the first athlete to compete at three different sports on the highest stage.She's also a double amputee. On a cold, snowy winter morning in France, 17-year-old Bercovitch was rushing to school. As she approached the station to go to class, she slipped on ice.She could only watch as the train that was supposed to take her to her physics exam passed right over her."I really didn't want to die," she says."I tried to keep myself awake and alive. It was like a battle. It was war, you know?" The minutes ticked on."Okay, one more second, one more minute. One more second, one more minute," she told herself. "I was always trying to conquer time."The teenage girl had her life in front of her. She was active in athletics and looked forward to having a family one day. But before that, she wanted to go to Israel and enlist in the IDF."It was my big dream," she says. "Israel was very important." She hadn't experienced anti-Semitism at home beyond the occasional peer mocking her last name, which sounded different from most in France. However, her Jewish identity prompted her to join the army and eventually move to Israel.The ambulance arrived. Roads were closed, so it was unable to take her to the hospital, and the doctors were able to help her regain some motion in her body while they waited. They waited for eight hours."Every moment was very long," she says. "Time is never fair."Bercovitch lost both her legs. Despite this, she enlisted in the IDF, spending two years in the Sar El unit helping volunteers and giving motivational speeches.She credits her general, Aharon Davidi, with allowing her to become the first volunteer to serve in a wheelchair and helping her gain the confidence to inspire others."I had a feeling that if I can be part of the army, then anything is possible," she says.Davidi thrust her in front of an audience of soldiers. She didn't know what to expect. In Bercovitch's words, he simply "put me on stage. He didn't ask if I agreed or not."So, with hair undone, no makeup and a limited Hebrew proficiency, the light shone upon her for the crowd of 1,200.She sat alone in her wheelchair, stumbling through her words. She talked for about 40 minutes.She received a standing ovation."They just jumped from their floor seats and they clapped for minutes," she says.