Rio de Janeiro may have its carnival and, yes, London has its annual Notting Hill bash, and Venice has its own event, but the Adloyada parade in Holon is ours. Judging by the effort that goes into devising new themes and putting together all the costumes and props each year, the Purim event is sprouting nicely.This year's carnival takes place in Holon – the nation's unofficial kiddies' capital – on March 24.The fun kicks off at 11:30 a.m. and dozens of floats and children of all ages will wend their way happily along the city's main boulevards, to the cheers of thousands of appreciative onlookers.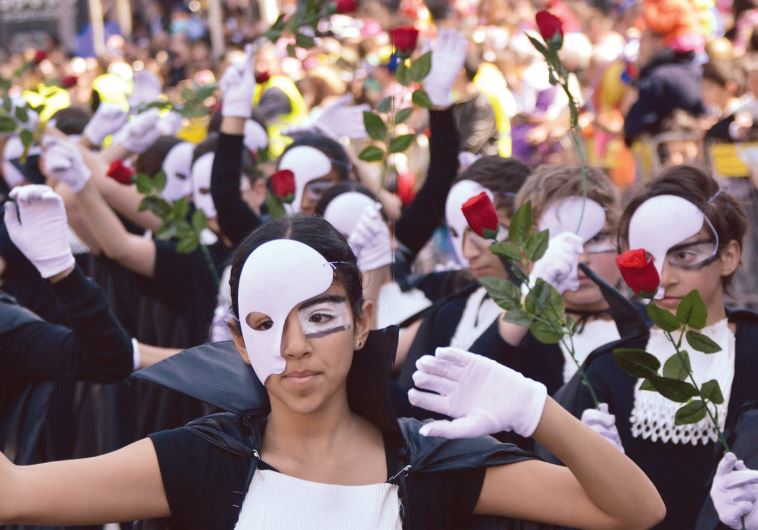 Television here began with the Educational TV channel, so it is fitting that many of the shows featured are children's programs.Anyone who was here in the Seventies and Eighties, as a child or a parent, will recognize the likes of Hadvora Maya – Maya the Bee – which was based on The Adventures of Maya the Bee, a German book, comic book series and, eventually, animated television series, originated by Waldemar Bonsels and first published back in 1912. The story lines focused on the eponymous character and her pals, who included Willy the bee and Flip – or Philip – the grasshopper. The latter will also enjoy pride of place in the Holon lineup. The parade will take in characters from a roll call of beloved TV junior offerings of yesteryear, including Habayit Shel Fistuk, Kofiko – named after the monkey character created by Israeli writer Tamar Bornstein-Lazar – Parpar Nehmad, and Arik and Bentz, which was based on the characters of Bert and Ernie from Sesame Street. But it won't all be kids' stuff at this year's Adloyada, with popular comedy and satire shows such as Zehu Zeh and Nikui Rosh also in the carnival mix.If anyone knows about the Adloyada, it is Zipi Yifat. She has been around since the carnival began, a quarter of a century ago, and for much of that time has been kept gainfully employed planning, designing and building many of the giant-sized fun models that have adorned the parade floats over the years. She is, naturally, in a perfect position to take a look back and note how the event has evolved."It has grown and developed so much," she notes. "It has improved so much too."Presumably, meanwhile, Yifat has maintained a growth continuum of her own. "Yes, I think I have also made some progress over the years," she says with more than a modicum of modesty.The growth element can be taken literally. "Everything is so much bigger now," she remarks.
"The models are much taller, although the props were quite big soon after all this started. I'd say that, from the third or fourth year, we began to work on bigger things."Yifat brings some pretty hefty education and professional training to the Purim enterprise. She is a graduate of the Faculty of Design and Architecture of the University of Rome, has a master's degree from the Academy of Arts in the Italian capital, in set design and art history, and also studied at the Accademia di Belle Arti in Florence, where she specialized in design work relating to street theater, carnivals and giant models.Sounds like the ideal backdrop to her Holon-based endeavor.The designer says all that comes into play in the run-up to each year's carnival."My architectural knowledge helps me plan the construction work on the floats and all the props," she notes. "There are many facets to the work."She also devotes a lengthy preliminary period to the event. "I start with the first sketches each year around October, and then it takes about three months to build everything."She employs the services of around 12 assistants, including carpenters and various technicians.Yifat is delighted with this year's theme, and says it also brings her back full circle. "I started out working for Educational TV. I worked on sets for various shows for four years. It's wonderful that, this year, we are featuring programs like Habayit Shel Fistuk and Parpar Nehmad, because I worked on those shows."The designer may even get some firsthand feedback from some of the onlookers on March 24."I'm sure there will be people in Holon who remember those shows from childhood," she muses, adding that some of the kids may also identify the characters she is putting together. "There are reruns of all those old shows and, of course, YouTube, so children today also recognize them."Some of the stalwarts of Israeli TV will also be featured in the parade, including iconic news presenter Haim Yavin, veteran children's entertainer Tuvia Tsafir, late comic and popular children's TV actor Sefi Rivlin, and satirical television show pioneer and IBA CEO Moti Kirschenbaum, who died last year.
While technology has taken huge strides over the past quarter of a century, it has not impacted too much on the way Yifat goes about her business, or on the visual aesthetics of Adloyada."This year we have some giant inflatable figures," she notes. "They will be filled with helium. It's the first time we will use them." So we're not exactly talking giant video screens and state-of-the-art presentation gimmickry here.Even after all these years at the helm, Yifat says she is just as excited as she was the first time around. "I always look forward to the Adloyada. I am excited and concerned. I want everything to go well."Of course, even with all her experience and accrued expertise, Yifat cannot vouch for absolutely everything, such as acts of God. Even so, she says the weather gods have been kind to her throughout."We have never had to cancel the Adloyada due to adverse weather conditions," she notes with a smile. "There have been times when it rained before the Adloyada started, but it stopped beforehand. One year there was light rain, but it didn't bother anyone. People turned up and the children in the parade had a great time."In addition to Yifat's floats, there will be a bunch of acrobat stilt-walkers from Russia, dressed in outsized costumes, and there will be groups of children and youth from all over Israel festooned in brightly colored garb that reference such TV favorites as Teletubbies, Ninja Turtles, Pinocchio and Tinker Bell.And, in case you don't manage to make it over to Holon on the day, and want to catch an eyeful of the artwork, the models and installations will be on show at the Mediatheque piazza until March 27.
Traditionally, the Adloyada getups are based on a particular theme. This year the carnival marks the 50th anniversary of the start of TV broadcasts in Israel.