Israel is no stranger to trauma; the Holy Land houses trauma in its every crevice, and its people live with it every day. Acupuncturists Without Borders, begun in the US after Hurricane Katrina in 2005, has had a strong presence in Israel for the past three years.Keren Assouline, co-founder of AWB's Israel branch, learned about AWB from reading an article on their healing work with Katrina, and went to Portland, Oregon, to join a training session. Afterward, she spoke to the trainer, Carla Cassler, AWB associate director, about bringing AWB to Israel."She was really excited about the idea; she's Jewish and had been to Israel before," Assouline says. "She said that she was waiting for me in a way, because they wanted to do something in Israel but didn't know how to start. So I went back to Israel, gathered some friends and gave them the training myself."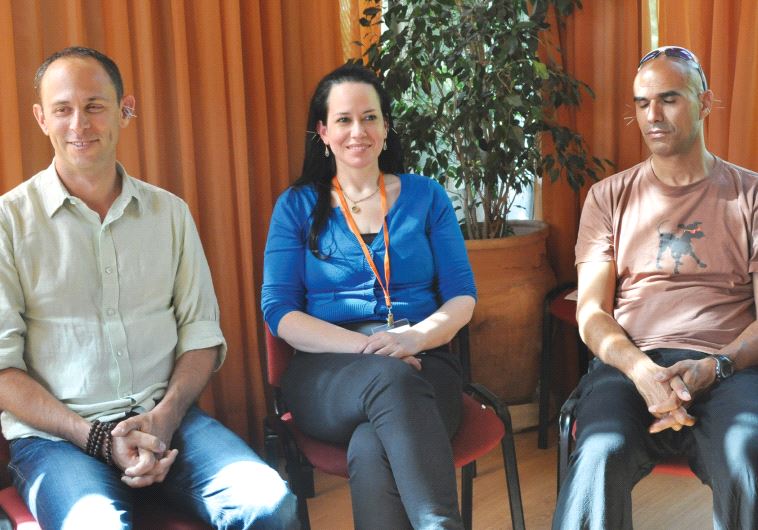 The Nada Protocol is designed to stimulate a release of whatever emotions the body is holding on to. Some people cry or laugh heavily, some feel an intense sense of calm followed by fatigue."I felt a rage of panic in the beginning," Mansdorf recalls. "I raised my hand to have somebody take the needles out, and then I told myself to put my hand down and just go through it. I started crying hysterically. Somebody did energy work behind me, then afterwards they asked me if I wanted water. It was a space where I could fully release. Often, one person's reaction triggers others through empathy or mirroring that allows them to release.
It's about letting it go."To understand why the Nada Protocol is so effective, it's crucial to comprehend the effect that trauma has on the body. When someone experiences trauma, it creates an inner paralysis that stores the emotions associated with that trauma in various parts of the body as though they were locked in safes to which the person no longer has keys. Trauma essentially blocks a person from accessing his or her own deep-seated emotions, and this blockage can manifest itself physically if it goes untreated."So many health problems on the physical level are actually trauma-related," Cassler explains. "In Israel, there is so much PTSD of every type in every community, whether it's Jews or Arabs.The trauma narrative may be different, but in the end, it reveals itself in the body and psyche very similarly. I truly believe that trauma keeps people paralyzed in a fear pattern that prevents movement forward on many levels. It prevents physical healing sometimes and definitely emotional healing. It gets in the way of human relationships on the individual, familial, communal and national levels. So trauma healing is not just about helping people recover and feel better; it's actually about creating changes on a much bigger scale. We call it medicine of peace for a reason.It's not a trite term."AWB has many ongoing healing circles in Israel. There is one in Karmiel for bereaved parents whose children were killed during their military service.There is a circle in Jaffa that is open to Arab and Jewish women suffering from any kind of trauma. There is a circle in Karmiya for young women in distress, one in Sderot that has been running for two years, and one in Ramat Yishai with a group of Holocaust survivors. There is also one in Otniel that began after Dafna Meir was murdered in January, and it recently resumed upon request from the community after Rabbi Michael Mark was murdered in June. Once a month, Physicians for Human Rights joins AWB to administer treatment to women in the West Bank. It is a testament to AWB's ideology that the healing circles are not bound by politics."We decided to make it very open," Assouline states. "We treat Arab women and IDF soldiers. The idea is to treat the people, not the situation. Everybody suffers here. It doesn't matter what your political opinion is. We're not therapists and we're not politicians.We're not here to fix the world; we're here to give love and healing."Given the situation that Israel is in and how pervasive trauma is here, AWB's healing work is vital on both sides. It became clear to Assouline, after she brought AWB to Israel, that certain adjustments needed to be made.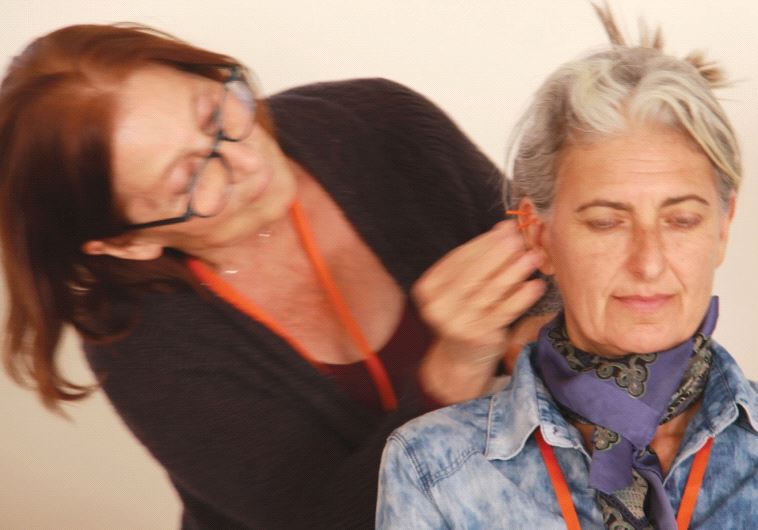 Although the Nada Protocol treatment method is always the basis, Assouline found that the energy work and holding of space that acupuncturists do outside the circle is of the utmost importance in Israel."Post-trauma is post-trauma no matter what, but we started to understand the differences between America and Israel. The situation here is different.Most people served in the army, and everyone has experienced what it means to live here. The setting and timing of the circles is more important. In Hebrew, 'boundaries' and 'borders' are the same word. So Acupuncturists Without Borders has a double meaning. We understand that it's very intense here. We cannot do a onetime treatment. People need to be able to continue the process."Begun 10 years ago in the US as a response to natural disasters such as Hurricane Katrina and the earthquake in Haiti, AWB quickly branched out.Within the first two years, it started working with combat veterans because so many soldiers were coming back from Afghanistan and Iraq with PTSD, with very little treatment available through the military medical establishment, other than drugs, which had not proven to be effective.AWB then went to Nepal to treat young people who had been victims of sex trafficking. Although Nepal has a relatively mellow reputation and is a favorite vacation spot for many Israelis, there is a dark side that only intensified after the recent civil war left turmoil in its wake."The trafficking of humans for sex, labor and organs is very high," Cassler says. "We've trained a lot of acupuncturists there. Our organization really is about training people to work in their own communities in their own countries.We also trained a lot of people in Haiti. There was no acupuncture when we first went to Haiti, so that was a true, grassroots, bottom-up project."In the future, AWB will continue to focus and expand its work with refugees, as it has done so effectively in Greece with those who fled Syria.In the US, the organization recognizes that it must create a comprehensive program to help victims of gun violence.This involves developing more local, community service clinics to work with this issue. After the mass shooting in Orlando in June, AWB has held treatment circles for those traumatized, and continues to do so on a weekly basis. It is organizing a similar project in Minneapolis, where there was a recent shooting of an African-American man and a lot of community unrest."We will continue to respond to natural disasters; but from Aurora to Newtown to Baton Rouge, shootings are what we're starting to work with more and more," Cassler says. "The problem in the US between the police and the African-American community is trauma- based. Both groups feel traumatized.The way the police are shooting people is not a rational response; it's fear-based.Good training hopefully helps you learn how to walk around that, but at this point, the cops are so fearful about their safety, it's producing hyper-aroused responses.We need to treat the cops and help them re-regulate. The community needs it, too, because there is so much grief and sorrow. So we would treat them separately."Perhaps AWB's most potent asset is the organization's ability to adapt to whatever the situation may call for.Healing Without Borders includes an essential elasticity that ensures AWB will continue to provide vital trauma treatment wherever it is needed."It's really about helping people move out of their trauma narrative because they feel better and their bodies are no longer in the fight-or-flight pattern," says Cassler. "They can actually think and process what's happened to them.That's when the healing happens. We're trying to get to that human contact level and have people feel good in their bodies again, so that they can make rational decisions and have rational encounters with others."Acupuncture itself is a component of Chinese medicine and falls under the umbrella of alternative medicine; a fact that makes some participants in AWB's healing circles skeptical of the treatment's effectiveness. Mansdorf recalls her first circle in Jerusalem this past fall during the intense period of terrorist stabbings, when a man who had never had acupuncture before – and was particularly doubtful of its legitimacy – approached her after the circle concluded."He said that he had never felt so calm and that he didn't realize until the needles were put in how much stress he had been under."Acupuncture does not promise miracles, and it is only with continued treatment that lasting results are attained.More than anything, its proponents say, acupuncture – like the Land of Israel – represents a return to the ancient roots."We're not therapists," Mansdorf summarizes. "At the end of the day, it's about compassion, compassion behind the needle."
For more information on AWB in Israel and abroad: www.acuwithoutborders.org
AWB Israel began as part of NATAL (Israel's trauma center for victims of terrorism). NATAL gave Assouline and her group of acupuncturists a space to provide their treatment, as well as a group of IDF veterans suffering from post-traumatic stress disorder, and a group of victims from terrorist attacks."They were in very bad shape; they didn't work at all. They just came to NATAL three times a week. We worked with them, and during that same year we started AWB training for acupuncturists in Israel," she says.The first official AWB Israel training session was in April 2014, and there has been one each April since. Training is a crucial part of AWB, as the acupuncture treatment used is very specific.It's called the Nada Protocol, which is a five-point treatment in the ear. The Nada Protocol was initially used to treat addictive behavior and also to help with weight loss. Eventually, it was used to treat veterans suffering from PTSD in the US, and the results were astounding. It was then that the Nada Protocol treatment method solidified its place as one of the most effective treatments for trauma."AWB adds to that by doing the treatment in a circle, so it's not just individual," Tali Mansdorf, acupuncturist and naturopathic doula, adds.Mansdorf was trained as an AWB acupuncturist in April this year. "The training was surprising for me," she says, "because I thought it was going to be three days of taking notes and learning, and instead we were treated with the Nada Protocol. So I had to be vulnerable and open up to that. It was a space for healers to heal themselves together. That in itself is really interesting because healers are usually holding space for others. But we all went through it for the sake of feeling it and understanding the process more."For Mansdorf, the concept of the circle is as important as the treatment itself.She feels that the circle is a sacred shape, a closed space that encourages eye contact."Trauma makes people feel isolated," Mansdorf explains. "They feel alone and like nobody gets it. What's amazing about AWB's methods is that it's not therapy where you need to speak.You don't know anyone there, you don't want to talk about your trauma.You go and it's all nonverbal. You can be in your own world if you want, but you're always surrounded. You have the needles put in, and then the acupuncturists stand outside the circle doing energy work to hold the space."