When Snapchat announced Monday via a filter on its photo-application that Tel Aviv would be Tuesday's featured 'live story' on its photo-sharing platform, cheers of joy and excitement were heard amongst Tel Aviv millennials who made it their goal to make it onto the much-anticipated story.For those less technologically-savvy and unfamiliar with millennial trends, the concept of Snapchat is simple: it's a nifty app which allows users to send friends quick, ephemeral photos and videos - without the hassle of saving them to the pictures folder on your mobile device. Pictures self-destruct instantly, seconds after being opened by the recipient. It is a technology perfectly tailored for the niche market of young twenty-somethings addicted to social media and unfazed by over-sharing. With its live story feature, Snapchat gives users insight into the daily happenings of users in a selected number of cities worldwide. It curates a stream of user-submitted photo or video 'snaps' and aggregates them into one "live-story" - a video-collage of chosen snaps - available for viewing for a period of 24 hours by upwards of 100 million Snapchat users. On Tuesday, Tel Aviv was put on Snapchat's map.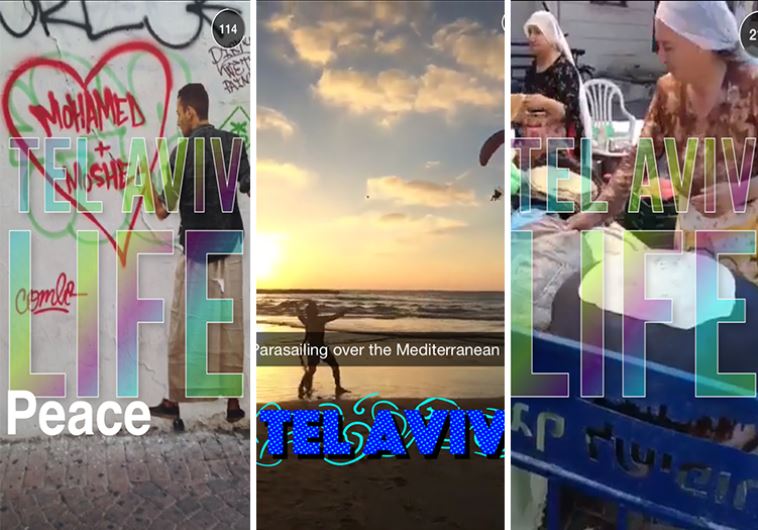 Snaps from Snapchat's Tel-Aviv live-story.
"We went around Tel Aviv Tuesday with the goal of making it onto Snapchat's story," said Rosie Perper, 21, a student at IDC. "We took a lot of snaps in different areas of the city, in hopes of promoting the multi-faceted world of Tel Aviv," she said.Rosie was lucky enough to make it onto the Snap-story. Doron Gabbay, 24, a student at Tel Aviv University, was not. "I generally try to keep things in proportion but not having my snap being chosen was pretty devastating," he said.
Rosie Perper"s snap picked up by Snapchat"s Tel Aviv live-story.
"I'll try to keep my head up but I really thought this was my best chance at my 5 seconds of fame. Life will go on, I guess, and I suppose this was a nice opportunity of letting the world get a glimpse of what daily life in Israel is all about and replacing people's preconceived notions of camels and constant military conflict with friendlier images of beaches, a thriving nightlife, and beautiful scantily clad people."The final story was just over three minutes long, featuring everything from the looming Azrieli towers, to the bustling-hustle of Shuk Hacarmel, the roller-coasters of Luna Park, youths enthusiastically singing "Tel Aviv ya habibi Tel Aviv," a concert at Tel Aviv's port come nightfall, and even, a bride-and-groom walking down the aisle. Multiple snaps focused in on the city's sandy-coastline and youth swimming amidst rising waves. A Druse woman was seen making lafa (a large pita). A graffiti of a man spray-painting the names "Mohammed + Moshe" with a heart around them was snapped with the caption "Tel Aviv Life," followed by "Peace." Youths biked down Rothschild Boulevard. A friendly bus driver broke his distance, parting ways with some of his passengers with a hug. Yet while Snapchat was busy pulling stories for its live-feed, anti-Israel sentiment spread in the Twitter-sphere, with the hashtags #TelAviv and #StopTelAvivLive trending, calling Israel a "fake land," an "occupation," "lacking humanity."Palestinian supporters uploaded photos of violence in the Palestinian-Israeli conflict, created memes in which the Israeli flag was replaced by a Palestinian one on Snapchat, compared Israel to Nazi Germany, and posed the question of "how would you feel?" to the US, Australia, Canada, and Germany if an "Israeli occupation" were to take control of their land.
#We_want_Gaza_Live , #TelAviv show us the other side of the story of #Palestine , #Palestinelive . pic.twitter.com/9SVyZTf12C

— H  (@iPrOud82) July 8, 2015
How would you feel !!? #تل_ابيب_لايف. #TelAvivLive #TelAviv #tel_aviv_life pic.twitter.com/nJmDqA75tu

— شهد الحاضر (@Shahadalhader) July 8, 2015
@Snapchat I've never hated a snapchat story so much before.. #TelAviv

— سوزان (@SusieeZ) July 8, 2015
Welcome, dogs #TelAviv pic.twitter.com/Yan6AAFIXi

— ShooshSaeed (@ShooshGhamdi) July 8, 2015
Tweets expressing anti-Israel sentiment, following Snapchat's Tel Aviv live-story.
Others called on Snapchat to feature a Gaza live-story and show "the other side.""It's a shame that when presented with something positive about Israel, people turn it negative," Rosie said Wednesday, "especially with something like this."While Snapchat is no longer pulling new snaps for its Tel Aviv live-story, the story is to remain live for a few more hours - the remaining of its 24-hour run. Until then, the hashtag #TelAviv continues to make waves amongst Twitter users.