NEW YORK CITY. -- The Austrian government and organizations that enabled a Palestinian terrorist to hold an April talk in Vienna faced a firestorm of criticism from Israel's ambassador and the local Jewish community."Allowing a convicted terrorist to present her opinions can only serve as an incentive for other terrorists," Israel's Ambassador to Austria, Talya Lador-Fresher, told
The Jerusalem Post
.Leila Khaled, a member of the Popular Front for the Liberation of Palestine (PFLP), which has been designated by the US and the EU as a terrorist organization, delivered a talk titled "Free Palestine" at the Austrian-Arab culture center (OKAZ) in mid-April. Ahead of Khaled's talk, Oskar Deutsch, the head of Vienna's Jewish community, asked Austria's authorities to ban the event. The Jewish community contacted the state prosecutor. Thomas Schnöll, a spokesman for Austria's foreign ministry, told
Der Standard
daily that the government did not authorize a visa for Khaled in contrast to the Netherlands. A spokesman for Austria's interior ministry, Karl-Heinz Grundböck, said the EU open border Schengen travel system cannot be revoked. It is unclear why the Netherlands provided a visa to Khaled—a well-known hijacker of planes and a convicted terrorist.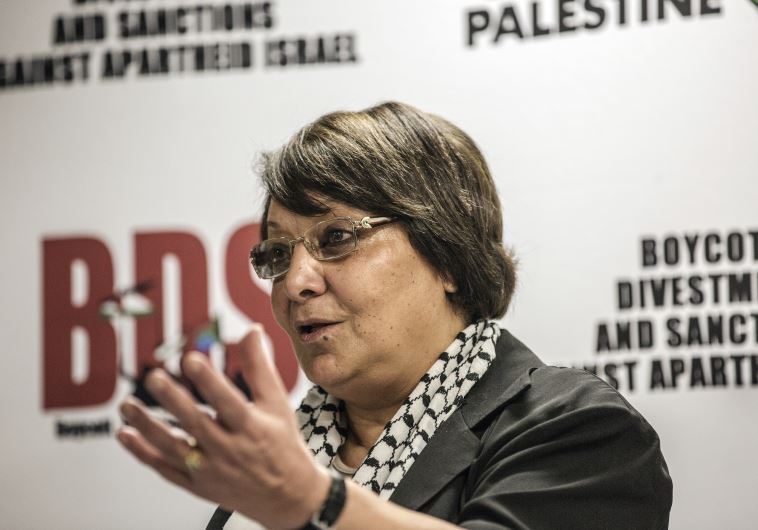 (Leila Khaled. Credit: AFP Photo/Gianluigi Guercia)
Khaled received applause, as well as a standing ovation, for her anti-Israel tirade to a packed room of 180 people. According to Der Standard, she said she is active in an "armed revolution" to demand freedom and the "language of the occupation is far worse than our methods." Khaled added that Israel conducts a Holocaust against the Palestinians and supporters should continue to fight Israel with the "Boycott, Divestment, Sanctions" campaign against the Jewish state.Khaled was part of a terrorist cell that hijacked an American TWA flight 840 in 1969. A year later, she participated in the hijacking of EL AL flight 219.The
Post
uncovered that the
Austrian bank Bawag
provides the account to the organizers of the Khaled event—the OKAZ. The Bawag is listed on the OKAZ's donation webpage as the method to transfer electronic funds. The secretary-general of Vienna's 7,000 member Jewish community, Raimund Fastenbauer, told the
Post
that Bawag should discontinue the bank account with OKAZ.Henriette Mußnig, a spokeswoman for Bawag, wrote the
Post
last week by email that "according to Austria's bank law (bank secrecy), we are not authorized to provide information about accounts or about customers."She added that "We can, however, assure that we adhere to measures against the financing of terrorism and money laundering."In a separate email to the Vienna Journalist Samuel Laster on Thursday, who is the editor-in-chief of the popular website The Jewish, Mußnig wrote "we will examine reasons for suspicion whether a violation of the law is present and implement the corresponding measures."The New York City-based Cerberus Capital Management company owns 52% of Bawag. Peter Duda, a spokesman for Cerberus, declined to comment on the account. GoldenTree Asset Management—the New York City-based investment firm—has a 40% ownership stake in Bawag. Mary Beth Grover, a spokeswoman for GoldenTree, wrote the Post by email" No comment." OKAZ—the Austrian-Arab culture center-- did not respond to Post media queries.