Capt. (res.) Eliav Gelman, 30, was killed by "friendly fire" in the midst of a stabbing attack at the Gush Etzion junction in the West Bank on Wednesday afternoon.Soldiers from an IDF unit securing the junction saw a Palestinian armed with a knife charging at Gelman, an IDF spokeswoman said.They fired at the assailant, striking both him and Gelman, the spokeswoman said. She added that this assessment was based on an initial investigation of the incident.Magen David Adom evacuated both the assailant and the reservist officer to Shaare Zedek Medical Center in Jerusalem, where Gelman died from a gunshot wound to the chest. The terrorist is in moderate condition.Palestinian sources identified the attacker as 26-year-old Mamdouh Tousef Amru from the village of al-Majd, west of the town of Dura in the Hebron area. The sources said that Amru is a math teacher in a Hebron area school.Gelman was a resident of the Gush Etzion settlement Karmei Tzur and grew up nearby in Kiryat Arba. A father of two boys, he had recently left a permanent job in the army to go into the private security industry.His wife, Rinat, is seven months' pregnant.Gelman was the brother-in-law of Maj. Benaya Sarel, who was killed during Operation Protective Edge in Gaza in 2014.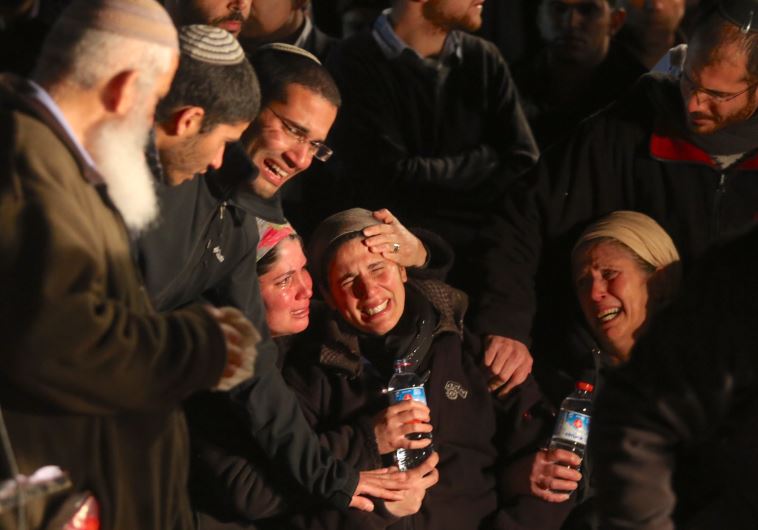 (Photo by: Marc Israel Sallem)
They removed his flag-draped body, and brought it down the stairs to the waiting grave.Gelman's father broke down in tears as he recited the traditional mourner's prayer.Immigration and Absorption Minister Ze'ev Elkin, who lives in Gush Etzion, said that Palestinians have targeted the junction because they know it is necessary for the defense of Jerusalem."We have paid a high price for being here, but knives or rifles won't succeed in moving us from here," Elkin said.Gelman's commander, Yair Vilensky, spoke of his bravery during Operation Protective Edge in 2014. "We know how much we owe you.You were quiet and spoke very little.But in the moment of truth, you were determined and professional."Vilensky recalled his bravery in Gaza, particularly in helping evacuate a wounded soldier from the field.Gush Etzion Regional Council head Davidi Perl said, "You were a family man, a brave fighter. You saw the terrorist in front of you and you fired. You have now joined the list of fighters who have fallen in defense of Gush Etzion."Eliav, we promise you that Gush Etzion will not fall again."President Reuven Rivlin spoke of the attack as he sat down to meet with Israeli-Arab leaders on the need for economic equity."There is no forgiveness for terrorism.There is no tolerance for terrorism. All those who sit here should denounce it vigorously. The fire of terrorism, which has given us so many victims in the past six months, is also the fire that could ignite the bridge we trying to build here today. I send my condolences to the family," Rivlin said.US President Barack Obama said on Wednesday that it was important to provide both the Israeli and Palestinian sides with hope for a resolution to violence.Obama said Jordan has played a "critical" part in "reducing some of the immediate tensions around the Temple Mount" and called King Abdullah a "voice of reason... and tolerance. We're lucky to have a friend like Jordan."Also on Wednesday, US Secretary of State John Kerry said that increased Israeli settlement building is not helping to ease tensions between Israelis and Palestinians."I don't think that the situation is helped by additional settlement construction and building," Kerry told a House of Representatives Appropriations Subcommittee at a hearing on the State Department's annual budget request."I think that I know we need to see measures taken on both sides to indicate a readiness and willingness to try to proceed forward and reduce the violence," Kerry said, when asked about heightened violence.The Gush Etzion junction where Gelman was killed has been one of the violent flash-points in the Palestinian wave of terrorism against Israelis. There have been at least 10 attacks there in the last five months.To prevent continued violence, the IDF has made a number of changes to the junction, including placing metal poles by the bus stops to prevent attacks using cars.The IDF has also doubled its deployment in the area in recent months, placing soldiers at each bus stop and in front of the stores at the junction as part of an effort to protect civilians.Col. Roman Gofman, the recently appointed commander of the IDF's Gush Etzion Brigade, issued instructions for patrols to be stepped up around a gas station in the area in December, and in other areas prone to knife attacks.After Wednesday's attack Agriculture Minister Uri Ariel demanded that Defense Minister Moshe Ya'alon suspend all Palestinian traffic to the Etzion junction, which is a central artery for both Israeli and Palestinian vehicles in that region."It can't be that Israeli citizens are murdered over and over again in the same spot and there is no proper security response," said Ariel."I am in favor of easing restrictions on Palestinians, but it is the basic obligation of the government to protect Israeli citizens, and therefore we should stop Palestinian traffic on the roads leading to the intersection today," he said."This is not a matter of punishment but instead a prevention of the murder of Jews," added Ariel.Just before the attack, Deputy Defense Minister Eli Ben-Dahan met with Perl and other settler leaders. He presented them with plans for the al-Aroub bypass road that is slated to be built between Gush Etzion and Kiryat Arba to the south.The new road is designed to bypass Palestinian villages such as al-Aroub and Beit Umar in an attempt to cut down the number of Palestinian stoning incidents against vehicles on the road. Ben-Dahan promised the settlers that plans for the road would be finalized by September.Over the past five months, according to Magen David Adom, 33 people have been murdered in terrorist attacks, of which 30 were Israelis. In addition, an Eritrean, an American and a Palestinian were also killed. Some 311 victims have been wounded, MDA added. Twenty- nine of those sustained serious injuries, eight were moderately to seriously wounded, and 214 lightly injured.According to The Washington Post, in that same period at least 112 Palestinians have been killed carrying out attacks against Israelis and 52 have been killed in clashes with the IDF.Khaled Abu Toameh and Reuters contributed to this report.
Gelman was buried late Wednesday night in the Kfar Etzion Cemetery under a starry sky. To the sound of wailing and crying, six soldiers carried his pine casket to the cemetery stairs.