26 years have passed since the Armenian forces invaded and occupied Azerbaijan's Shusha region. The fall of Shusha came as the last stage of Armenia's military occupation of the Nagorno-Karabakh region - part of Azerbaijan's historical and internationally recognized territory. On May 8, 1992, backed by the Soviet 336th regiment, the Armenian troops managed to overpower Shusha.

As result of occupation, Shusha city and 30 villages of the Shusha region were destroyed, 195 innocent civilians were killed, 165 were wounded and 58 persons still remain missing. More than 24,000 inhabitants of Shusha were subjected to ethnic cleansing.




The Shusha region was one of the ancient and historical cradles of Azerbaijani culture, with its rich cultural monuments, famous artists and thinkers. Whether in the fields of music, arts, architecture, literature or other, Shusha was a jewel of Azerbaijan, a source of pride and cultural center.
Panah Ali Khan Javanshir, political leader who was the founder of Karabakh Khanate, built Shusha. Having conquered the Meliks and centralized his authority, Panah Khan began building the second fortress in 1775, near the Shakhbulag spring on the Karabag plain. The site was chosen for its better defensive qualities and direct connection with the mountainous area of Karabakh.
After learning that Agha Mohammed Khan Qajar had become the ruler of Mazenderan and Gilyan, fears that the Shakhbulag fortress was now vulnerable led to the construction of an even stronger redoubt. So was built the Panakhabad fortress in 1751 and the town which had been developing there was called Panakhabad in honour of its founder, literally – "the town of Panah." Only some time later was it renamed Shusha. Fierce battles were often were often fought there. During the Russo-Persian war a small garrison defended Shusha

The city became famous after its heroic fight against the invasion of Iranian armies in 1795. Until 1823 Shusha remained the capital of Karabakh Khanate. Since1923 it has been a regional center of Nagorno-Karabakh Autonomous region within the structure of Azerbaijan Soviet Socialist Republic.
During the Karabakh war (started in 1991) a lot of Shusha buildings were destroyed including, unfortunately, well-known historical.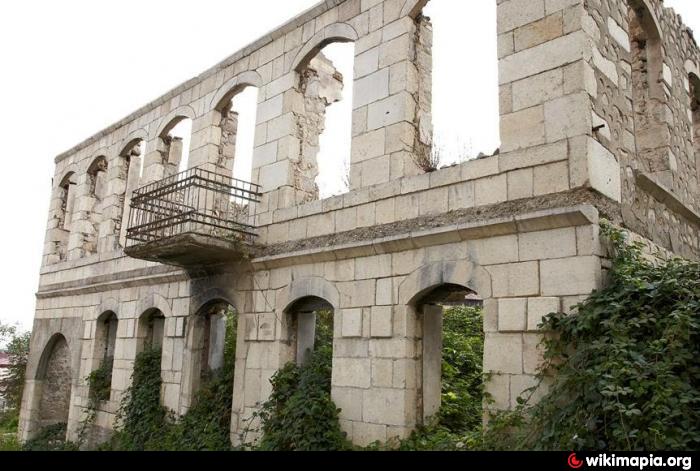 architectural complexes.
In the framework of Armenia's deliberate policy of destruction, plundering, desecration and embezzlement of cultural and religious heritage of Azerbaijan in the occupied lands, only in Shusha more than 170 buildings with the status of architectural monument, 160 cultural and historical monuments, mosques, rare manuscripts were destroyed and subjected to the vandalism. "Imarat of Panah khan complex" and library, Khan palace and Karvansaray, Yukhari and Ashagi Govharaga, Saatli Mosques, Mausoleum of Vagif, Natavan's House and many others are among them
For 26 years this golden jewel of Azerbaijan is in the dirty hands of the Armenian occupation. For the Azerbaijanis, who are always proud of the fact that they live at home luminaries of arts, culture and education – Uzeyir Hajibeyov and Rashid Behbudov, Natavan and Vagif, Khan Shushinsky and Badalbeyli, Garyagdy and Niazi, Bulbul and Mehmandarov and many more, it has a special dimension. They were born into an impregnable fortress, and, as pure mountain streams flowed through the valleys, and expanses of Azerbaijan, build,and to create beauty
Today, Shusha, a lonely, orphaned, tortured, abused … Shusha definitely miss those old days when the air was beautiful Azeri music "Bayati-Shiraz". Since the present inhabitants of the city separated from Shusha, the cradle of Azerbaijani music every night sees the indescribably horrible and vivid dreams. Very rarely, Shusha said today in their native language, it's pretty, insanely beautiful, true, true to its indescribable beauty, it has not hurt the Armenian aggression. And, Shusha beautiful and melodic singing and her voice echoes and stirs our souls, when we remember leading figures of Azerbaijani music
Today, native Shusha was not alone. It is at home, but among others, destroying everything around so that it forgot her vivid and unforgettable past. It feels strong and indescribable pain of loss and nostalgia, it is understood that the terms of any of the native heart. This bothered her all the time the invaders are trying to erase traces of Azerbaijani, Armenian to give it a look, causing her to "ancient Armenian" scars, build Armenian Gregorian Churches, changed the name of the city.
Shusha sees these invaders seeking to destroy all his native Azerbaijan. Shusha was crying because those bloody aliens destroy museums, monuments of art, sculpture, desecrated and torn Azerbaijani cemeteries and destroyed Azerbaijani Shusha soul that it has forgotten how to mankurt his Azerbaijani history. But Shusha never forget their heritage and Azerbaijan, as Azeri people will not forget this great city – Shusha.

among those who gave their lives
The night of 8-9 May 1992 was dark and cold. There was no sign of a military attack. There had been only occasional firing from the enemy on Azerbaijani soldiers defending the city. It was past midnight when intelligence reported an offensive movement by the Armenians. However, no one was expecting a large-scale offensive. That night many valiant sons of Azerbaijan died. They died defending Shusha, the pearl of Azerbaijan and bastion of national culture. Albert Agarunov, a 23 year-old tank commander, was

Albert was very fond of Azerbaijan, who brought him up as his own son. 23-year-old Albert lived a short but glorious and heroic lifeHe is loved and always honored by his memory in Azerbaijan. He is a genuine hero and a model of the courage of our people. Azerbaijan people will always honor his memory. A brave tank officer according to his comrades, Albert was devoted to his country and died pushing his courage and determination to the limit. He was born into a Mountain Jewish family in the village of Amirjan, near the capital Baku. His family was originally from Qirmizi Qasaba (Red Settlement) in Quba and had moved to Amirjan in search of a better life.
Albert's father had found work in the oil fields nearby, and a new life had opened up for the Agarunov family. Baku offered many opportunities, and the Agarunov family raised all 10 into strong, intelligent, and especially happy young men and women. Albert was an engineer, and those who knew him remember a spirited and especially clever man and true friend; a person who lived his life without fear. Albert began his military career in the Soviet army, but soon found himself wanting to give back to the country he loved and knew all his life. I think that most people in the world have never heard the name of this Jewish national hero in Azerbaijan, a secular Muslim country. In Azerbaijan, Albert is known as a war hero, as a national hero, and so continues many years after his
His story reads like a great novel about heroism and courage
This Azerbaijani-Jewish Hero went to extraordinary lengths to defend his tank battalion against an onslaught of Armenian tanks. He was a friend, a renowned sharpshooter, a nationally honored martyr, and a proud protector of his homeland. This unique story of Albert's life is infused with great pride and respect for his country, a nation ingrained with an unparalleled standard of interfaith engagement and continues to honor and celebrate Albert's courage and heroism.

He was one of the Armenian army's biggest targets. The Armenian invaders were so especially offended by Albert's strong military skills, coupled with his identity as a Jew, that they placed a bounty of what equals 5 million rubles on his head. Albert fought with all of his heart and might as he and many Jewish soldiers faced the Armenian invasion and subsequent acts of ethnic cleansing and brutality against over 20 percent of Azerbaijan.

With the option to repatriate for Israel or elsewhere in the west, Albert and his fellow Azerbaijani Jews choose to fight in order to defend their homeland of Azerbaijan. A truly righteous man, Albert lost his life when a sniper bullet caught the seemingly uncatchable hero, because Albert had left the security of his tank, exposed to the enemy, instructing the tank driver to avoid driving over the many murdered bodies of his comrades on the ground. Albert lost his life because he was busy honoring the lives of his countrymen, unwilling to put even his own safety before the integrity of their memories.
The life of Albert Agarunov is one that carries spiritual and emotional resonance for all people, but especially for Jews in the Muslim world. The meaning and depth of his identity was only realized because he was born and raised in a place that has spent thousands of years living as if interreligious harmony is an expected component of life. Albert fought for his homeland Azerbaijan, ecause for thousands of years and all the right reasons, his homeland has fought for him.

The brother of the National Hero of Azerbaijan Rantik Agarunov said me: "Every year I come to Baku for Albert's birthday and I see how the Azerbaijani people do not forget my brother, he remains a pride and an example for the younger generation. My brother today is one of the symbols of friendship and partnership between Azerbaijan and Israel. We are very proud of the fact that not only the people of Azerbaijan, but also in the Azerbaijani army do not forget Albert. Today Azerbaijan is the country with the strongest and most powerful army in the South Caucasus, which was waiting for its decisive moment to demonstrate its power, and we are very proud of it! "- Rantik Agarunov noted
I know that Shusha was crying now remembering the bright Azerbaijani history and
courage and bravery of Albert and other sons of Azerbaijan who gave their lives for their Motherland.
Do not cry, Azerbaijan people have not the right to be weak. Shusha is waiting and believes that Azerbaijan must go back and liberate it from the inhuman oppression of the Armenian occupation.
Azerbaijan's people will never agree with loss of Shusha and Azerbaijanis must return to Shusha!

Arye Gut
Political Analyst