Leaders of Britain's Jewish community launched a campaign on Monday to help students fight the Boycott, Divestment and Sanctions movement on campus, as the start of the new university year approaches.The Board of Deputies of British Jews, in collaboration with the Union of Jewish Students, announced that they would distribute over 2,000 resource cards, entitled #bridgesnotboycotts, to freshman university students when the first semester kicks off this month. The cards offer students practical advice on how to tackle anti-Israel boycott action at universities and colleges, with links providing ideas on how to move the conversation away from boycotts and towards reconciliation.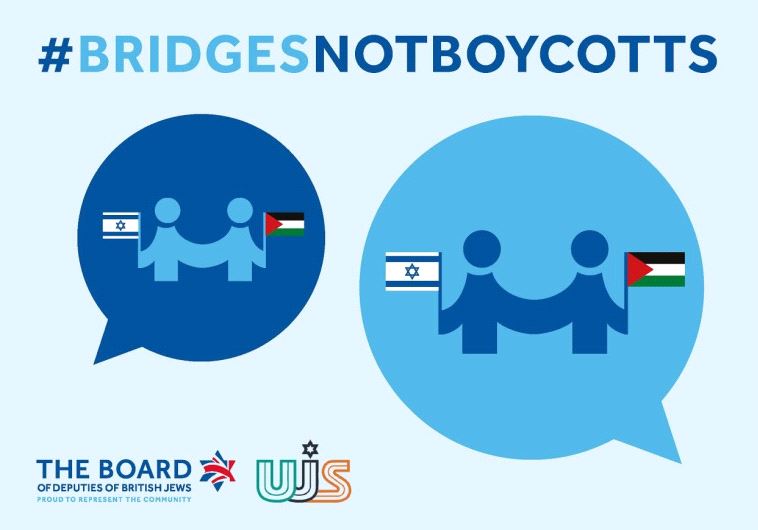 "Boycotts are damaging to the university experience; they do nothing other than sow hatred and division, and therefore this resource will empower those who want to bring a more positive message to campus," she said.The UJS said that for many Jewish students, Israel is a big part of their lives, and they shouldn't feel targeted because of that. "This campaign represents a big step towards creating a campus environment where students do not feel punished for their identity, and one that promotes peace and dialogue between Israelis and Palestinians. It brings a variety of communal organizations together to provide support to our students at university," the organization said.A pro-Israel legal group called UK Lawyers for Israel is also involved in the campaign, having created a legal guide for students, which is featured on the resource card. "Legal action can often be used to help defeat BDS motions and stop them being implemented," the organization stressed. "This is where we come in. Our link on the resource card provides information about how we can support students to fight BDS from a legal perspective."Another link appearing on the pamphlet leads to a booklet entitled "Zionism, Israel and the Palestinians: Towards a Constructive Debate," written by Professor Alan Johnson, a senior research fellow at the Britain Israel Communications and Research Center. With this booklet, Johnson provides a brief history of Zionism, seeks to dispel some common myths surrounding the Israeli-Palestinian conflict and ultimately aims to generate constructive debate and "more useful activism."The campaign leaders will simultaneously conduct a targeted social media campaign, ensuring students across the country hear of the initiative. The aim of the endeavor is "to spread a message of peace and mutual respect."The British campaign is the latest in a series of worldwide efforts by Israelis and pro-Israelis to quash the BDS movement.
The pamphlet states that while "the BDS lobby delivers no progress on peace between Israelis and Palestinians, it entrenches Middle East divisions and imports conflict to the UK." Outlining how and why it can be harmful to students, it asserts that "a far better approach is to export peace and support Israelis and Palestinians in their efforts to build peace, reconciliation and a two-state solution."Board of Deputies Vice President Marie Van der Zyl remarked that while university is "a great place to be Jewish," there are often motions calling for Israeli products to be boycotted, which can present challenging situations for pro-Israel students. She explained that the campaign resource would seek to provide solutions to the latter issue, presenting information from leading experts in the community on understanding the BDS movement, tactics to combat it and how to build bridges across communities.