They say that the definition of insanity is doing the same thing over and over again and expecting a different result. At least that's what Albert Einstein said, and he was a pretty smart guy. So I'm not sure why, for the fourth year running, I hoped to find tasty hamentashen in my survey of bakeries in Jerusalem. But still, for you, dear readers, I persisted, sampling cookies from a dozen shops around town. I found the good, the bad and the downright ugly. I also confirmed something that all those with taste buds have known for years: Butter is better.Though many bakeries offer parve or non-dairy hamentashen for kashrut reasons, those made with God's gift to the culinary world – butter – are far superior to the margarine-laden equivalent.Still, there was at least one decent option for those seeking hamentashen for their meat Purim seuda, so don't despair. Or, better for all involved, make your own! If you're prepared to head into the kitchen, you can find a variety of recipes on my blog, bakingandmistaking.com.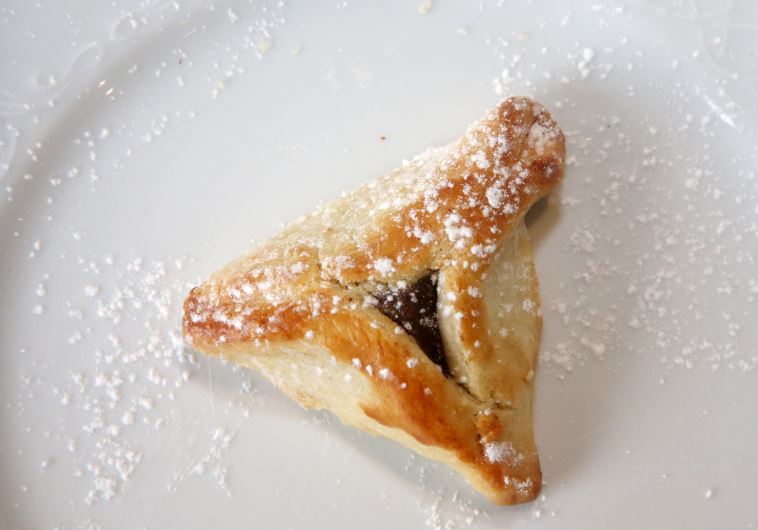 RECOMMENDED
Halechem shel Tomer
The dough on the hamentashen at Halechem shel Tomer was crisp, flaky, buttery and, oh yeah, whole wheat.This high-quality boutique bakery chain certainly doesn't skimp on the butter but somehow makes it feel healthy at the same time. My team of tasters resoundingly praised the texture of the cookie. One called it "beyond words," though some did have a lightly burnt taste to them. The date filling was tasty but a little sweet, and the chocolate was authentic tasting, though just the slightest bit grainy. It was hard not to note the price, however. At NIS 136 per kg., they are officially the most expensive on this list.
NIS 38 for a 280-gr. container 22 Halamed-Heh; 30 Aza; 2 Poalei Tzedek; 9 Leib Yaffe
Roladin
Roladin has never shied away from its love of butter, and this year is no exception. But while in the past the chain of bakeries – which goes all out with its Hanukka doughnuts – has had inventive Purim offerings, this year's hamentashen were decidedly staid.With flavors including chocolate, poppy seed, date, halva, apple-almond, caramel-walnut and vanilla chocolate chip, the dough was buttery and flaky and just the right crisp texture.The apple filling was tasty but not overwhelming, but the chocolate – despite being marketed as "Belgian chocolate" – tasted unfortunately just like the jarred store-bought spread. One of my assistant taste testers – always eager for free snacks and the chance to opine on them – gave the highest praise to Roladin: "I would actually pay money for this." But coming in at one of the most expensive on the list, you might just want to think twice.The newest offering from Roladin this year is hamentashen for vegans, with a lotus cookie and walnut filling, sold only in sealed containers (and even more expensive than the regular).
NIS 110 per kg. Five locations in Jerusalem
RECOMMENDED WITH RESERVATIONS Berman
Certainly Berman was in the top two this year for the best-tasting parve hamentashen.And it was the only bakery I saw in 2016 offering savory hamentashen, with mushroom and sweet potato varieties.The mushroom had a crisp, thin dough with a tasty, generous filling, while the sweet potato was completely encrusted with sesame and nigella seeds, which somewhat overwhelmed the not particularly memorable filling.But on to the sweet, with offerings including chocolate, poppy seed, halva and date. The hamentashen (both sweet and savory) were cute and bitesized, with a good ratio of filling to dough. The halva was creamy, but the chocolate tasted generic and cheap.
NIS 75 per kg. 26 Beit Hadfus; 42 Agrippas; 17 Malchei Yisrael
Natural Choice
Known for its decidedly healthy fare, Natural Choice offers both dairy and non-dairy hamentashen, allowing you to pick your whole-grain poison. After punishing myself enough for one day, I went for the butter variety – which were made with spelt – and was not disappointed.The dough was buttery and flaky, and the spelt gave it an extra boost of flavor and interest. The fillings – chocolate, poppy seed and nut – were tasty but not particularly exceptional.Overall, a solid option for those looking to have their butter and still feel good about it.
NIS 73 per kg. for dairy; NIS 58 per kg. for parve 111 Agrippas
Brooklyn Bakery
Once again, Brooklyn came out near the top of the non-dairy varieties but couldn't compete with its butter-laden competitors.The dough had a nice texture and a fairly average flavor; it was slightly bland.The cranberry filling was a particular favorite of mine, with a sweet-tart taste and good texture. The apricot jam also tasted high quality, though the prune didn't have much flavor and the texture was a bit gummy. The bakery offers both average-sized varieties and giant hamentashen, with other flavors such as coconut- pineapple; coconut-chocolate; chocolate; poppy seed; and date.
NIS 65 per kg. (or NIS 7 each for large ones) 15 Mea She'arim
Burekas Ima
In Talpiot, Burekas Ima is an independent bakery offering much more than just, you know, burekas. The hamentashen came in varieties such as chocolate, poppy seed, coconut, halva, date and nut. They also offer sugar-free h a m e n t a s h e n , which have fillings of apple, nut, chocolate or poppy seed. The dough had a nice flavor, though it was a touch dry and crumbly. The coconut filling was interesting, but a bit too dry in contrast with the dough (and unnecessarily shockingly pink); the chocolate tasted generic and jarred; the halva was tasty but a tad too sweet; and the date had a good flavor and texture.
NIS 55 per kg. 17 Rivka St.
Haba
A venerable Jerusalem institution, Haba has been baking bread and sweets for almost 50 years (and opened a restaurant not too long ago).While the little trattoria is one of my favorite brunch spots, the bakery's hamentashen were largely average. They were quite sizable, with a fairly generous filling and a dough that was neither offensive nor particularly tasty. The fillings included chocolate, poppy seed, halva and date and peanuts. One fun touch was the chocolate hamentashen that were dipped in dark or white chocolate, adding a nice layer of flavor and texture.
NIS 50 per kg. Several locations in and around Mahaneh Yehuda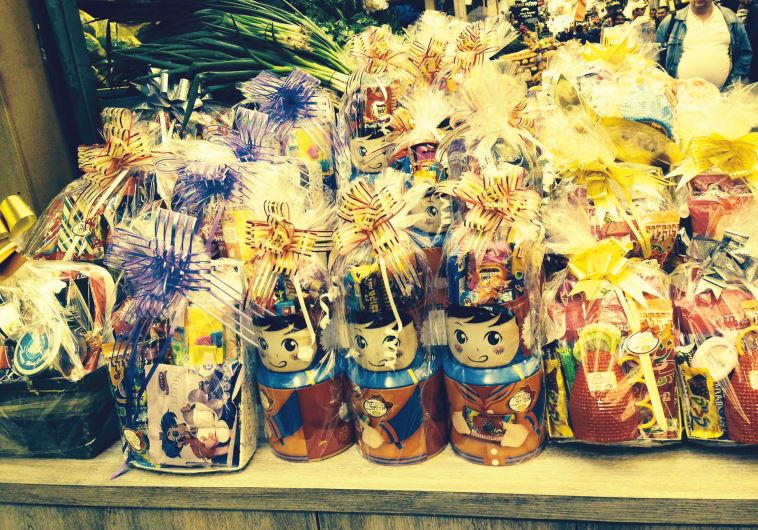 NOT RECOMMENDED
English Cake
English Cake came out decidedly in the middle of the pack, with offerings that were neither delicious nor horrific.They were slightly larger than average in size but generously filled, though the dough was a bit thick in places and a touch chewy. The nut filling was authentic and tasty, without being too sweet. The chocolate was not particularly tasty, and the varieties on offer – chocolate, nut, poppy seed, date and halva – were not particularly exciting.
NIS 70 per kg. Eight locations in Jerusalem
Nechama
Nechama's mass-produced hamentashen were just below average and not consistent in look or taste. The dough was crisp but too thick on some of the cookies and not on others.The flavor was largely bland, and the texture was somewhat dry and crumbly, in particular on the cocoa dough. The rosemary filling – the most intriguing option available – had no discernible rosemary taste. The halva managed to be dry and crumbly, and the chocolate tasted like it was straight out of a jar of spread. The plum jam was gummy and stretchy – not jam at all. The price, however, was just right.
NIS 42 per kg. 31 Kanfei Nesharim; 3 Sonnenfeld; 5 Yehezkel; 15 Tzeret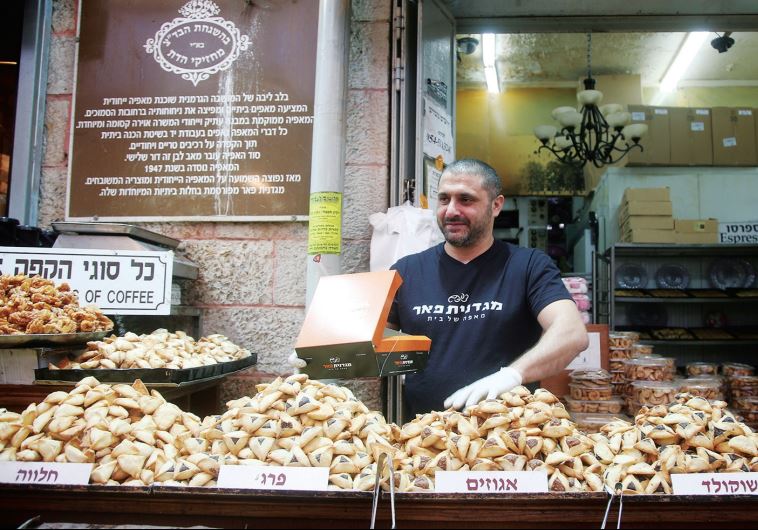 RUN IN THE OTHER DIRECTION
Marzipan
While Marzipan is best known for its gooey chocolate rugelach, the popular bakery also offers a wide variety of packaged cookies, including hamentashen (at least this month). You can only buy them by the container (one variety per box) in chocolate, poppy seed, marble, nut and halva flavors. The marbled cookie dough was a bit chalky and had an odd chemical taste. One taste tester said it had a "gluey aftertaste," and it certainly didn't taste like vanilla or chocolate. The texture was neither crisp nor soft but something undesirable in the middle. The filling was tolerable, not anything better.
NIS 17 per container or NIS 30 for two 44 Agrippas; 5 Rahel Imenu
Ne'eman
I never have high expectations for the Ne'eman chain, but since it's the most ubiquitous bakery in Jerusalem, I felt a sense of (perhaps misguided) obligation to sample its wares. My misgivings were only confirmed by its enormous, heavy, dry and uninspired hamentashen. None of the flavors – chocolate, poppy seed, date and chocolate-halva – were tasty, the ratio of dough to filling was way off, and the cookie itself was dry and crumbly.The cocoa-flavored dough was particularly unpleasant and heavy in the mouth; the chocolate filling tasted like it came right out of a jar; but the halva had a nice creamy texture. Since these aren't even the cheapest on the list, there's no real reason to darken its doorway.
NIS 69 per kg. 14 locations in Jerusalem
Pe'er
Once a larger chain, Pe'er now operates solely out of its Mahaneh Yehuda storefront. Sadly, its hamentashen offerings were neither cheap nor tasty. In fact, they garnered some reactions not printable in the pages of The Jerusalem Post from members of my tasting team. The dough tasted "very parve," one said, while another called it "disgusting" and "a little gluey." The chocolate and halva fillings were both deemed disappointments, lacking in both texture and flavor. Other offerings included coffee, vanilla- chocolate chip, poppy seed, date and nut.
NIS 75 per kg. 33 Etz Haim (in Mahaneh Yehuda)