US President
Donald Trump
concluded his lightening visit to Israel on Tuesday with a speech in which he did not mention moving the US embassy to Jerusalem, settlement construction or a Palestinian State. As part of his whirlwind trip to the Holy Land, Trump met Palestinian President Mahmoud Abbas in Bethlehem on Tuesday morning before returning to Jerusalem for a brief visit at Israel's Yad Vashem Holocaust museum and memorial. The American leader gave a concluding speech at the Israel Museum before departing the country for Rome in the late afternoon.
FOLLOW THE LIVE UPDATES:[2:49 p.m.] In Trump's final speech in Israel, he praised Jerusalem's diversity and vowed to stand with Israel in the global war on terror. "I am honored to be In the ancient city of Jerusalem to address the Israeli people and all people in the Middle East who yearn for security, prosperity and peace," he said. Jerusalem is a sacred city. Its beauty, splendor and heritage are like no other place on earth. What a heritage, what heritage. The ties of the Jewish people to this holy land are ancient and eternal. They date back thousands of years, including the reign of Kind David, whose star now flies proudly on Israelis' white an blue flag.""Israel is testament to the unbreakable spirit of the Jewish people," he continued. "From all parts of this great country, one message resounds, and that is the message of hope. Down through the ages, the Jewish people have suffered persecution, oppression, and... [others have] sought their destruction. ...I make this promise to you: My administration will always stand with Israel." This remark earned an additional handshake from Netanyahu.After reiterating that civilized nations must band together against terror, he said, "Israelis are murdered by terrorists wielding knives... Hamas and Hezbollah launch rockets into Israeli communities where school children... must run to the bomb shelters with fear but with speed. ISIS targets Jewish neighborhoods, synagogues... and Iran's leaders routinely call for Israel's destruction. Not with Donald J. Trump." At this, the rose to a standing ovation, as Netanyahu pumped his fist in support. "I like you, too," Trump said in response.

JPost reporter Herb Keinon analysis of Trump"s Israel visit

[1:47 p.m.] Trump signed Yad VaShem's guestbook in enthusiastic fashion."It is a great honor to be here with all of my friends, so amazing + will NEVER FORGET!" he wrote, with Melania adding her signature beneath her husband's.
דבריו של טראמפ בספר הזיכרון ביד ושם: "כבוד גדול להיות פה עם כל החברים שלי. לעולם לא נשכח!" (בני טייטלבוים) #טראמפ_כאן pic.twitter.com/ZqKh0GMrdg

— כאן ועכשיו (@kann_news) May 23, 2017
Meanwhile, the sister of holocaust victim whose album was gifted to Trump was moved to tears after Trump after the Netanyahus embraced her.
Sister of Holocaust victim moved to tears after replica of album she donated given to Trump and he+ Netanyahus embrace her #TrumpInIsrael pic.twitter.com/ojyvi7xwFS

— Tamara Zieve (@TZieve) May 23, 2017
[1:37 p.m.] After Trump, it was Prime Minister Benjamin Netanyahu's turn to take the podium.
In regards to the Israeli-Palestinian conflict, Trump was optimistic. "I had a meeting this morning with President Abbas and can tell you that the Palestinians are ready to reach for peace. I know you've heard it before, I am telling you, that's what I do, that they are ready to reach for peace. And by meeting with my very good friend, Benjamin, [I can say that] that he is reaching for peace, he loves peace, he loves people, he especially loves the Israeli people. Benjamin Netanyahu wants peace. Making peace will not be easy. But with determination, compromise, and the belief that peace is possible, Israelis and Palestinians can make a deal."He went on to reiterate America's stance against Iran's nuclear proliferation. "The US is firmly committed to keep Iran from developing a nuclear weapon and halting their support of terrorist and militias. So, we are telling you right now, that Iran will not have nuclear weapons."After reflecting proudly on America's support of Israel's military infrastructure, Trump again praised Jerusalem for its diverse religious population side by side, and ended his visit warmly: God bless the state of Israel, and God bless the United States."[2:45 p.m.] Trumps makes final speech at the Israel Museum in Jerusalem before leaving the country for Italy. Netanyahu opened by thanking Trump for his visit. "Over the years, Israel has had many friends, but Israel has never had and will never have a better friend than the United States of America," he said. "That friendship is reflected in the overwhelming support of the American people, strong bipartisan support of the US congress, and the support of American presidents, from Harry Truman to Donald Trump."He went on to condemn Monday's terror attack in Manchester, UK, adding, "President Abbas condemned the horrific attack in Manchester. Well, I hope this heralds a significant change. Because if the attacker had been Palestinian and the victims had been Israeli citizens, then the terrorist's family would have received a stipend, that is Palestinian law, that law must be changed." Netanyahu urged the watching world to press the Palestinian Authority to end their policy of rewarding financially the families of Palestinian terrorists. [2:11 p.m.] WATCH: While waiting for the US president to arrive in the Israel Museum, jpost reporter Tovah Lazaroff had a chance to interview one of his former rivals for the job, who turned into an enthusiastic supporter - Former Arkansas Governor Mike Huckabee. [2:06 p.m.] The next stop for President Trump is the Israel Museum, where he is set to deliver a significant policy speech wrapping up this leg of his foreign tour.
Netanyahu praised Trump for being the first American president who chose to include Israel on his first foreign trip. "We remember the hatred towards Jews that consumed a defenseless people, we pledge never to be defenseless again... Israel must always be able to defend itself, by itself, against any threat.Netanyahu also addressed Trump's speech in Bethlehem earlier in the day; "Mr. President, today you called the terrorists 'Losers.' I know you agree with me that we need to make sure that they continue to lose.[1:34 p.m.] In a statement following the ceremony at the Yad Vashem Holocaust Memorial, U.S. President Donald Trump called the holocaust a "savage crime against god and his children," and asserted that it is a "duty to mourn and honor every single life."Trump called Yad Vashem a "testament to the unbreakable spirit of the Jewish people."He went repeated the pledge to never again allow a holocaust to happen; "as long as we refuse to become bystanders to barbarians, then we know that goodness, peace, and justice will ultimately prevail."[1:15 p.m.] Trump and his family attend a memorial ceremony that includes singing by a local children's choir and the laying of a wreath on behalf of the US government.
[1:06 p.m.] After laying a wreath at the memorial, Trump is expected to deliver a statement. He will also be receiving a unique gift from the institution.[1:03 p.m.] US President Donald Trump Arrives at Yad Vashem Holocaust Memorial in Jerusalem.[12:48 p.m.] While waiting for the presidential convoy to arrive at Yad Vashem, Jpost reporter Tamara Zeive sets the tone:
Members of the press and security personnel arrived at Yad Vashem hours before the anticipated arrival of US President Donald Trump at 13:00. While Yad Vashem officials expressed disappointment that the brevity of Trump's visit would not allow time for a tour of the history museum, they also expressed gratitude that he had made time in his tight schedule to participate in a ceremony in the Hall of Remembrance. Noting that Trump's visit to the Western Wall was even shorter yet still powerful, chairman of Yad Vashem Rabbi Yisrael Meir Lau said the visit, expected to take about half an hour, was enough to make a lasting impression.
[12:40 p.m.] Ivanka Trump, in Israel with her father Tweets about Manchester attack.
We stand united with our friends in the UK, and our hearts and prayers are with the victims of this atrocious violence. #RoomForManchester

— Ivanka Trump (@IvankaTrump) May 23, 2017
[11:49 a.m.] After departing Bethlehem, President Trump is now on his way to Jerusalem. His next stop is the Yad Vashem Holocaust Memorial. [11:24 a.m.] Some early analysis by Jpost Diplomatic Correspondent Herb Keinon on Twitter.
Trump has made 5 public statements during trip. The phrase "2 state solution" has not yet passed his lips. #TrumpInIsrael #jpostontrump

— Herb Keinon (@HerbKeinon) May 23, 2017
[11:16 a.m.]
President Trump says he intends to do everything he can to help the sides reach peace. he said that both Abbas and Netanyahu promised to do all they can too. He added that he looks forward to working on lasting peace with these leaders. Trump characterized his meeting with leaders of the Muslim world and Arab nations in Saudi Arabia as an "epic gathering." He said that the US is on hand to make the dream of peace possible for Jewish Muslim and Christian children. He said that Israeli-Palestinian peace could pave the way to a larger peace in the region and the world.
[11:13 a.m.]
US President Trump condemns UK attack: "our society can have no tolerance for this continuation of blood shed." Trump says the terrorists and their supporters must be driven out of society and the ideology must be "obliterated"
[11:07 a.m.]
In his speech in Bethlehem, Abbas reiterates the Palestinian Authority's support for a peaceful solution to the Israeli-Palestinian conflict, but slams the Israeli settlements and Israel's refusal to recognize a state of Palestine.Abbas says the problem is not a religious one, but a problem with the "occupation."Abbas also raises the issue of the Palestinian prisoners, calling on the Israeli government to treat them "humanely."
[11:05 a.m.] Abbas offers condolences to the UK following last night's attack in Manchester[11:03 a.m.] Leaders beginning to deliver statements in Bethlehem[10:52 a.m.] INITIAL REPORT:

MDA Sharon Region received a report of a man who had been stabbed on Herzel street in Netanya. MDA EMTs and paramedics are treating a man in mild condition with stab wounds, and the attacker, who is in moderate condition after being neutralized.

[10:46 a.m.] WATCH: Not all the Children in Bethlehem are singing Trump's praises
Schoolchildren chanting for Palestinian prisoners Nativity Church. #TrumpinIsrael pic.twitter.com/UWxz4ZMn0M

— Eliyahu Kamisher (@Eli_DovBear) May 23, 2017
[10:40 a.m.] US President Donald Trump gets the royal treatment in Bethlehem, listening to the American and Palestinian national anthems alongside PA President Mahmoud Abbas. Thereafter, Abbas introduced Trump to a number of Palestinian political and religious leaders.[10:35 a.m.] WATCH: Jpost Correspondent Eliyahu Kamisher caught this protest going on in Bethlehem.
Prisoner protest at Nativity church #trumpinisrael pic.twitter.com/nOtHkH2YAk

— Eliyahu Kamisher (@Eli_DovBear) May 23, 2017
[10:31 a.m.] The Jpost Pocket Guide to #trumpinisrael can help you keep up to date with today's visit plan.
[10:25 a.m.] Protesters rallying for Palestinian prisoners' rights while Trump meets with Abbas in Bethlehem.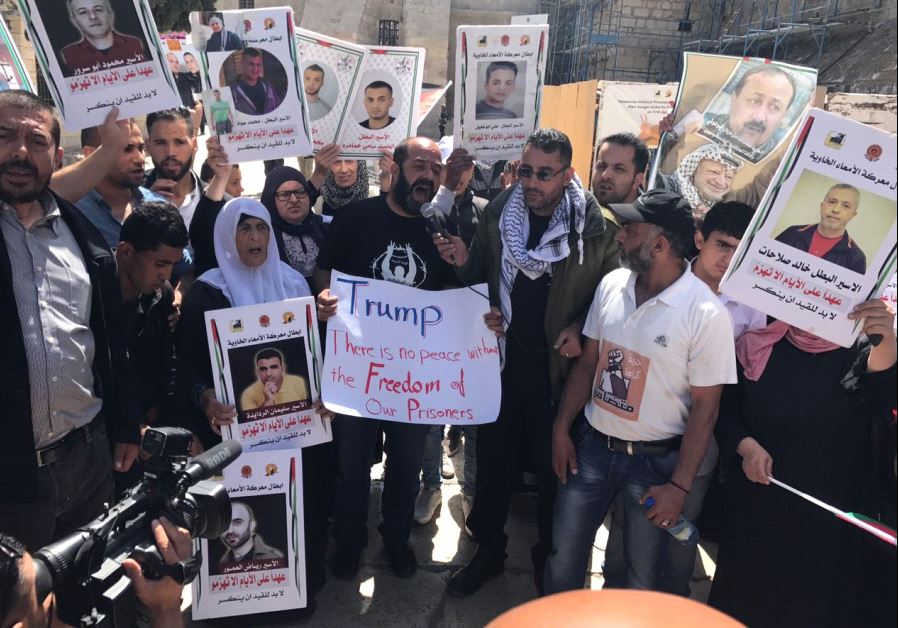 [10:19]

US President Donald Trump and PA President Mahmoud Abbas review the honor guard at the presidential palace in Bethlehem.
[10:12 a.m.] First Video from Trump-Abbas meeting in Bethlehem
#TrumpInIsrael The second day begins: Abbas and @realDonaldTrump shake hands as they start their meeting. Live >> https://t.co/PazUXqxwN0 pic.twitter.com/RsGNgRJK7k

— חדשות 10 (@news10) May 23, 2017
[10:06 a.m.] Jpost Correspondent Seth Frantzman asks about Trump's view from the motorcade
As #Trump meets #Palestinians in #Bethlehem he will be close to the symbolic wall, Israel's security fence; #jpostontrump; will he see it? pic.twitter.com/HIj5po8Ivr

— Seth Frantzman (@sfrantzman) May 23, 2017
[9:59 a.m.] Jpost correspondent Adam Rasgon reports live from Bethlehem
Trump arrived in Bethlehem in a motorcade of some 60 cars. They convoy passed along the main road that connects Jerusalem and Bethlehem to the Palestinian Authority headquarters in Bethlehem. About 700 elite American-trained Palestinian presidential guards were protecting the road, with about 2,000 officers in total present. In the main intersection of the city, about 100 Palestinians were observing the arrival of the President's convoy.
[9:54 a.m.] Trump's motorcade enters West Bank City of Bethlehem.[9:50 a.m.] Ahead of the US president's meeting with Palestinian Authority President Mahmoud Abbas, Jpost Correspondent Tovah Lazaroff asks Will Trump Speak of Two States in Bethlehem?
[9:40 a.m.] Trump heads from Jerusalem to Bethlehem to meet with Palestinian Authority President Mahmoud Abbas
CLICK HERE to join the Jerusalem Post reporters in the conversation on Twitter #TrumpinIsrael Tweets