Thousands streamed to the Peres Center for Peace in Jaffa Saturday evening for the shiva for Shimon Peres, who was buried Friday on Mount Herzl in Jerusalem in the presence of presidents, ministers and royalty representing more than one-third of all the countries in the world."Since his death, we have been wrapped in mourning, and feel that it is not just ours, but belongs to all the people of Israel," Peres's youngest son, Chemi, said. "The love and support we have received from the citizens of the State of Israel and the leaders of the world envelops us and soothes our deep pain."Because of the Rosh Hashana holiday, the traditional seven-day shiva period will be shortened to only one.
President Reuven Rivlin, Prime Minister Benjamin Netanyahu, US President Barack Obama, former US president Bill Clinton, and novelist Amos Oz were among those who delivered eulogies at Peres's funeral. His three children – who also each spoke of their father – recited Kaddish.Palestinian Authority President Mahmoud Abbas, the highest-ranking Arab official at the funeral, sat in the front row listening to these comments. Obama, at the beginning of his remarks, did something that none of the other speakers did: acknowledge Abbas's presence."President Abbas's presence here is a reminder of the unfinished business of making peace," Obama said.Netanyahu said, "Shimon Peres, merited not only a long life, but also a purposeful life. He was an active partner in the revival of the Jewish people, holding the Sword of David in order to defend it. Shimon worked tremendously to ensure our power to defend ourselves for generations and for that he will have gratitude for generations. At the same time, he did everything he could throughout his later years to achieve peace with our neighbors." Netanyahu recalled a late night conversation he had with Peres during which they debated what should be the focus for Israel: security or peace.Netanyahu said Peres argued passionately that peace is the real security, while he argued the opposite – that in the Middle East security is a necessary condition both for achieving peace and preserving it. With time, Netanyahu said he came to the conclusion that they both were right."In the stormy Middle East where only the strong survive, peace will not be achieved except through the continuous preservation of our strength – but the purpose is not strength and power, it is a means," he said. "The purpose is existence and coexistence, progress, prosperity and peace, for us, for the people of the region and for our Palestinian neighbors."
Obama, in a soaring eulogy during which he traced Peres's journey and compared his dreams and leadership to the situation in the region today, weighed in on the Netanyahu- Peres debate about whether peace or security comes first."I don't think he was naïve," Obama said, referring to one of the oft-heard criticisms of Peres, "but understood from hard-earned experience that true security comes from making peace with your neighbors."Obama cited Peres as saying that Israel had won all of its wars, but had not yet achieved the greatest victory it sought: "release from the need to win victories."Obama, who spent 22 hours aboard Air Force One to spend six hours in Israel in order to pay respects to Peres, said the former president believed that "Israel's exceptionalism was rooted not only in fidelity to the Jewish people, but to the moral and ethical vision – the precepts of his Jewish faith. "'The Jewish people wasn't born to rule another people,' he would say. 'From the very first day, we are against slave and masters,'" he quoted Peres as saying. "Out of the hardships of the Diaspora, he found room in his heart for others who suffered. He came to hate prejudice as one who knew how it is to be its target."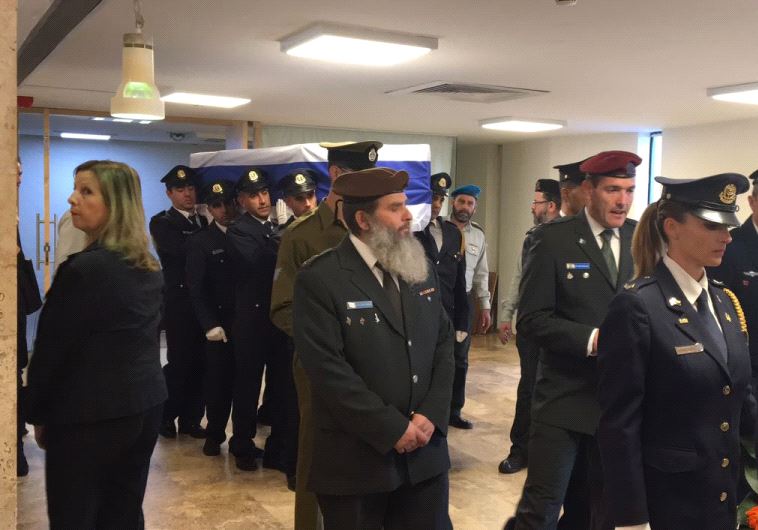 (The remains of Shimon Peres on his way to Mount Herzl from the Knesset. Photo: Courtesy)
Peres, Obama said, understood even in the face of terrorist attacks and repeated disappointments at the negotiating table that "as human beings, Palestinians must be seen as equal in dignity to Jews and, therefore, must be equal in self determination."Netanyahu shook hands briefly with Abbas before the ceremony, with the Palestinian leader caught on video saying that it was a long time since they last met, and Netanyahu replying: "I appreciate your coming here."The two last shook hands and met briefly at the Paris Climate Conference in November.
(Funeral procession of Shimon Peres. Credit: Knesset Spokesperson)
During his eulogy, Netanyahu said it was no secret that he and Peres were political rivals."But over the years we became friends, even good friends."He remembered that the first time they met was 40 years ago when Peres – as defense minister – delivered a moving eulogy for his brother, Yoni, who fell in the Entebbe rescue.
(Funeral procession of Shimon Peres. Credit: Knesset Spokesperson)
"Dear Shimon," Netanyahu said, showing emotion."You told me that one of the few times you shed a tear was when you received the bitter news of my brother, Yoni's, death at Entebbe. You cried then, Shimon. I cry over you today. I loved you. We all loved you."
(Former US President Bill Clinton. Photo by: Marc Israel Sallem)
Clinton, who worked closely with Peres during the Oslo process when he was president and Peres was foreign minister, and also for the seven months when Peres served as prime minister following the 1995 assassination of Yitzhak Rabin, lauded him as someone who "started off life as Israel's brightest student, became its best teacher and ended up its biggest dreamer."