In view of a legion of television cameras and photographers and a country holding its breath, the unthinkable on Monday finally happened.A few minutes before 10:00 a.m., Ehud Olmert walked into Ma'asiyahu Prison in Ramle to become Israel's first former prime minister ever to go behind bars.His prison sentence is set to run for at least 19 months, but depending on various potential appeals could run as long as 27 months.Just hours before he was due to begin serving his sentence, a grim and chastened-looking Olmert released a videotaped statement to the press professing his innocence of bribery and corruption charges.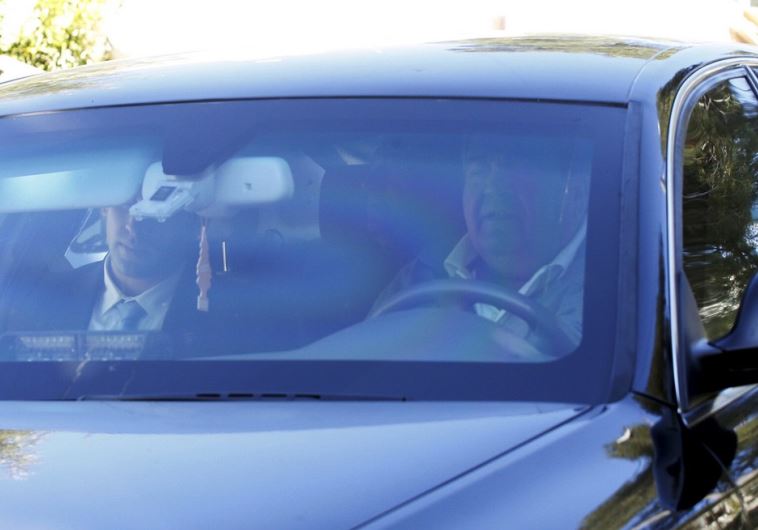 (Former prime minister Ehud Olmert is seen inside a car as he leaves his house in Jerusalem to enter Israel's Ma'asiyahu prison. Reuters)
"At this hour, it is important for me to say once again that I am innocent of charges that I took bribes," Olmert said in the clip. "None of the charges stemmed from the time during which I served as prime minister." Olmert said his sentence "is an unusual, serious event that shows the strength of Israeli democracy."The former prime minister hinted in his statement that he was the victim of a prosecution that was eager to remove him from office, saying, "My case snowballed for reasons that were not related to legal considerations."The former mayor of Jerusalem acknowledged "making mistakes," though he added, "they were not of a criminal nature" and that he was "paying a heavy price, may be too heavy."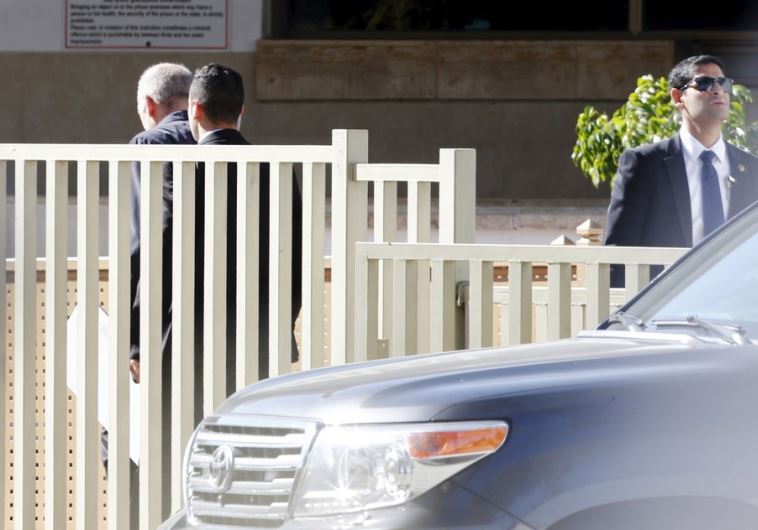 (Former prime minister Ehud Olmert (L) enters Ma'asiyahu prison near Ramle. Reuters)
In a clear play to shape his legacy, Olmert also referred to his role in safeguarding the country's security. In past presentations to the courts, he has declared his view of his accomplishments as head of government: pushing closer than ever to peace with the Palestinians, obtaining a mostly quiet border with Lebanon through IDF actions during the 2006 Lebanon War, and bombing and stopping the Syrian nuclear weapons program.Olmert will stay in a special wing of the prison with extra security outside of his cell at all times, although the Prisons Service says it is taking over his security from the Shin Bet (Israel Security Agency). Only heavily screened inmates reside in his wing.Some of the approved inmates include other defendants from the Holyland case, which is responsible for 18 months of his jail time. Hillel Cherny, the mastermind of the Holyland Affair, entered Hermon Prison in the North on Monday, but the others involved, businessman Avigdor Kelner, former Bank Hapoalim chairman Dan Dankner, developer Meir Rabin, deputy mayor Eli Simhayof and municipal engineer Uri Shitrit entered Ma'asiyahu Prison to join Olmert.Notably absent was former Jerusalem mayor Uri Lupolianski, who was given a reprieve from prison for health reasons, despite a bribery conviction that would otherwise have carried prison time.Olmert also has a separate area for eating, medical and other activities from the majority of the inmates.Yet other than these measures designed to protect Olmert physically and to protect state secrets by preventing him from being in a position where other inmates could try to extort information from him, the Prisons Service has said he will mostly be treated like other prisoners.That means he is allowed seven books, a television with limited channels, a DVD player, a pillow from home and a few other basic amenities, but will face many of the heavy restrictions of prisoner life, such as "lights out" at set times.He entered prison as a result of his Holyland conviction for bribery from March 2014 and his 18-month sentence, which was reduced from an original sentence of six years by the Supreme Court in December.That conviction related to a request by Olmert to investor Shmuel Duchner for NIS 60,000 for his benefit through his confidantes Shula Zaken and Uri Messer.At the same time, by a 4-1 vote with Justice Salim Joubran dissenting, the Supreme Court tossed Tel Aviv District Court Judge David Rozen's conviction of Olmert on the larger conviction for Olmert having allegedly requested that Duchner give NIS 500,000 to the former prime minister's brother, Yossi Olmert.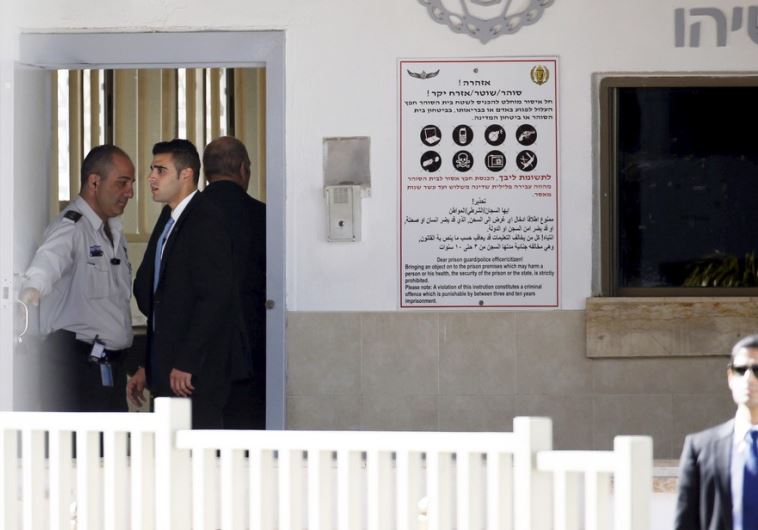 (Former prime minister Ehud Olmert (2nd R) enters Ma'asiyahu prison near Ramle. Reuters)
The Holyland trial involved 16 defendants, 13 of whom were convicted of participating in the biggest bribery scheme in the state's history, including eight (along with Olmert) sentenced by the Supreme Court.Most of the defendants were powerful Jerusalem public servants who took bribes to smooth over legal and zoning obstacles for the Holyland real estate project in southwestern Jerusalem.Whether Olmert serves only 18 months or 27 months depends on two other sentences, a one-month sentence handed down last week by Jerusalem Magistrate's Court Judge Avital Chen and an eight-month sentence handed down in by the Jerusalem District Court in the Talansky Affair retrial in May.
(Former prime minister Ehud Olmert (C) enters Ma'asiyahu prison near Ramle. Reuters)
Chen's one-month sentence shocked the legal establishment last week, when he tossed a key part of the prosecution's plea bargain with Olmert and sentenced him to the additional jail time in the secret tapes saga. In contrast, the prosecution had supported a six-month sentence for Olmert, where the six months run concurrently with the 18-month Holyland sentence, so that he actually would still only serve 18 months.Olmert can still appeal the extra month, but his lawyers were cagey about whether they would start a new legal fight over a mere 30 days added on to 18 months, and there have been no further public statements to suggest an appeal was on the way.Separately, he has appealed the eightmonth sentence in the Talansky Affair retrial.The Talansky case consisted of Olmert illegally receiving, using and concealing at least $153,950 in envelopes from New York businessman Morris Talansky between 1993 and 2002.The Talansky Affair retrial came out of the state's appeal of Olmert's July 2012 acquittal in the original trial to the Supreme Court, with the Supreme Court sending the case back to the district court for a retrial in summer 2014.A Supreme Court order for a retrial of these cases came after shocking new recordings emerged last year suggesting Olmert may have been illegally plotting with his former aide of 30 years, Shula Zaken, regarding the handling of his original trial.