While Jamaica is known for its white sandy beaches, blue crystalline waters and rhythmic music ranging from reggae to dancehall, the Caribbean island country is also steeped in centuries of Jewish history.Jews from Spain and Portugal first arrived in Jamaica over five centuries ago.Ashkenazim from England, Germany and Eastern Europe followed. During the 1800s there were approximately 3,000 Jews living on the island.
THE PLOT, once known as the Salt Pond Road cemetery, is located on the periphery of a small informal community called Dallas, after the nine local workmen from Dallas who happened to live beside the cemetery."Some of these tombstones saw light for the first time in centuries," Henriques says. "It's been amazing seeing the results. We discovered graves with Jewish surnames like Levy as well as Sephardi names like Andrade."One of the oldest tombstones discovered commemorates Leah Adolphus, who died on December 20, 1796, the infant daughter of Simon and Sarah Adolphus.There are notable figures buried there, too. The only tombstone to remain in excellent condition is a white marble headstone erected 130 years ago, with the inscription "Sacred to the Memory of the Honorable Emanuel George Levy."Levy, who died on September 19, 1886, was a former acting custos (a representative of Queen Victoria of England) and the first member of the legislative council for the Saint Catherine parish, of which Spanish Town is capital.A special rededication ceremony was held for the Jewish cemetery in late January.All those who assisted in the restoration project were invited, including the great-grandson of Jews buried in the cemetery. According to Henriques, the man, now a born-again Christian, was thrilled to discover his great-grandfather was buried in the cemetery."Just seeing the inscriptions intact after all these years was exciting for both him and his wife."Local newspapers in Jamaica have run stories on the project, which is financed by private donors. The president of the Jewish American Society for Historic Preservation, Jerry Klinger, recently visited, as did the chairman of the board of the American Jewish Historical Society, Sidney Lapidus, and his family."I think it is an important message for us to send out – we are showing how we respect our ancestors. It is a standard for all Jamaicans to achieve, to be able to respect the ancestors of this island and maintain our cemeteries," Henriques says. "This is a testament to our faith and ancestral pride."The next phase in the White Church Street Cemetery restoration project, once the site is landscaped and properly fenced, will be to catalogue and inventory all the Jewish graves.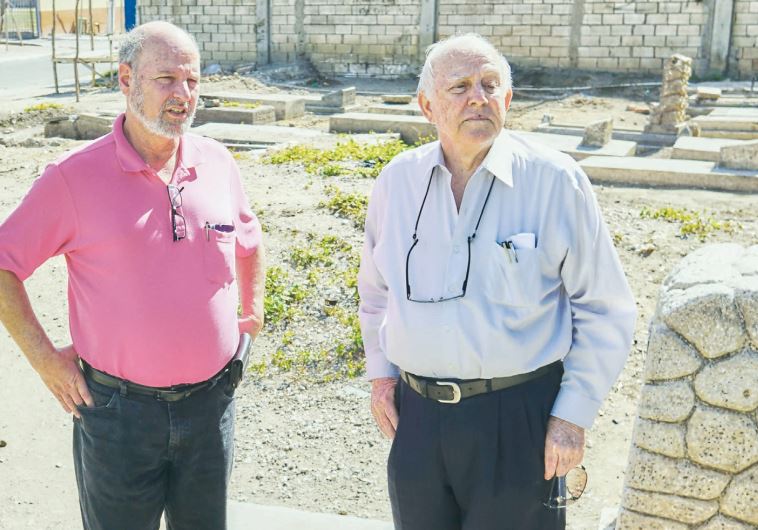 TOGETHER WITH Rachel Frankel, vice president of the nonprofit International Survey of Jewish Monuments, Henriques has been cataloguing graves in the island's 13 remaining Jewish cemeteries for the past nine years. Nearly a decade ago, he asked Frankel, a New York architect who had previously documented Jewish cemeteries in Suriname on the northeastern coast of South America, for help.Through the Caribbean Volunteers Expedition program, Frankel has been leading volunteers, including academics and other researchers, on cataloguing missions."The White Church Street Cemetery will be catalogued next year by an international group of volunteers, once the entire cemetery has been restored," Henriques elaborates.This particular effort to catalogue the White Church Street Cemetery will entail GPS readings, measuring distances between graves, photographing, translating inscriptions, digitizing the information, and eventually making the information accessible to the wider public.Although Henriques, a genealogist who serves as the chairman of the Jamaican Heritage Trust, does not have any family members buried in the White Church Street Cemetery, he is thrilled by what has been uncovered."These tombstones encompass so much history that is part of the rich Jewish history of the Caribbean," he says.Much of his research on the Jewish tombstones and genealogy of Jamaican Jewry has shown that the Jewish islanders lived comparatively longer lives than other Jamaicans.He believes this was due in part to the fact that much of the Jewish population "did not drink or do drugs."The first cemetery that he arranged to clean up several years ago was Hunt's Bay – whose graves had been looted for construction or destroyed – the oldest Jewish burial ground in Jamaica, predating the founding of the island's capital, Kingston. The oldest Jewish grave in Hunt's Bay dates back to 1672.Some of the gravestones feature skulland- crossbones carvings; some are inscribed in a blend of multilingual epitaphs – Spanish or Portuguese, as well as Hebrew and English – as are many Jewish graves on the island. Closed for burials in the early 1800s, today the Hunt's Bay Cemetery is a Jamaican National Heritage Trust site.Since the inventory project began in 2007, around 1,000 Jewish graves and tombstones have been unearthed and restored across the island."I'm not a city boy," explained Henriques, 77, who spent his childhood on a banana plantation about 70 km. from Kingston."I grew up in a Jewish family, but we weren't overtly Jewish."His surname is a Christianized version of a Jewish name that his family had prior to the Spanish Inquisition as was common practice among many of the Spanish and Portuguese Jewish refugees, to Christianize their Jewish surnames to deflect attention from their Jewish identity.After completing school in Jamaica, Henriques went on to study agriculture in England and lived in London with an Orthodox Jewish family."I wanted to be an agriculturalist, but my mother wanted me to be a rabbi. There was no yeshiva on the island – fortunately," he jokes.Henriques's family descends from Spanish and Portuguese Jews who came to Jamaica via Amsterdam when the island was taken over by the British in the late 17th century."There are a lot of Henriques in the Caribbean, but today many of them are no longer Jewish," he points out.HE RETURNED to Jamaica, got married and farmed on the family's banana plantation for eight years until he and his wife relocated to Kingston, and he became heavily involved with Jewish life. His mother, who will turn 100 this year, still lives on the plantation."My mother will not leave what is left of the banana plantation," says Henriques."She walks without a cane, reads without glasses and her mind is sharp as a tack."While many of Jamaica's young Jews have moved to North America, including the three Henriques daughters – for the greater educational and economic opportunities available there – Jewish life is still maintained in the capital.Henriques estimates that 100 to 200 Jews live in Jamaica today. He knows of four people who have made aliya.The last active synagogue left in Jamaica, (which once had at least eight), is the historic Shaare Shalom, also known as the United Congregation of Israelites, in Kingston, where prayers are recited in Spanish, Hebrew and English. Of the island's 21 Jewish cemeteries, only one is still in use."We still keep Jewish life going, we still have a synagogue and hold services every Shabbat, and celebrate the Jewish holidays, but just barely."But for Henriques, documenting the Jewish past of his island, while continuing Jewish life in the present, is his most important mission."There are still more graves to be found," he says. "To be able to find tombstones that go back to the 17th century is always a 'wow' experience for me.""A tombstone is a depository of history and information," notes Henriques."One grave can tell a tremendous number of stories, and imagine how much more an entire Jewish cemetery. I want these stories to be shared onward and not to be forgotten."
Today, as the island's Jewish population continues to dwindle, Ainsley Henriques, a Jewish community leader in Jamaica, has been working to preserve the island's unique Jewish past.Henriques, whose family has lived in Jamaica for over 250 years, is at the head of efforts to catalogue and preserve Jamaica's 13 remaining Jewish cemeteries, many of which have suffered neglect due to political turmoil, crime and natural disasters.His latest project is the old Jewish cemetery on White Church Street in the city of Spanish Town. The cemetery, the second of three Jewish cemeteries built in that area, was founded in the 1700s and, until recently, served as a junkyard."Local residents would walk by the cemetery each day and children would play in the area, unaware that just inches beneath the ground lay Jewish graves dating back to the 18th century," Henriques, says, speaking in the Jamaica islanders' musical tones. "Only two tombstones stuck out among all the dirt and junk."During the last couple of months, local workmen have been unearthing the graves and removing truckloads of dirt from the site, which is surrounded by rusting zinc fences."We have excavated 15 or 16 graves so far," Henriques explains, noting that, according to published records, the graveyard is home to some 50 tombstones."I've known that there is a Jewish cemetery there for a number years," he says. "I thought that all we would need to do is simply clean off the surfaces of the tombstones and that would be enough to find all the stones."But the cemetery's derelict condition required much more than a quick fix.There were tombstones that had been destroyed either by vandals or craftsmen searching for material to carve bookends and figurines, he said.Weeds and growth had to be cleared away in order for ancient slabs with Hebrew and English inscriptions to be seen. Some of the tombstones appeared inches beneath the ground, next to the sidewalk.