Limmud FSU founder Chaim Chesler is a ball of energy that never deflates. It's a beautiful day in Kazan, a medium- sized Russian city 800 km. east of Moscow, and at the 100th anniversary of the city's only synagogue, Chesler is happily dancing to the klezmer tunes marking the day's events.Earlier, he had helped moderate an interfaith roundtable between leading religious figures, politicians and academics in this the capital city of the Republic of Tatarstan. And over the next three days, he'd been in and out of lectures at the city's first Limmud FSU conference.He's been singing and dancing during Kabbalat Shabbat, havdala, at the headlining concert of renowned Israeli singer Hanan Yovel, and partying into the late hours at a raucous musical event featuring Israeli and Russian artists.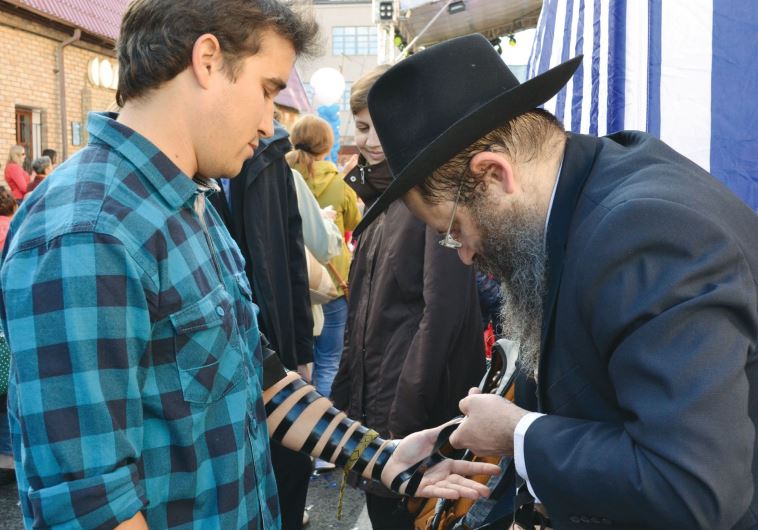 Limmud FSU is an offshoot of the original British-based Limmud, run as a conference of lectures spanning education, culture, history and art, organized and run by volunteers.Starting a Russian-speaking Limmud was vital, Chesler explains, because Russian Jews weren't attending other global events. When the idea formed to begin one with a focus on Russian language and culture, this was a breakthrough. "We took them to England to the mother ship, they saw it and they got excited and they said this is what they want, something of their own."While the first Limmud FSU took place in Moscow, it is now is global for Russian-speaking communities in the US, Canada, Israel, Belarus, Moldova and Ukraine. Some of the nearly 500 attendees came from Moscow, Israel and the US, but most came from the Urals-Volga region, which comprises the cities of Samara, Saratov, Nizhny Novgorod, Chelyabinsk and Yekaterinburg."Kazan is the third most important city in Russia," Chesler said. "They have 10,000 Jews and live in a majority Muslim and Christian republic. But they're all living in harmony and it's a great example."For many, the conference – and their connection to Judaism in general – is about fun. In Kazan, it's cool to be Jewish.With brightly colored buildings, wide avenues and cobblestone streets, Kazan is a beautiful city. Tatarstan is a small autonomous region. The indigenous Tatar people have their own language and culture, but the republic prides itself on its diversity of peoples and nationalities. Today it is about 50 percent Tatar and 50% comprising hundreds of ethnic groups.Kazan is at once isolated – with little to no English spoken or seen on street signs – but at the same time gaining traction as a popular destination for sporting events and tourism. This summer it hosted the FINA (International Swimming Federation) World Championships, it has popular and renowned soccer, basketball and women's volleyball teams, and in 2018 it will be one of the cities hosting matches for the FIFA (Federation Internationale de Football Association) World Cup. The city's main attractions are its former Kremlin and the megalithic Qol Sharif Mosque, originally built in the 16th century. Today, it is a UNESCO World Heritage Site.Ekaterina Zeuva, 31, is a professor of English literature at Kazan University.She describes herself as a quarter Jewish, explaining that her mother is half Jewish and her father is Catholic. She loves Kazan and wants to encourage more people to visit."It is the greatest example of tolerance and people living together… that is what I like mainly about Kazan, that we never had problems." Zeuva adds that even in the 1990s, when there were more separatist and nationalist movements committing acts of violence, the government in Tatarstan managed to keep the peace. "We had some Tatar radicals, but they stopped them, and since then we never had such problems."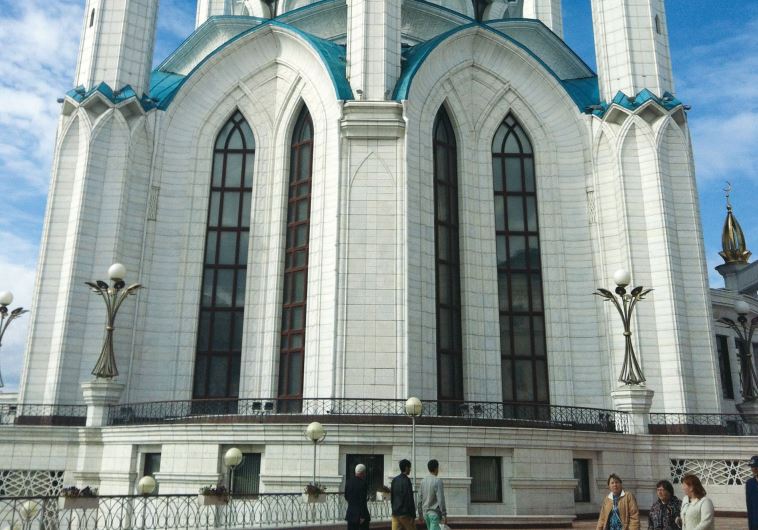 She best explains this with a story: "My mom has a friend whose father was a Polish Jew, who ran away when the Nazis came. He moved to the Soviet Union but wasn't allowed to live in a big city. So he settled in a small village near Kazan. His name was Chaim but everyone called him Maxim because it's more familiar in the Tatar language."When he was older and close to death, the head of the village came to him. The problem was that in this village there was no Russian cemetery, just a Tatar cemetery. The village elder said, 'Don't worry, Maxim, we feel like you are one of us and we will bury you here.' So in this Tatar cemetery, there it is written in Tatar, on this tomb, 'Grinbaum, Chaim, son of Aaron.' I think it is the greatest example of tolerance and people living together."Volunteering as an English-to-Russian translator for the conference, Zeuva says she developed her Jewish identity through her extended family."My great-grandmother was part of a big Jewish family. She did a lot for me, and I felt a lot of gratitude to her and to my other Jewish relatives. Because of that, I have lots of relatives in different parts of Russia and Europe also. The spirit of family brings us together."Zeuva has white-blonde hair, blue eyes on a round face with a pixie nose. She says that she doesn't feel she looks Jewish from the outside, but feels Jewish inside. "I am happy to feel part of this community.I'm really proud to be Jewish."At the interfaith meeting, the deputy to the president of the Republic of Tatarstan, A.M. Tarnatiyev, said Tatarstan's emphasis on national unity rather than ethnic divisions is the key to its success."Religion should be separate from state, but not from society," he said, adding that when a person is part of a spiritual community, it manifests itself in being active in social service. "We learn from each other, we support each other – that's the key to our success."Also speaking on the panel, the grand mufti of Kazan, Kamil Hazrat Samigulin, also spoke of the importance of national identity being separate from religious identity. He emphasized that Islam is a religion of tolerance and love and condemned the rise of Islamic State and radical, religious extremism throughout Europe.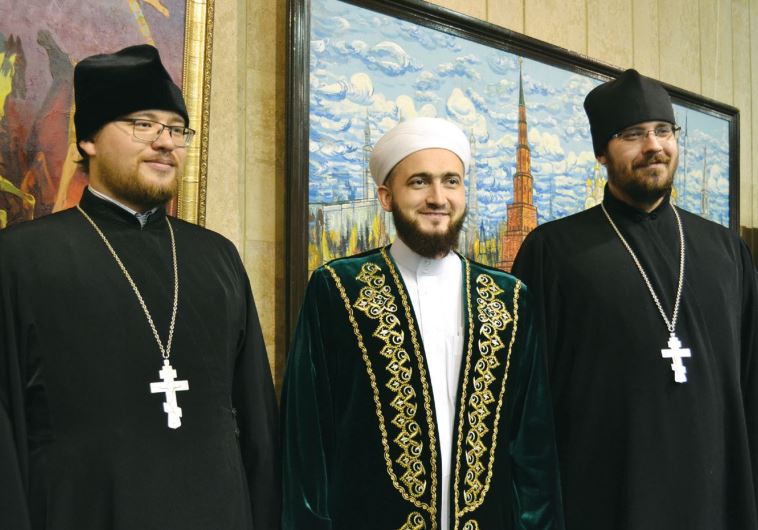 Later in the day, the mufti lent his support to the synagogue's rededication, sitting next to the chief rabbi of Tatarstan, Yitzhak Gorelick, and taking in Jewish cultural performances. Gorelick said this type of coexistence and tolerance is normal, but not to be confused with regular cooperation.A Chabad rabbi originally from Kiryat Malachi, Gorelick better explained himself with a metaphor. "The three religions, it's like we all own an apartment in the same building. We all live in the same space and take care of it, are friendly neighbors, but we don't have keys to each other's flats."Not far from the city's main shopping street, a small falafel shop – advertising "Israel's treat" in English – is packed. It's a good day for business, as down the street, Kazan's only synagogue is celebrating its 100th anniversary.Hundreds of people have gathered to watch the affixing of a mezuza and enjoy musical and theatrical performances.There's a positive atmosphere with blue balloons strung together in arches and stars of David.For Evgeniya Sontz, 32, being Jewish wasn't about being religious or being ethnically different, it was about being cool."As a student I was going on trips with friends to Poland, to Israel. It was a huge feeling of commitment and participating in something important," she said.Sontz is the daughter of Leonid Sontz, the former president of the Jewish community in Kazan, which found its way to the forefront more through the cultural underpinnings of the religion than the religion itself. Leonid played, and still plays, in a klezmer band credited with reviving the spirit and culture of the community.Under communism, all religious institutions were nationalized and the houses of worship became cultural centers for certain sectors of professions. The synagogue – the same building celebrating its 100th anniversary – was until 1996 a cultural center for teachers. In 1989, with the fall of communism and the beginning of Perestroika, Sontz and his Simha band started to gain a popular following with their brand of klezmer music.Evgeniya says that because there was a focus on a shared Jewish culture and history first, it allowed for a more open and pluralistic community to form. The synagogue was returned to the Jewish community in 1996, and the different streams of Judaism and Jewish culture that had been working in the city moved their operations to the synagogue without conflict.Sontz describes her Jewish upbringing as very involved. She sang with the children's ensemble and worked for, and then became leader of, Hillel. After university she was a press secretary for the community. She spent time in Israel studying in a religious women's seminary and was an ulpan teacher back in Kazan.Today she is a PR specialist dedicating her free time to the Jewish community.During Limmud FSU in Kazan, she helped organize different aspects of catering at the conference."It feels like participating in something important," she says. As much as she gives, she feels she gets even more back and is proud that Kazan is being recognized as a place to hold such a conference, inviting famous Russian Jews in the fields of art, literature, history and culture.At the synagogue's rededication, she said, she was constantly overwhelmed with emotion watching the culmination of all her father's hard work. "To see what my father did and it's still flourishing – it was one of the happiest days."Twenty seven-year-old Evgenia Brazielvsky has been active in Limmud for six months. She comes from the tiny city of Rezh, in the region ofSverdlovsk Oblast, one of the regions included in the Kazan conference. The capital, Yekaterinburg, is home to one of Russia's colorful and controversial figures – its mayor, Yevgeny Roizman. He is also Jewish, and Brazielvsky sighs a bit at the mention. He's more known for his hard stance on violently cracking down on the drug trade.Brazielvsky is sad that the area has a lot of tension and violence.There are 38,000 people in Rezh and Brazielvsky says the Jewish population is so small it consists of only five people. She works as a civil servant in the mayor's office for urban planning. She wants to become more involved in Jewish life.When asked what being Jewish is for her, she quickly gets emotional and takes a deep breath to think about what to say. "It's to understand your own cultural background, to understand who you really are. Maybe you get some answers to your questions, but then those bring more questions."Even some non-Jews got into the Limmud spirit. Tatiana Kolabinova, 39, came to the conference with her husband and two-month-old daughter."I think she is the youngest Limmud participant," she whispers.A secular Christian, she describes her fascination with Jewish culture as "amazing." Kolabinova is a university professor of Spanish and English. Her best friend, Olga Karasik, is Jewish, and the two collaborate on many university projects for students that combine language, culture and religion. They organized a joint day of Spanish and Jewish culture, which took place at the synagogue. Food, culture and holidays were explored in both the Spanish and Jewish context."I fell in love with Jewish culture," Kolabinova says of the event.Karasik, 37 and an associate professor in the department of world literature at Kazan University, says the Jewish community is more about culture than religion.As a child she was active in the youth organization Afifon (Hebrew for "kite") and says today the university has a center for Israel studies. Karasik explains that such a study center was able to open in Kazan because of the city's reputation for tolerance."When we speak about Jewish people, about Judaism, of course Israel appears. This tolerance allows us to speak about Israel."Popular Israeli musician Hanan Yovel was a fixture over the weekend, performing with the BeAlma Band at the synagogue's rededication and then presenting "A musical journey to Israel" early Saturday morning. His Hebrew storytelling had live, simultaneous Russian translation.The event culminated with a spirited performance Saturday evening with a set list dedicated to Rabbi Shlomo Carlebach and what would have been his 90th year.As one of the top Israeli performers here, Yovel accepts that many people attending the Kazan Limmud FSU don't know his name. Born in Kiryat Ono to Russian parents, he connects with Russian culture. He's traveled most of the eastern bloc of the former Soviet Union and says he feels like a shaliah, a Jewish emissary."Judaism for me is a culture," he says, describing a reverence for tradition, Zionism and the roots of Judaism."Without roots, you cannot grow."To the group that came to his morning presentation, Yovel told the story behind his song "Petah Lanu Sha'ar" (open for us the gate)."I didn't go to synagogue regularly when I was younger, because I was secular; but on Yom Kippur I would go with friends from the neighborhood to the synagogue. I can't explain why, but I remember myself standing out in the yard of the big synagogue, waiting for the shofar, waiting for the [Ne'ila] prayer 'Petah Lanu Sha'ar.' "In my childish head I was thinking, Who is in charge of this gate? Someone saying, 'Yes, you can come in; no, you can't.' Every time, I tried to imagine a face, and the only one I could see was my father's. He died when I was nine years old. So it's that, my father in heaven, and that's the song. I pray to him. Everyone has his idea about God." ■ The writer was a guest of Limmud FSU.
Kazan influenced the spirit of the conference as much as the conference attracted many to its liberal ideas of learning Jewish culture, history, art and education.As a region with a Muslim majority and the second-largest religion being Christianity, the city promotes itself as one of tolerance – all three religions have little to no problems. With the cooperation of the city government, the Jewish community and Chabad in Kazan, Chesler says he is pleased it all came together."What is important is not our ego but to reach more Jews and give them a message."