Every day, on the commute between his home in Jerusalem and his programming job in Bnei Brak, 31-year-old Yossi Reiss takes advantage of the opportunity to study Torah.Finding the will to study on the bus and work a full day on mobile app programming isn't easy for Reiss, an ultra- Orthodox Jew who only recently got into hi-tech.At the age of 29, with only a highschool education, he began a training program at Ravtech, an initiative to equip haredim with hi-tech skills and start them off with some work experience.
THE INTERNET filter and flexibility on leaving work in the office are important elements in the government's approach to integrating ultra-Orthodox workers, particularly men, into the labor force, a task economists say is crucial for Israel's long-term economic viability.One part involves getting haredim to want to work, making sure they have the right training and skills, and paving the paths they need to be successful in the labor force. The other involves building walls and barriers that will allow haredim to maintain their values and lifestyle, and provide them the comfort that they are not straying too far outside the box.It is no exaggeration to say that integrating ultra-Orthodox Jews (particularly men) and Arabs (particularly women) into Israel's labor force is one of the most pressing challenges the economy faces.According to Economy Ministry data, as of 2014, 82 percent of Israel's non-haredi Jews between the ages of 25 and 64 worked, an astronomically high figure relative to most advanced countries. But the overall average in Israel was 76.2%. Why? One big reason was Arab women, only 33.2% of whom work. The other was ultra-Orthodox men, who participated at a 45.2% rate.That already puts much of the burden of growing Israel's economy on haredi women, Arab men and non-haredi Jews, but the trajectory is even more troubling. Because Arabs and haredim have far higher birthrates, they are expected to become an ever-larger portion of the population. Non-haredi Jews, who overwhelmingly participate in the labor force, make up 75% of Israel's population in their age range. However, 55% of children today aged five to nine are from non-haredi families, so in another generation we can expect that to be the demographic makeup of the country.If we take participation rates that were in place in 2010 as a baseline, the demographic changes mean that only 64% of Israelis would be working by 2059.That's one reason the government – particularly the Economy Ministry – has been investing in programs to integrate minorities.Each community comes with its own sensitivities and problems, ranging from education to discrimination.Among haredi men part of the problem is that they value studying Torah full-time above working, and there is an extreme sensitivity to the idea that the government – which subsidizes their studies and pays for their welfare – will strip them of that right."If someone wants to learn all day, I think he should do it, no matter the consequences," said Reiss.As a result, the government has to tread carefully and ensure that it does whatever possible to prove to potential ultra-Orthodox workers that they there to help them make a living, not strip them of their lifestyle or encourage them to be secular."I think the most important thing is to respect their way of life," says Michal Tzuk, director of employment regulation at the Economy Ministry."We want to integrate haredim into the labor market, but we don't want to change them."Tzuk, who is in charge of the ministry's efforts to integrate minorities, started the efforts at integration in 2012 by developing best practices with the Joint Distribution Committee.For haredim, they have several initiatives.Ravtech, where Reiss works, receives wage subsidies from the ministry to help make their outsourcing work in programming competitive.Many of the Ravtech workers are graduates of NGO Avratech, which aims to fill the education gap for haredim, and receives some government subsidies for their teachers, though their budget is based on donations.Men who studied Gemara are trained for learning and creative thinking, "very high brain quality," says Ravtech CEO Vered Mor."They start from zero in general studies, meaning multiplication tables and ABCs. In three months, they get to matriculation level of people who've studied for 12 years," she says.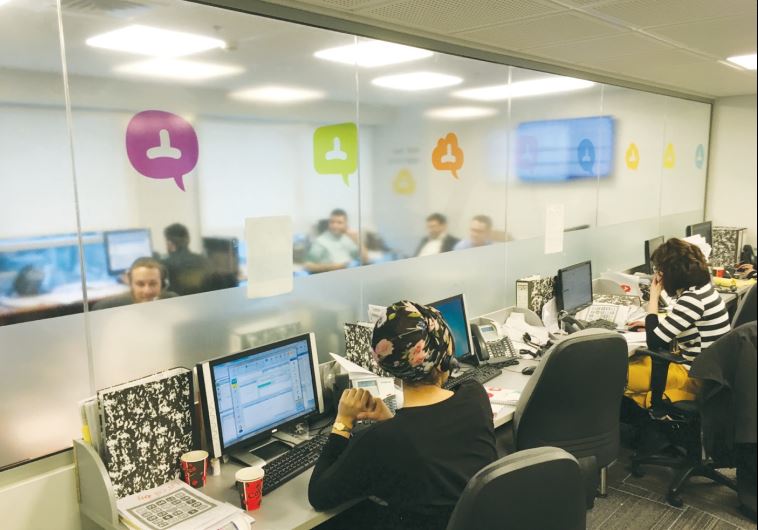 AT RAVTECH, the environment "gives a working home for haredi men who want to continue being Torah scholars, a place where they can use their unique skills to make a living in one of the most developed industries in the world."Ravtech's offices are designed for haredi sensibilities. There is a synagogue in the building, the kitchens are kosher, and the workers are all men.But some bristle at the notion that haredim need such an insulated work environment."[Employers] sometimes think they need to build a whole kosher kitchen and a synagogue where [haredi workers will] pray five times a day. You don't need to build a kitchen or synagogue, you just have to understand the culture," says David Schechter, who runs the Bnei Brak Employment Center.The center provides courses to help haredi men and women (on different days of the week) develop labor market skills, start businesses, and meet potential employers.One common obstacle for secular employers are concerns about how to accommodate religious workers.Shira Berliner, who focuses on haredi employment in the Economy Ministry, says companies have to ensure there are kosher food options, separate microwaves for dairy and meat and provisions to allow workers to take religious holidays off and make prayer time. It may also require getting comfortable with hiring several part-time workers (in lieu of full-time) to accommodate the haredi lifestyle, with its focus on prayer and children.But, Schechter says, some of these requirements are flexible. He is dedicated to clearing up the misperceptions of haredi needs."If it's a big open area, we ask for a section for men or women. If it's separate rooms, there's no problem," he says of the issue of men and women mixing in closed spaces. The kitchen doesn't even necessarily need special rules. "Everybody can bring their sandwich from home and it's fine."Even so, he notes, there is still suspicion in the community about joining the labor force."No rabbi would [officially] approve this center. We're doing this as best we can, working between the lines," he says.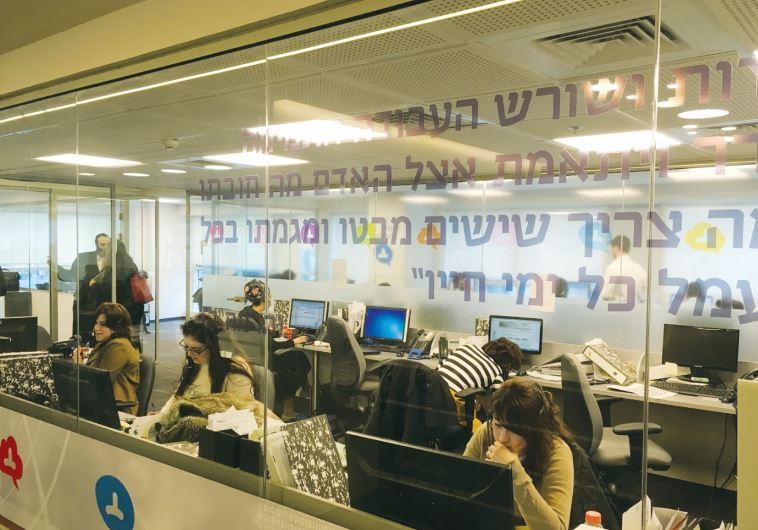 One company that has found a creative solution to the gender segregation problem is Kidum Plus.The website-building company, which has an almost exclusively haredi staff, gets around gender-mixing problems by putting in windows instead of walls. Without the concern of men and women being trapped alone in an opaque room, business can be conducted more easily. Still, the work spaces tend to divided into men's rooms and women's rooms. The window between a men's and women's workroom is strategically frosted, to ensure that members of the opposite sex do not provide untoward distractions from the next room.The newly launched haredi business center, operated by the Economy Ministry's Small and Medium Business Agency offices in Bnei Brak, employs a similar strategy, putting up large, aesthetically pleasing empty windows instead of walls. The agency, which provides a subsidized workspace, mentorship, and business education workshops on issues ranging from finance to marketing, houses several haredi start-ups.One man, Shlomo Noyfeld, pushed himself to the edge of his comfort zone as he learned how to expand his Judaica business online.The Noyfeld shop, founded by his father, Rabbi Shmuel Noyfeld, has been selling tefillin and mezuzot for 30 years, but Noyfeld Jr. wanted to increase their sales.Part of that involved learning good business practices, but part of it involved expanding their online presence. The business administration helped them overcome their fear and improve their website, which itself was an uncomfortable step for him."Among the haredi population, we are taught that going to Tel Aviv may not be the best thing, maybe you won't see the most modest women," he offers by way of example. "So when you tell a kid that's not old enough: 'Here, take a computer and mouse and start working,' the adults start to worry that he might surf to a place he shouldn't. I think even the general public understands that not every place is good for a child of 18 or 19."But the website was a success, and began a new wave of business. The store's sales expanded through Israel, and even abroad. They receive queries and send answers and fill orders via the Internet.However, when Noyfeld wanted to venture into Facebook, he found that he had crossed the line."I heard that there were plenty of businesses that opened a page and managed to sell a lot, so I asked someone who understands the field and we opened a page together, giving all the necessary information."Then I discovered that I'm sending a female customer a mezuza or an embroidered tallit and other things that I sell, and suddenly I see all sorts of photos that are associated with the customer herself. I see friends of her friends, and I see that many of the photos I'm seeing don't match the nature and the spirit of the shop," he says.His inability to censor Facebook content, ignore photos of women and stop unwanted associations led him to quickly shut down the page."I said wait, this isn't right for me. Money isn't everything," Noyfeld says.Sometimes, it's the barriers that make it safe to go forward as much as the road.
Though he grew up studying in a yeshiva, he felt he needed to do something else as well as study Torah."I consulted my rabbi and he gave me his blessing," he says.But even with the training, the skills and the talmudic teaching that helped sharpen his mind for programming – and the will to work extremely hard – even with the reluctant acceptance of his community, there is one persistent challenge that makes him nervous. It's the smartphone attached to his computer, the one he spends all day tinkering with, coding and testing."I know myself and I have an addictive personality, so I know if I had one of these," he says gesturing at the phone, "I don't know where it would end." Though it would be great to work from home sometimes, Reiss refuses to take the smartphone out of the office for fear of what he might discover. Indeed, the Internet in the entire Ravtech office has a "kosher" provider, which filters the Internet for unseemly or inappropriate content."It's tricky in our line of work, because without the Internet – in our line of duty – you can just go home," Reiss says. "It's good that the conventions keep me in place and remind me what I really want."