Hundreds of residents from the northern and central communities of Zichron Ya'acov and Neve Shalom were evacuated from their homes throughout Tuesday, as two brush fires – propelled by strong winds and arid conditions – spread perilously close to residences and schools.The largest fire, in the outskirts of the north's Zichron Ya'acov, began spreading shortly after 1 p.m., taking over four hours to contain, said police spokesman Micky Rosenfeld. Several homes there were badly damaged, with eight people treated for smoke inhalation.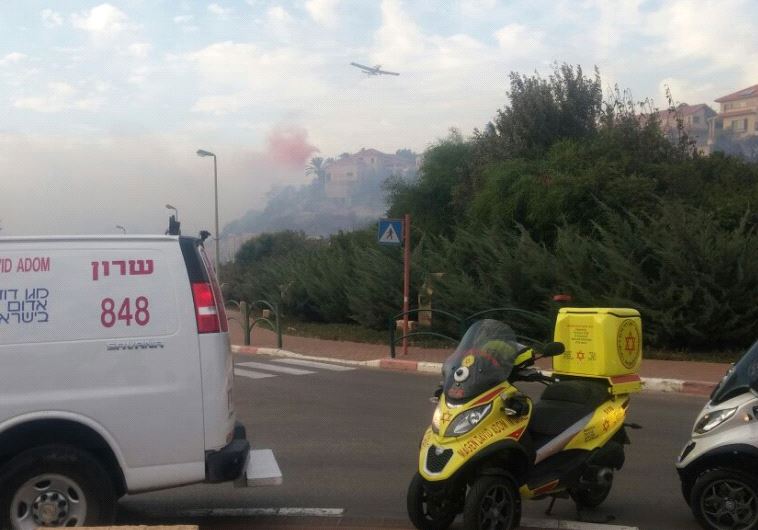 Meanwhile, 35 fire crews and six planes also dealt with another blaze that started in a field of the small central community of Neve Shalom, during the early hours of Tuesday morning, Rosenfeld said."At about 4 a.m., there was a fire there causing an evacuation of dozens of homes following a house-to-house search to prevent anyone from being injured," he said. "The fire was put out after about six hours, and no one was injured."None of the homes was damaged, he added, noting that schools there were closed for the day.
Jerusalem Post staff contributed to this report.
"There were 60-km. hour winds there and police immediately set up roadblocks and cordoned-off as much of the area as possible," said Rosenfeld."Zichron Ya'acov is located on a mountain, so the fire was rapidly spreading uphill in a very dry climate."As the fire quickly gained traction, Rosenfeld said several hundred residents from more than 80 homes on the outskirts of the city were evacuated, as more than 40 firefighting teams, 13 planes and a police helicopter battled the blaze."Four adults and four children were taken to Hillel Yaffe [Medical Center] by Magen David Adom paramedics in [good] condition [to be treated] for smoke inhalation," he said, adding that a command and information center for residents had been set up."For several hours, the different units continued to work to take control of the fire, resulting in traffic being diverted from [Route] 4 to [Route] 2, and other nearby roads, including the [Routes] 70 and 652, which are on the outskirts of Zichron Ya'acov, closed."While the blaze was not completely extinguished by early Tuesday evening, Rosenfeld said it was contained."Obviously, a quick response prevented a much larger-scale fire from taking place," he said, noting that police and fire teams applied valuable lessons learned during the deadly Mt. Carmel forest fire from 2010."We've opened an investigation and are looking in a number of directions to determine how this fire started," he said, although there were no signs of foul play.