Around seven years ago, something unexpected happened to a young Israeli musician and composer, something that seems to have changed his life. Nadav Vikinski read Slaughterhouse-Five by Kurt Vonnegut and has not been quite the same since.Now if you happen to be an American who came of age during the Vietnam War, you more than likely read this book, or tried to. For many, the somewhat challenging, disjointed, nonchronological voyage through the mind of one psychologically damaged everyman named Billy Pilgrim became an antiwar cult classic during the early 1970s. Combining history (World War II, the bombing of Dresden), psychiatry (post-traumatic stress disorder, disassociation, flashbacks and flash-forwards), science fiction (abduction to a distant planet by aliens called Tralfamadorians), literary allusions and antiwar politics, Slaughterhouse-Five is perhaps Vonnegut's most influential novel.The book has been about different things to different people. For Vikinski, it is mostly about trauma and its aftereffects.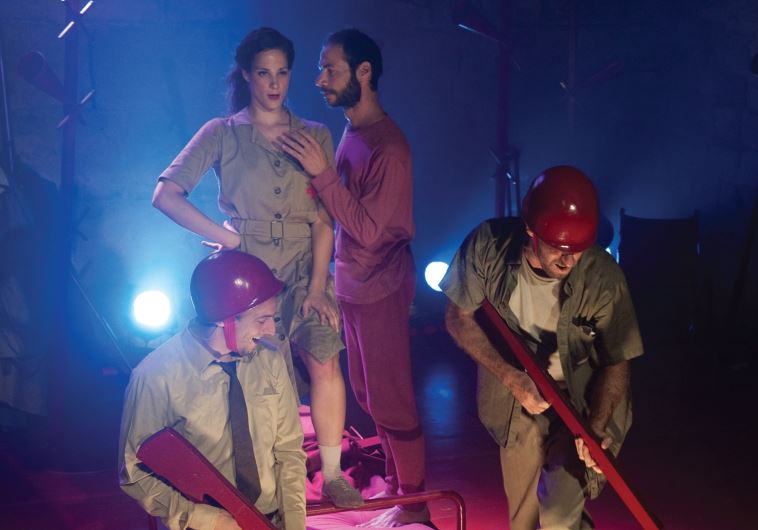 "I didn't know exactly why I wanted to get into this at the beginning, and why I wanted to compose it," he recalls. "When you make music, the explanations often come later. It was a feeling in my gut, but I didn't know why I wanted to get into it."So the reason why I wanted to compose is very complex. I understood it deeply after I composed the piece, and not at first. I think the book is dealing with war and postwar trauma in a very ironic and funny and fantastic way. "I couldn't understand at first why it was connected to me so deeply. I think I eventually understood that this was a very deep piece about being disconnected, about this process that a post-traumatic human being goes through within himself. Shutting himself inside a fantasy, disconnecting from one's own life. It's an issue that I'm dealing with, and the book was like a mirror for me. Here is a man who has a life, a family life, and yet has ways of disconnecting himself and running away."All three of the play's creators – composer Vikinski, playwright Lichtenstadt, and director Handelsman – are young Israelis in their 30s.Asked why an American novel so popular in the 1970s seems to resonate with them so intensely, Vikinski tells me, "I've met people your age who say that Slaughterhouse-Five was a big antiwar book in their youth. But there are also many young people in Israel who are very connected to this book – especially males who were in the army. I've met many men who told me that they read the book in the army. And it always goes with them.It's kind of a strange book, with a disconnected theme. But somehow it gets into the soul of many people that I know, in all generations."Says Lichtenstadt, "I think that this book affects my generation in Israel as much as it affected yours in the US. We live today in a global society. We can read a book about an American soldier fighting against Germany in World War II and it resonates with us in Israel today, because war is war, everywhere. And I think that the young generation in Israel responds to this book about war and postwar shock. This is a nation of post-traumatic stress disorder."
"I've met many people here in Israel who have read and really adored this book," adds Handelsman. "I think that in every family here we have at least one person with post-traumatic stress disorder. It's in every family here. It's very relevant to us. And we also have antiwar people here. Maybe not many, but we have them. Here in Israel, the whole atmosphere of the book is how we live. I think the whole nation of Israel is living in Billy Pilgrim's mind."If that is so, then one must ask whether this production of Slaughterhouse-Five is specifically about Israel and Israelis. Are the actors onstage intended to evoke specifically Israeli trauma and Israeli psychological responses? "I think it's about everyman," says playwright Lichtenstadt. "The characters onstage are definitely not just Israeli. At some point when we were trying to put this on a while ago, the manager of an Israeli theater told us that it has to be Israelis, with Israeli names, wearing IDF uniforms. We definitely did not want to do that because this is a universal thing." As everyone knows, some books easily lend themselves to re-creation in other genres, while others do not. Umberto Eco's The Name of the Rose, Vladimir Nabokov's Lolita, and Vonnegut's Slaughterhouse- Five are three examples of challenging novels that were made into movies, with varying degrees of success.Questioned about how easy or difficult it was to transform Vonnegut's novel into a rock opera, Handelsman explains, "It's an anti-dramatic book, by definition. To stage this book, one has to start a kind of 'dialogue' with Kurt Vonnegut. You cannot take this book and bring it to the stage as is. We had to do something that respects the book but says to Kurt Vonnegut, 'We think differently from you.'" Asked if she has the artistic right to do this, she replies, "Yes, I think so because we really took the book and brought its spirit to the stage. And the people who loved the show the most are the people who read the book. Those were the people we were most afraid of."Lichtenstadt adds, "There is no linear plot in the book, and we didn't want to create one. What we did do, in order to help people understand, was make a story line that bases the play in Billy Pilgrim's hospital bed. Billy is lying in his hospital bed, and we go back and forth from that place. We're based with him in his hospital bed, with the story lines in his head going from there."We try to follow the essence of the book, what Vonnegut was trying to convey. For us, it's not a story about a war. It's not about soldiers."
So what, then is the book about, as far as Lichtenstadt is concerned? "It's about living. About surviving. It's about surviving trauma, and how trauma affects your life in each and every aspect. It's about how trauma has a ripple effect on your life and the lives of people close to you, and how you have to deal with it."How, then, does one stage a play about trauma and post-traumatic stress syndrome, and how does one compose music that conveys what trauma feels like? Director Handelsman says, "The hardest and most challenging thing about this play, for me, was to find out how the post-traumatic brain lives. The stage is Billy's brain. So I decided to have all the characters on stage all the time. Because for me, they are in his head all the time."Each actor thus plays multiple roles on stage. Billy Pilgrim's wife is also a soldier in World War II. A hospital nurse is also the porn star Montana, with whom Billy spends time on the planet Tralfamadore.Each character triggers memories of another."This was the hardest thing for me, how to create these alternative worlds on the stage," she recalls.As for the music, Vikinski explains, "It was a very extraordinary experience to compose the music for this opera. It was a way for me to deal with the issue of being disconnected as a result of post-trauma."And the music reflects this in various ways. It has all the colors of the post-traumatic experience. The music in this opera is very disconnected, like a kind of psychedelic alien kind of outer space music.Sometimes it sounds like music from aliens from outer space. It can be very emotional, and very full of pity for the human experience, and full of pain. And it was a way for me to reflect in music the possibility of touching the pain, of touching the wound. So the music is a great way for me to reflect the mind of the post-traumatic human being. I didn't think of it when I was composing it, but when I was done, I looked at it and it shocked me."So, do we really need a Hebrew-language, Israeli adaption of Slaughterhouse- Five, presented in Tel Aviv as a rock opera? Do we really need a play about trauma here? Handelsman thinks we do. "We are not normal. We think it's normal to have to open your bag for inspection every time you enter a mall. We think it's normal to live like people expecting attacks all the time. I think that this influences our culture, our relationships, our education and the violence in our society."Lichtenstadt adds, "This country was built by Holocaust survivors, trauma survivors.And the trauma is being passed on, generation to generation. We wish to say something about it – that we really don't have to live like that, that maybe there is another option. There is a third way, and that way, I think, is what the book offers."We simply have to say that is the way it is. There are things we can't change or solve. We repeat in the show, 'Kacha zeh, kacha zeh,' that's the way it is, and we simply have to try to find some kind of peace within ourselves."
Slaughterhouse-Five: A Rock Opera is playing March 13 and 14 at 9 p.m. at the Tzavta Theater, 30 Ibn Gvirol Street, Tel Aviv.Tickets: NIS 70. Discount tickets for soldiers and students: NIS 50. To order: (03) 695- 0156/7.
As a result, a novel published in 1969 and made into a critically acclaimed movie in 1972 is now a Hebrew-language Israeli rock opera that won the award for best music at last year's Acre Festival, and is about to be staged in Tel Aviv by the Incubator Theater. Slaughterhouse-Five: A Rock Opera is a theatrical production written by playwright Orit Gal Lichtenstadt, directed by Sivan Handelsman, with the music of Vikinski, who says he began composing this music as he was reading the book.